City trip without the tourists, always looking for taste: London.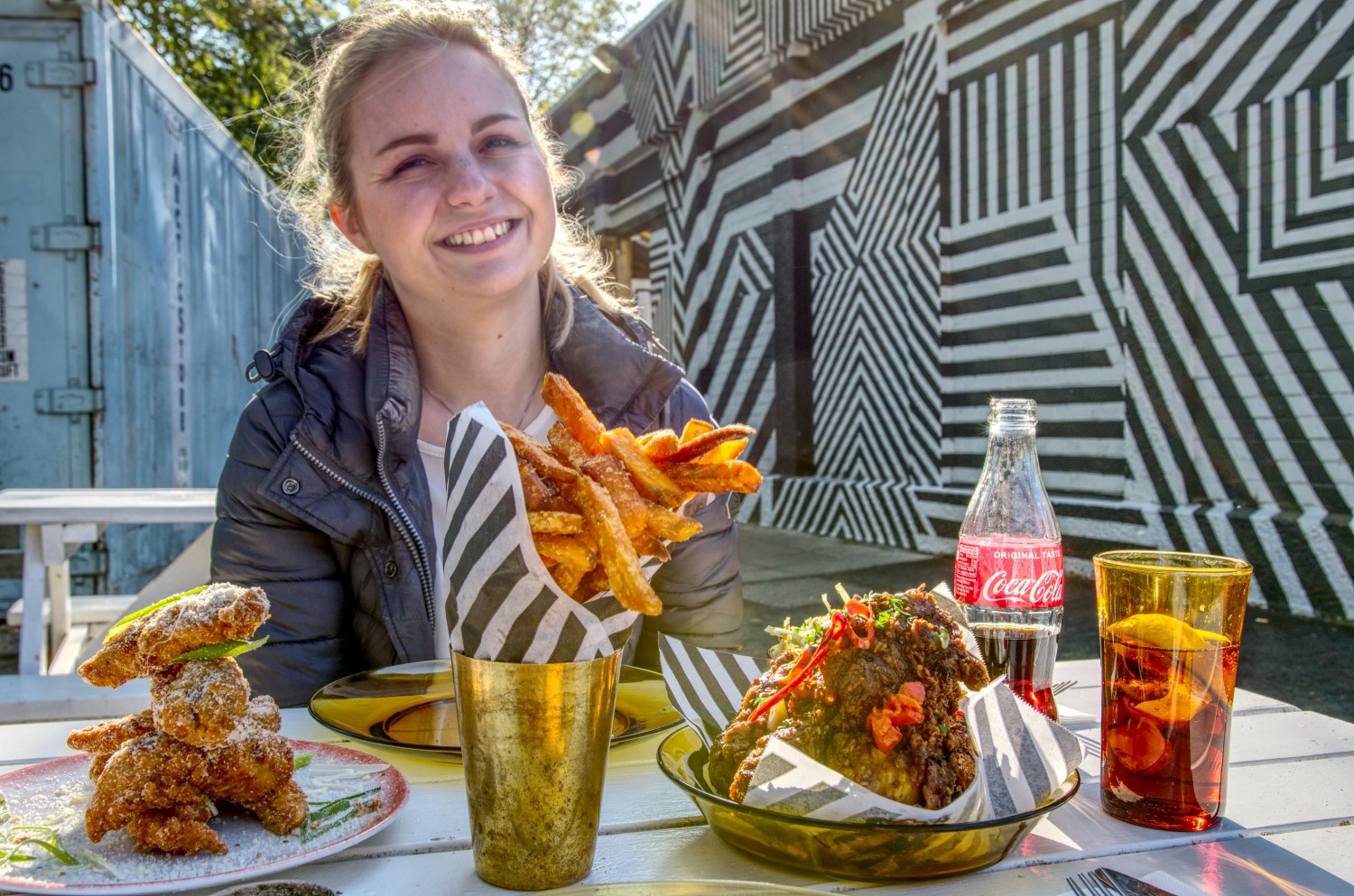 Our flight BA977 starts on Thursday before Easter at 11:15 am in Hannover and we land at 11:55 am local time in Heathrow. The temperature is about 20° Celsius and will rise to 24° Celsius in the afternoon. The forecast for the next days is similarly warm and sunny.
Chamberlains Fishrestaurant and Leadenhall Market
Hyde Park
For us there is a very clear reason why one should visit the Hyde Park: Greedy, friendly squirrels.

Squirrels in Hyde Park – Nikon D500, Sigma 18-35mm F1,8 DC HSM | Art
With a walnut in the lens hood of the wide-angle lens, the small gnawers can be lured very close to the camera. Or on the lap or on the hand.
On this day Daniel can feel like a real Disney princess. The attempt to attract a green parrot with a nut works and the little feathered guy lands on Daniel's hand. Unfortunately nobody saw him except Daniel himself. Damn it.

Skeptical squirrel in Hyde Park – Nikon D500, Walimex Pro 8 mm f1:3,5
Elan Café
Very close to Hyde Park, at its eastern end at "Park Lane" there is a cute little café – the "ELAN Café". The guest can expect delicious and artfully created pastries, cakes or fresh sandwiches. In addition, unusual drinks and compositions of tea and coffee are served. We eat a saffron doughnut and an extremely beautifully arranged Strawberry Cheesecake. Never before has such a small piece of cake brought so much joy to us. We also drink an iced tea from the French Press that reminds us of a mojito.

Small cakes in the "Elan Café" – iPhone 8 Plus inbuild wideangle lens
Camden Market / Streetfood / The Elephants Head
Record shops, hipsters, street food, colourful house facades. Admittedly, with our visit to the Camden market we have broken a little with the promised freedom from tourists. This part of town is full of tourists. Why were we here anyway?

View from the window of one of the Camden Market halls – Nikon D500, Walimex Pro 8 mm f1:3,5
Quite simply: The architecture of the old market halls is a dream for every photographer and in order to relax from it, the visitor is offered a wide range of culinary street food.

Markthalle auf dem Camden Market – Nikon D500, Walimex Pro 8 mm f1:3,5
Besides, a lot of garbage is sold on this market, you have to say that quite clearly. Cheap goods from China, pseudo-paintings from London, which in reality are printed in masses in Taiwan, all kinds of plastic garbage, which some call a souvenir. Nevertheless, in the back streets we discover quiet and somewhat remote record shops and small artists' studios. It's best to go where no one else is.

Indian flair in the "Namasté" shop at Camden Market – Nikon D500, Sigma 18-35mm F1,8 DC HSM | Art
At lunchtime, locals, workers and tourists alike gather in the pubs, just as we stopped for a beer in the "Elephants Head".
Sky Garden
Covent Garden / Neil's Yard / St. John Bakery
Another market that captivates with its culinary and creative offerings: Covent Garden Market. There is too much hustle and bustle here today and the offers of the individual markets are always the same somehow. So we go froleave Covent Garden Market in northern direction to the quarter called "Neal's Yard".

An alley in Neal's Yard – Nikon D500, Walimex Pro 8 mm f1:3,5
We discover the small quarter with its colourful house fronts and strengthen ourselves with fresh sandwiches and doughnuts from the somewhat hidden bakery "St. John". A great, down-to-earth shop with a large selection of fresh snacks. "Do you have any coffee?" asks Daniel, the salesman says, "Sure, filter coffee for a pound. No Grande Tall Blonde Americano Hipster coffee like everywhere else. A great conversation followed as we watched our sandwiches get made. And let's face it, filter coffee goes great with a simple ham and mustard sandwich anyway. Besides, you don't feel completely stupid when you pronounce the name of the coffee.

House fronts in Neal's Yard – iPhone 8 Plus inbuild wideangle lens
Also in the surrounding streets from "Covent Garden" to "Neal's Yard" there are always interesting corners or buildings with magnificent floral decorations.
God's own junkyard Walthamstow / Mothers ruins Gin
Our Uberdriver turns through an open, rusty steel gate into a backyard. The scene looks like from a film, right and left of the road old, partly crumbling brick buildings. So we imagine a place where gang wars are fought. But behind the next corner it gets friendlier: People sit in front of colorful house walls, stand in front of a hot dog stand, seem relaxed and enjoy the warm midday sun. Our driver says he's never been here before. After we got out, he says to us that he would take a break and eat a hot dog. He likes the place.
We discover not only advertising, but also art and poetry. On one wall hangs an over-the-top Valium drug packaging. In small, black lettering on it the inscription "Don't keep in the reach of adults", on the front the word "Pleasure" shines in pink neon lettering.
This place feels like a mixture of the video game series "Fallout", red light milieu, South American attitude to life and a museum. It is quite imaginable that this place will gain in popularity in the next few years and that the admission might not be free any more.
Instead of taking the Uber back to the city center, we walk from Walthamstow to Clapton subway station. From here our Oyster-Travelcard of zones 1 and 2 is valid again for the tube. On the way back there we experience what "multi-cultural" means here: We smell spices from shops we have never smelled before, see impressive displays of tropical fruits, hear a gibberish of all imaginable languages and see how all these cultures live in harmony with each other. It can be so easy when everyone lets the other live the way they want.
Nightjar
Original English breakfast on the terrace
What would a stay in England be without the real British breakfast with sausages, porridge, egg, bacon and beans in tomato sauce? Right – that would be terrible. We would have missed something.
In the warmth of the just rising sun we enjoy breakfast, on the street "Minories" we hear pedestrians talking, in the distance we hear sirens and construction site noises, but nothing disturbs us up here. This is how the city sounds – and we are very close. Thereupon a sip of hot coffee.
Columbia Road Flower Market / Oyster Boy / Clutch
There is a daily street sale of plants and flowers on Columbia Road. Dealers set up their shelves and vans, and a jungle feeling breaks out in the streets lined with sandstone buildings. Unfortunately, we were not aware that the market was officially closing at 14:00 and the first dealers were starting to dismantle their stands. Nevertheless, we were lucky, even shortly before 17:00 o'clock there were still some salesmen active and we could get a last, if only for a short time, get insight into the "Columbia Road Flower Market".
Sometimes you are lucky in misfortune, the food was absolutely delicious – we were glad to have considered this as plan B.
St. Dunstan in the East
Who would have guessed that we could find an old and partly overgrown church ruin in a metropolis of millions like London?
The remains are partially covered with trees and a small garden has been created inside the old aisle. The place is somehow enchanted, so close to the city, but so far away from it at the same time. A great spot for photos and a little rest from the city hassle.
Gail's Bakery
Highgate Cemetery
Some tombstones tell sad stories and the engraved birth and death dates make us think of worse times. This may all sound a little depressing, but as we make these discoveries, we walk through a spring-like forest landscape with thriving flora and fauna. Doesn't sound so bad anymore, huh?
Borough Market and Applebees Fish Restaurant
At the western end of the "Borough Market" you will also find the "Applebees Fish Restaurant". So if you haven't found enough treats at the market yet and you like fish and seafood, you should stop by here. If the weather is fine, you can sit outside and watch the colourful crowds.
Teatime at the Reddoor Café in Greenwich
Greenwich has quite a lot to offer: The prime meridian runs through the "Greenwich Observatory", where thousands of tourists daily look at a line on the ground and take stupid photos. Furthermore, the district with the parks around the "Queen's House", the clipper "Cutty Sark", the "Maritime Museum" and the artists on the "Greenwich Market" are impressive.
The "Reddoor Café" is located in the immediate proximity of the "Greenwich Market", which we can recommend especially for those interested in arts and crafts. For example, we bought two drawings of animals from a local artist to decorate our bathroom.