How to: The IT-Departments advent wreath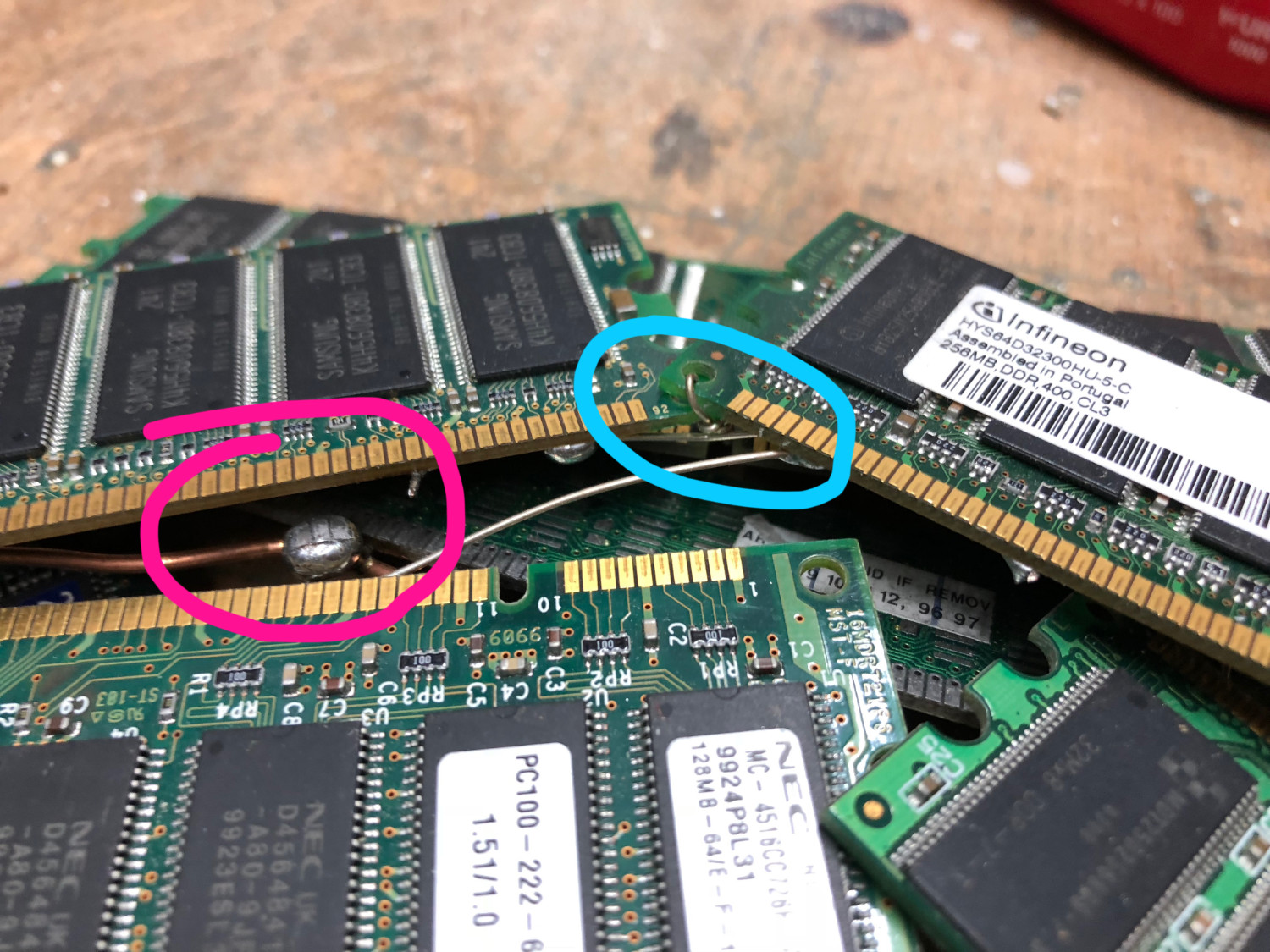 A few years ago I came across an Advent wreath made of old RAM bars on 9gag. I found the idea quite nice, the implementation was rather moderately detailed. Reason enough to take matters into your own hands.
First of all, we need memory. I recommend to buy relatively large modules, so that we can use the maximum amount of memory per bar to reach the maximum amount of memory in the final result. 8 GB per bar should be the undersize.
You should also pay attention to the timings, so that each bar is timed the same, otherwise you will have performance problems later on. Buy at least DDR4-2800, CL 17 is recommended. You will need about 30 bars, I recommend this one here http://amzn.to/2jmpl6U.
Bullshit. Just buy some old rubbish from Craigslist / ebay.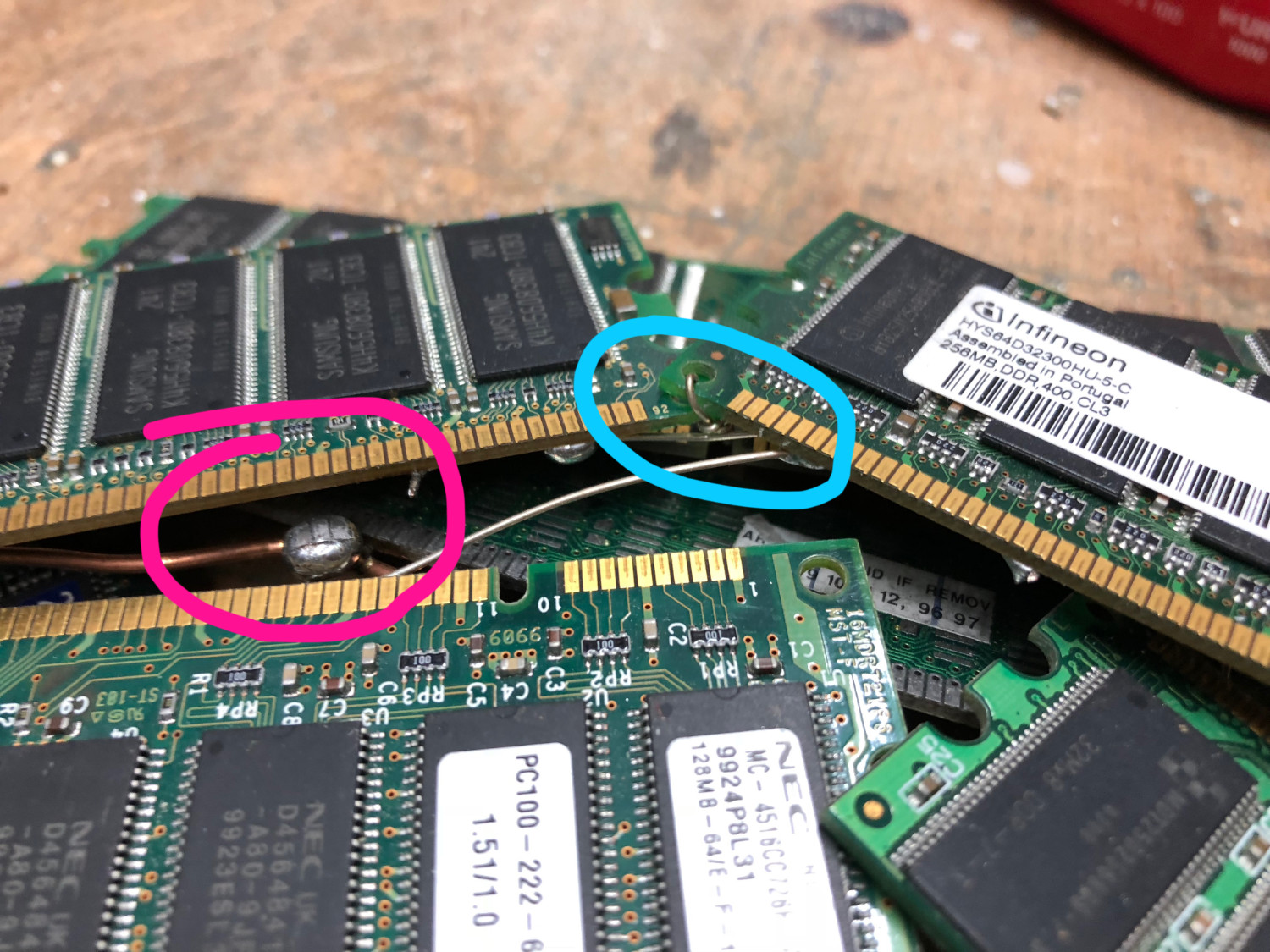 To make sure that everything is nicely connected in a ring-shaped way "knot" the bars in a ring-shaped way with flexible wire, see blue circle. All in all, you knot three circles that vary slightly in size.

You then lay these three circles on top of each other and interleave them a little bit into each other and solder the rings to each other (pink circle in the first picture). Also tie them within the same ring with strong wire, for example from ground wires. If you are not sure how often you should solder the bars together, then listen to my wise words:"A lot helps a lot" and "more is always better" – this does not apply to Tinder acquaintances.

When this is done, tie a colorful LAN cable to a nice loop and attach it with cable ties at the top (or anywhere else) to the RAM wreath. Now we glue the beautiful WAGO clamps with hot glue on the wreath. Here I have used the connectors in orange and yellow, which are pretty colorful and hold well on the bars.
WAGO 2273-203 orange: http://amzn.to/2Ac6DqQ
WAGO 2273-205 yellow: http://amzn.to/2k1Ttsx

We then hang our extremely high-quality mini Christmas tree balls into these clamps by attaching them to the connectors with a cable core.
Extremely high quality mini Christmas tree balls: http://amzn.to/2jV1Buy

Then we'll get old keyboards. From this we take the keys for a nice Christmas message. Depending on how many keyboards you want to sacrifice, you have the following options:
MERRY XMAS – requires two keyboards (because of the bloody "R")
MERRY CHRISTMAS – requires three keyboards (because of the bloody "R")
MERRY CHRISTMAS YOU FILTHY ANIMAL – requires three keyboards (because of the bloody "R", the Y, the I and because of M) This variant is characterized by the best ratio between usable keys per used keyboard, but may be NSFW.
Anyway, as a carrier for the keys we cut a piece of wood which we paint professionally so that it doesn't look completely shitty when you look at the finished Christmas wreath from the side later on.
Then we glue our keys to it with hot glue. The complete carrier is glued to one of the RAM bars at the bottom of the wreath.
Finished – decorate beautifully, take kitschy photo and then off to Instagram with the thing:

Thank you for watching and a lot of fun when building. Next time, I'll show you how to build a plug that can be used to quickly reset all electrical devices with a network connection to their factory settings:

All the links in this text are Amazon Affiliate Links, and by clicking on an affiliate link I will earn a percentage of your subsequent Amazon purchases. However, this circumstance does not influence the background of my product recommendation. This product recommendation is independent, honest and sincere.
Bei allen genannten Links in der Videobeschreibung handelt es sich um Amazon-Affiliate-Links.Durch einen Klick auf einen Affiliate-Link werde ich prozentual an Euren darauf folgenden Amazon-Einkäufen beteiligt. Dieser Umstand beeinflusst aber nicht die Hintergründe meiner Produktempfehlung. Diese Produktempfehlung erfolgt unabhängig, ehrlich und aufrichtig.