Recipe for Greek octopus grilled or fried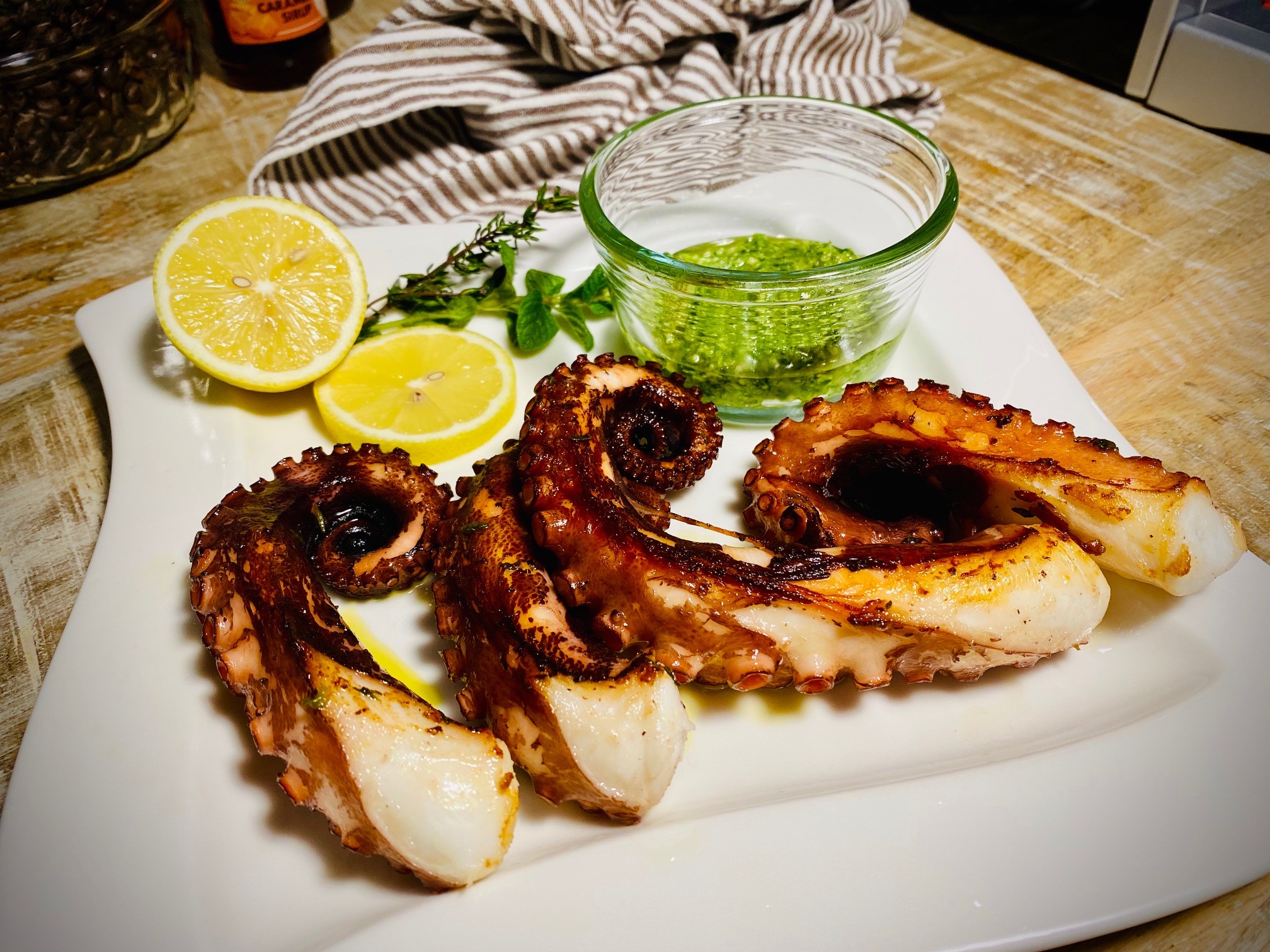 In this recipe we cook a whole octopus (pulpo) in a broth of parsley, thyme, oregano and ouzo. We can then grill or fry it.
I am a great friend of Greek-Mediterranean seafood cuisine. Therefore, after consulting a Greek friend of mine, I started working on this recipe and perfected it in several preparations.
The result is an octopus, as it appears on the plate in Greece, either fried or grilled.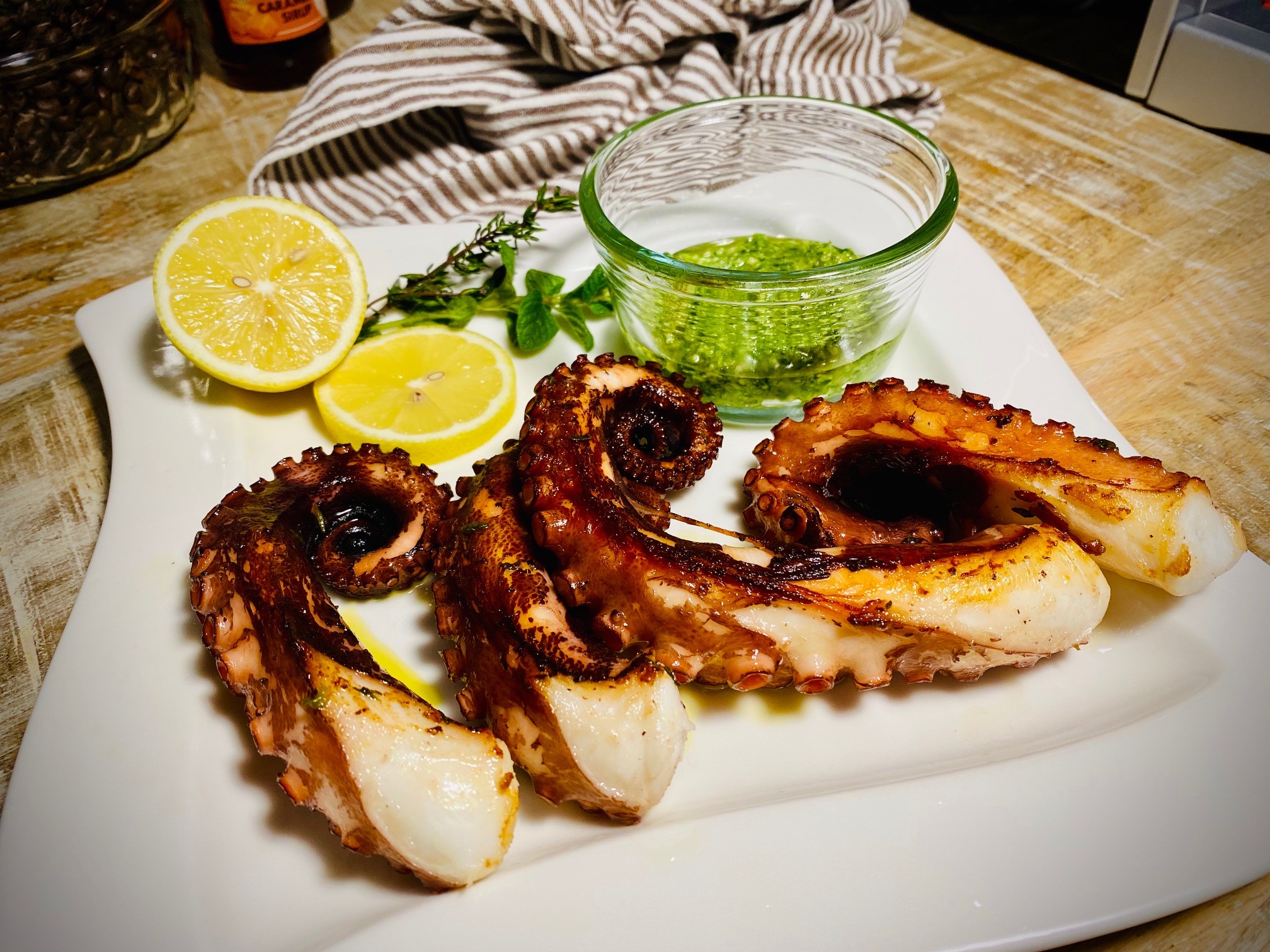 Ingredient list for 4 persons as starter or 2 persons as main course
1 octopus – only the leg wreath (approx. 1kg) or complete with head (approx. 1.3kg)
40 ml highly heatable olive oil
4 cloves of garlic
20 cl ouzo
4 large parsley stems
2 large branches of oregano
2 large twigs thyme
lemon to drizzle
Preparation
Heat the highly heatable olive oil in a large pot. Make sure that it is really olive oil for high temperatures, otherwise the wrong oil would become bitter.
In the meantime, chop the parsley and garlic finely and quarter the thyme and oregano twigs. Wash the octopus completely and dab dry.
As soon as the olive oil is simmering, carefully place the whole octopus in the oil, e.g. with grill tongs, and add oregano, thyme, parsley and ouzo to the pot.
Close the pot with a lid and simmer for 45 minutes. From time to time, move the pot vigorously so that the broth is distributed on the octopus.
When the octopus is cooked, remove it from the pot. If you have used a whole octopus including the head, now cut a circle from below around the beak (mouth) of the octopus to detach the leg from the rest of the body.
Then we separate the individual legs from each other.
The individual legs can now be fried briefly from all sides in a pan or grilled on the grill.
Suitable side dishes
As side dishes I recommend a homemade parmesan basil pesto or thyme potatoes from the oven.
Also the Greek classics as Tzaziki or Chtipiti fit to the octopus, but can also slightly whitewash the taste.
These drinks should not be missing
As an aperitif, I recommend a good ouzo on whole ice cubes. In my opinion the best ouzo on the German market is Ouzo Ploumari.
The ouzo should be poured in a glass on a large amount of ice and should only be drunk when the ouzo is milky white.
The main course is best served with a resinous, Greek white wine, a Malamatina Retsina.
All the links in this text are Amazon Affiliate Links, and by clicking on an affiliate link I will earn a percentage of your subsequent Amazon purchases. However, this circumstance does not influence the background of my product recommendation. This product recommendation is independent, honest and sincere.
Bei allen genannten Links handelt es sich um Amazon-Affiliate-Links. Durch einen Klick auf einen Affiliate-Link werde ich prozentual an Euren darauf folgenden Amazon-Einkäufen beteiligt. Dieser Umstand beeinflusst aber nicht die Hintergründe meiner Produktempfehlung. Diese Produktempfehlung erfolgt unabhängig, ehrlich und aufrichtig.