Beware of counterfeiting: Elixir Nanoweb guitar strings fakes at Amazon Marketplace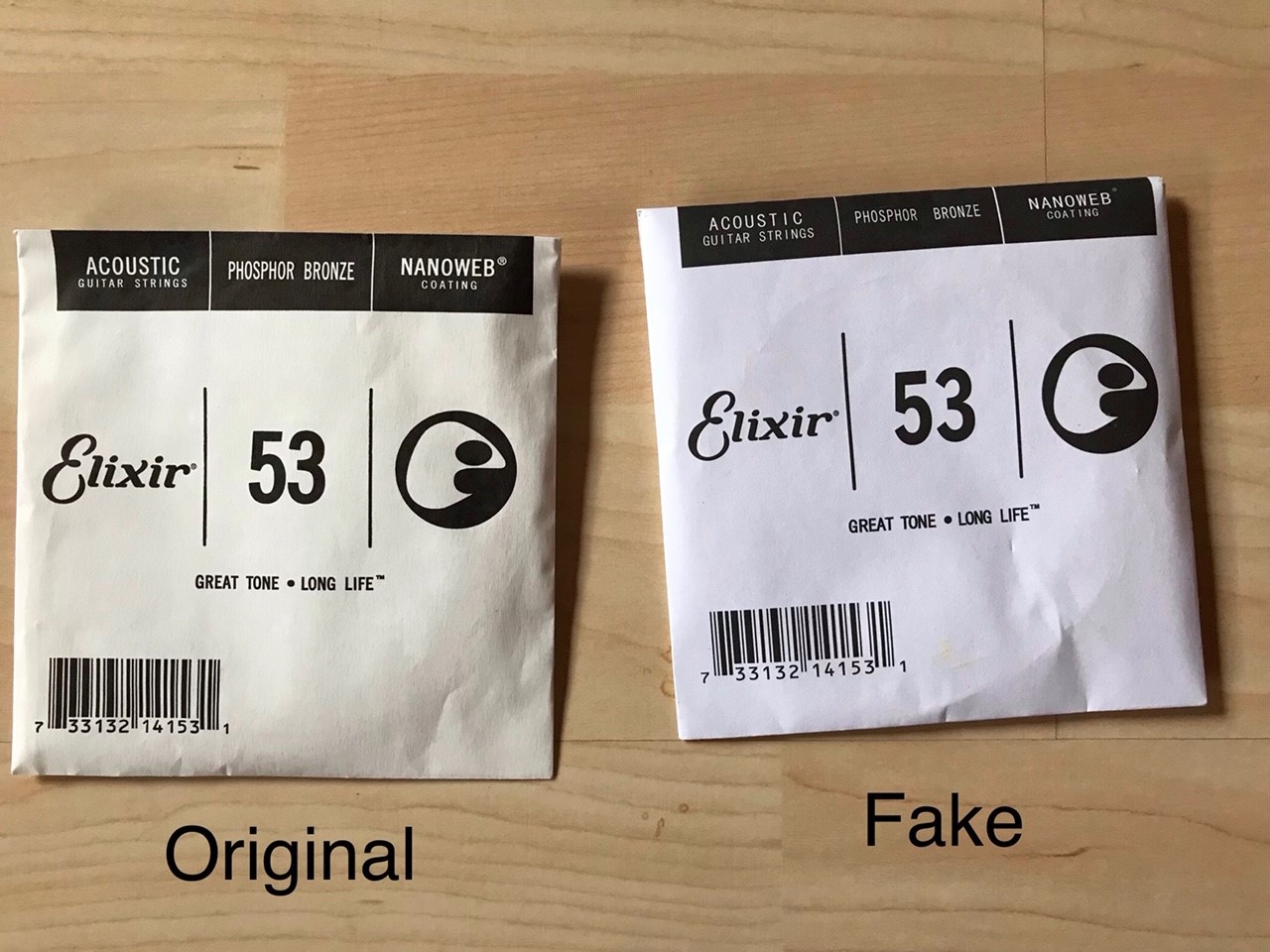 We have been using Elixir guitar strings for years. We've often bought them from Amazon, but this time we weren't good enough and instead of the usual high-quality guitar strings we received cheap counterfeit products from a Chinese marketplace provider. If you are also wondering if you have received plagiarisms, fakes and counterfeits, you can compare your strings with our photos of the original and the fake.
Comparison Original and Fake
In July 2019 we ordered guitar strings of the brand Elixir. We have relied on this brand for years and are convinced of its sound and durability.
Without really noticing it, this time we did not order directly from Amazon by mistake, but from a marketplace provider with Chinese imprint details. In spite of the foreign headquarters, the goods were shipped by Amazon, which means that the dealer must have delivered the goods to Amazon's mail order companies so that they can initiate the shipment.
After receipt of the goods the nasty surprise followed. The strings did not sound nearly as usual, there were no clear heights, somehow the "Crisp" was missing. A closer look reveals that the packaging also looks strange and that the coating of the strings is missing. Even the colour tone differs from the original.
You can check the following pictures to see if you have received any plagiarism.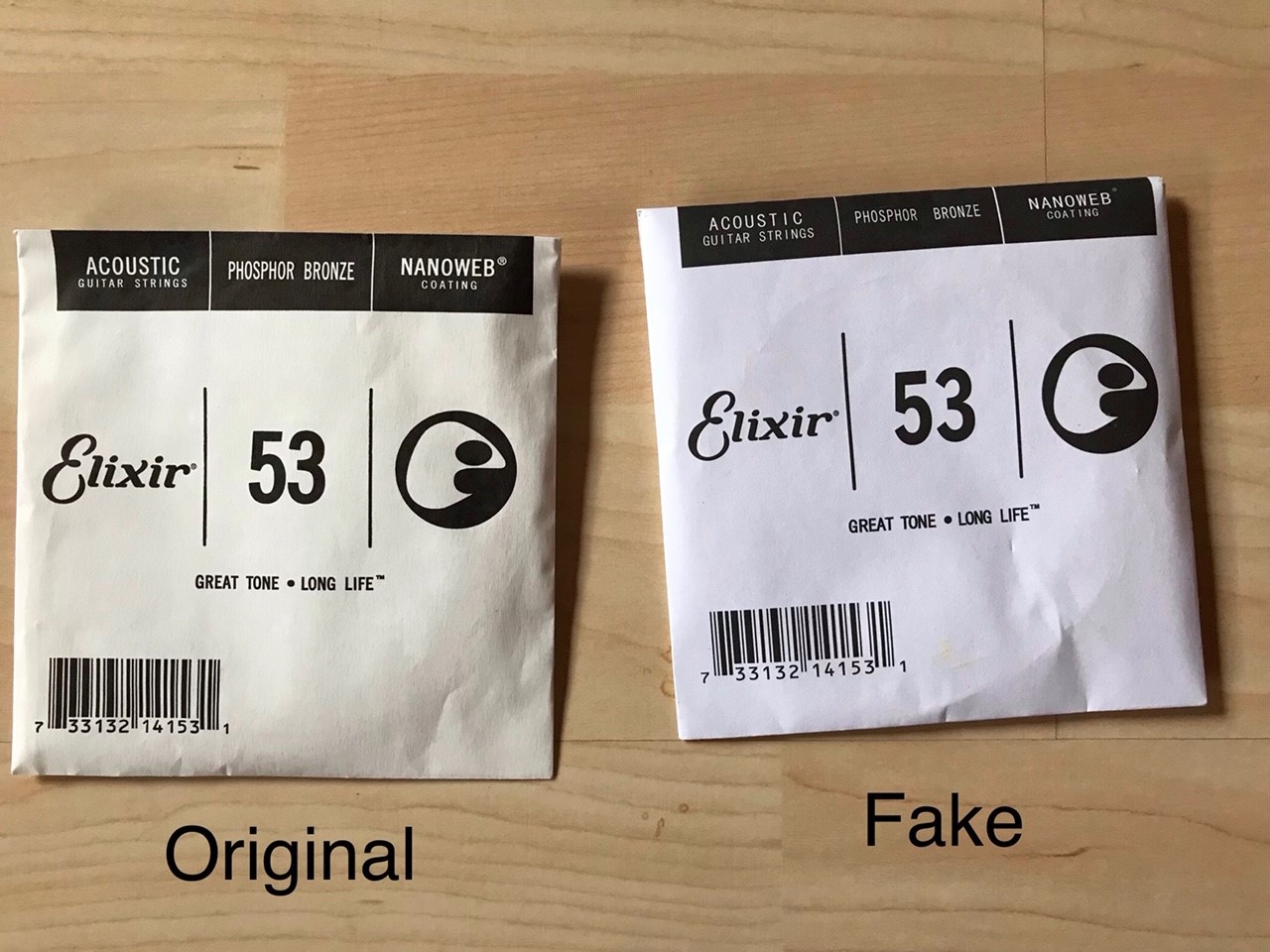 Trotzdem sicher bei Amazon kaufen
Now one could ask oneself whether one should rather not order any more strings at Amazon. But here we can give the all-clear.
If you make sure that the shipping and sales take place in the name of Amazon, you are on the safe side. Only with (new) marketplace sellers based abroad caution is advised.

It must also be clearly stated that Amazon behaved in an exemplary manner after our complaint. About 30 minutes after our complaint with photos pictured above, Amazon stopped shipping the plagiarism and took the fraudulent retailer's offer from the product catalogue. We sent the plagiarism to Amazon for inspection with a free return and received a refund of the purchase price from Amazon itself.
Here you will find a link to the real Elixir strings.

All the links in this text are Amazon Affiliate Links, and by clicking on an affiliate link I will earn a percentage of your subsequent Amazon purchases. However, this circumstance does not influence the background of my product recommendation. This product recommendation is independent, honest and sincere.
Bei allen genannten Links handelt es sich um Amazon-Affiliate-Links. Durch einen Klick auf einen Affiliate-Link werde ich prozentual an Euren darauf folgenden Amazon-Einkäufen beteiligt. Dieser Umstand beeinflusst aber nicht die Hintergründe meiner Produktempfehlung. Diese Produktempfehlung erfolgt unabhängig, ehrlich und aufrichtig.