Charge BMW Display Key wireless at home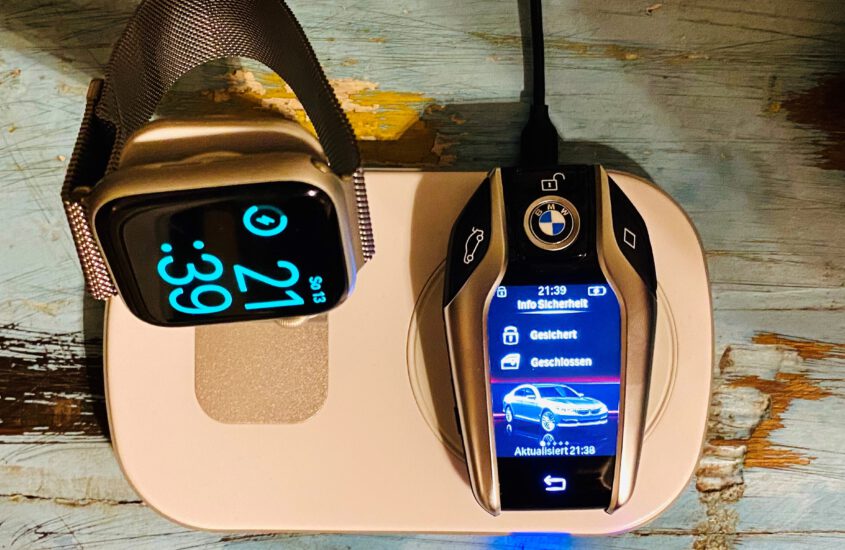 To avoid having to charge the Display Key of our BMW in the car, a contactless charging station on the key rack is a good idea. In this article you can read which devices are compatible.
Broad compatibility with Qi capable charging stations
The BMW Display Key can be used with most wireless charging stations. To be on the safe side, we should use "Qi"-certified hardware for charging. This standard is proven and is also used for inductive charging of iPhones.
For stylish key storage: Wireless wooden loading pad
Of course, it doesn't look so nice when a black plastic coaster sits on the hall chest of drawers. The most stylish alternative is probably the Qi-compatible charging pads of the brand "KabellosLaden": With high-quality surfaces made of rosewood, bamboo wood or walnut wood (Amazon Affiliate Links) and an elegant stainless steel surround, these charging stations fit in perfectly anywhere. When the display key is not being charged, normal smartphones can also be charged inductively.
Special offer

Dual charging stations for Apple Watch, iPhone or BMW Display Key
If you need a little more flexibility to charge your Apple Watch contactlessly, while charging Display Key or iPhone, the "Seneo Dual Charger" is a high quality optical and functional solution. Here too, of course, any Qi-compatible smartphone can be charged instead of the BMW Display Key.
Keine Produkte gefunden.