Cooling insulin while travelling with camper vans and off-road vehicles – Diabetes goes Offroad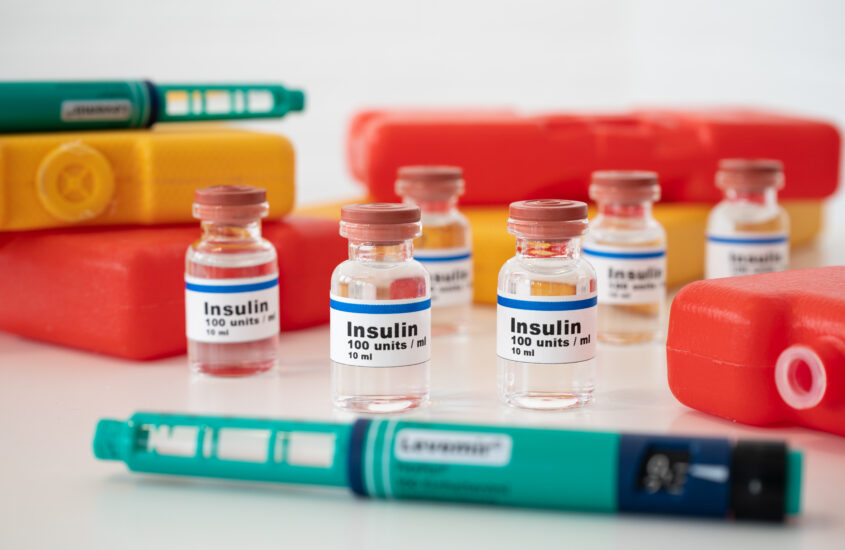 Diabetes does not stop us from travelling. With the right technology, cooling insulin in the car is no problem – even without a power connection.
In 2020, the idea of off-road travel came to us. In our previous trips with the motorhome, the insulin was easy to keep cool at all times because the fridge ran on either 12 V, gas, or 230 V with "shore power" connected.
But what about power supply in our Land Rover Defender? When it comes to warmer climes, such as Greece? The good news is that anything is possible – even desert trips.
Energy-efficient and reliable cooler
Our outfitter "Offroad-Manufaktur" in Hamburg explained to us what is important for a good cooler in the vehicle:
A cool box must be well insulated and lose little cold
A cool box in the car should consume little energy
The temperature should be finely and accurately adjustable
When transporting medicines to be cooled, the cooler should be reliable
When it comes to these three disciplines, there is really no way around Engel compressor coolers. Enthusiasts rely on these units even in the most remote and warmest spots on earth. Their integrated oscillating compressors ensure that the units still cool reliably even at inclinations of 60°. Many a box has probably already passed the age of 30 years and continues to function perfectly; if defects do occur, the manufacturer promises spare parts for life. Of course, this has its price – but only the best for our insulin.
We chose the Engel MT35G-P compressor cooler with 32l capacity * because of its cooling properties and dimensions.

Depending on the available power source, it can be operated with 12 volts, 24 volts or 230 volts. At the campsite, it can be operated with regular "shore power" and while driving with 12 V from the alternator.

Tip for saving energy: Do not operate your cooler empty. Fill the empty areas of your cooler with water bottles, beer cans or cold packs. This saves energy and the cold is retained for longer without the compressor having to work hard. By the way, this also applies to the fridge at home: a full fridge reduces the air volume and thus saves electricity.
So far so good. But what happens when we are off the grid for a longer period of time? An extraordinarily large power bank in the car and a solar panel connected to it can help.
Battery storage for electricity also "off-grid"
With a power station in the car, energy can be stored like in a large power bank. Such a station can, for example, charge while driving and simultaneously supply devices such as our cooler, batteries or smartphones with energy during the charging process.
We opted for a model with 720 watt-hour capacity: the EcoFlow RIVER Pro Power Station 720Wh *.
Explanation of the unit watt-hour (Wh) and the capacity of our system: With a capacity of 100Wh, I can operate a device that draws 100W of power for one hour. Our cooler draws a maximum of 32 W. With a capacity of 720 Wh, I can operate the cooler for 22.5 hours (720 Wh / 32 W). In reality, however, even longer, because once the cooler has cooled down at a temperature of +5°C, it may only run for 15 minutes (quarter of an hour) per hour to maintain the temperature. Of the 32 W consumption, only 8 W power consumption will then remain. At 8 W consumption, the cooler could therefore be operated for a full 90 hours. However, we have never tested this because we have never been without power for 90 hours. Of course, this all depends on the contents of the box and the ambient temperature. For us, 48 hours is enough.
This power station has more than enough output connections that can theoretically all be used simultaneously:
3 x USB-A (2 x 12 W (5 V; 2.4 A), 1 x 18 W (fast charging))
1x USB-C (100 W (5-20 V; 5 A))
3 x DC DC voltage (1x 13.6 V / 10 A / voltage regulated, 2 x DC5521 13.6 V / 3 A)
2x AC clean sine wave (230 V / 50 Hz (110 V / 60 Hz) | voltage regulated)

With regard to our cool box, however, only the 12V output is important. This is where we connect our cool box. No matter what we use to charge our Powerstation, whether with 12V or 230V, the Powerstation transforms the energy source and always delivers the required 12V to the cooler. So this solution is also something for lazy people like us, because we only have to take care of the power station, the cooler just stays connected.
Before we decided on our EcoFlow RIVER PRO Powerstation with 720 Wh * for reasons of price/performance and a good offer, we also had other alternatives on our minds. We have the feeling that the devices all serve their purpose, depending on the requirement. One user needs more connections or capacity, the next needs something completely different. If you are currently on the lookout, also take a look at the PowerDude 500 from Wattstunde * and the Jackery Explorer 1000 *.

Now, however, we don't just want to supply our cool box with battery storage while on the road, but also need to charge smartphones, MacBooks or camera batteries from time to time. Thanks to the integrated inverter, this is no problem. The device produces a clean sine wave and thus also enables the charging and operation of particularly demanding and sensitive devices. However, with every connected consumer, the energy consumption also increases. So that our storage nevertheless does not empty so quickly, we can support with a foldable solar panel.
Self-sufficient power supply thanks to foldable solar panel
Our EcoFlow RIVER PRO Powerstation * can be charged with up to 200W of solar power. In full sunlight, the Powerstation should take 4 hours to charge, but we have not yet been able to test this. When choosing the solar panels, we opted for a space-saving folding system. This is not only easy to stow away, but can also be flexibly oriented towards the sun. Much better than a solar panel permanently installed on the roof, which we had initially preferred.
Special offer

Again, there were several products to choose from. Ultimately, the devices differ in the number of integrated modules, the IP class for waterproofness and the connection to the power station.
The Jackery SolarSaga 100 * solar panel then lost out to the Ecoflow 160W panel * because the latter offers IP67 protection instead of IP65, delivers 60 W more power due to more panel and comes directly with the MC4 connectors we need.


* All links marked with an asterisk are Amazon affiliate links. We receive a percentage of the purchases made through them. Our recommendations are nevertheless honest and sincere.