Eggnog as in "National Lampoon's Christmas Vacation" – Drinking like the Griswolds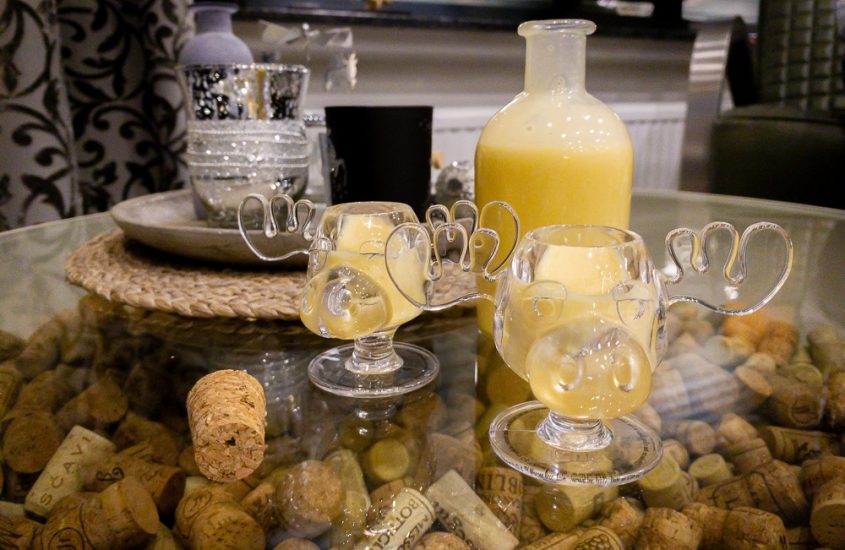 It's a fixed ritual during the Christmas season: the whole family comes together and watches the Christmas comedy "Schöne Bescherung" together. Like the Griswold family, we drink American eggnog with it.
Ingredient list for 8 portions
3 eggs
150 g icing sugar
1 pck. vanilla sugar
1 pck. bourbon vanilla sugar
¼ Litres of cream
¼ Litres of milk
¼ Litres of whisky
2 tablespoons of rum
We personally love our eggnog with whisky, if you don't like whisky, you can replace it with cognac. Especially "Maker's Mark Kentucky Straight Bourbon" *. This Bourbon Whisky smells already pure like fresh cookie dough and fits perfectly into a Christmas punch recipe.
Preparation
Separate yolk from egg white
Beat the egg yolks and sugar to a frothy, light creamy mixture.
Beat the egg whites until firm and fold into the egg cream with a whisk.
Whip cream until stiff
stir in cream
Add the alcohol and milk while stirring continuously
Cool for at least 4 hours in the refrigerator or in the December cold
Moose shovel glasses like in the movie
If you love the film as much as we do, you can remember the scene in which Clark Griswold punches his punch glass into the eggnog and takes a particularly big sip. You've certainly noticed these cute, kitschy glasses with handles that look like elk shovels.
Good news for die-hard fans, because exactly these cups can also be bought:
Keine Produkte gefunden.


All the links in this text are Amazon Affiliate Links, and by clicking on an affiliate link I will earn a percentage of your subsequent Amazon purchases. However, this circumstance does not influence the background of my product recommendation. This product recommendation is independent, honest and sincere.
Bei allen genannten Links handelt es sich um Amazon-Affiliate-Links. Durch einen Klick auf einen Affiliate-Link werde ich prozentual an Euren darauf folgenden Amazon-Einkäufen beteiligt. Dieser Umstand beeinflusst aber nicht die Hintergründe meiner Produktempfehlung. Diese Produktempfehlung erfolgt unabhängig, ehrlich und aufrichtig.