Grout tiles and mosaics in fountains, pools, outdoor showers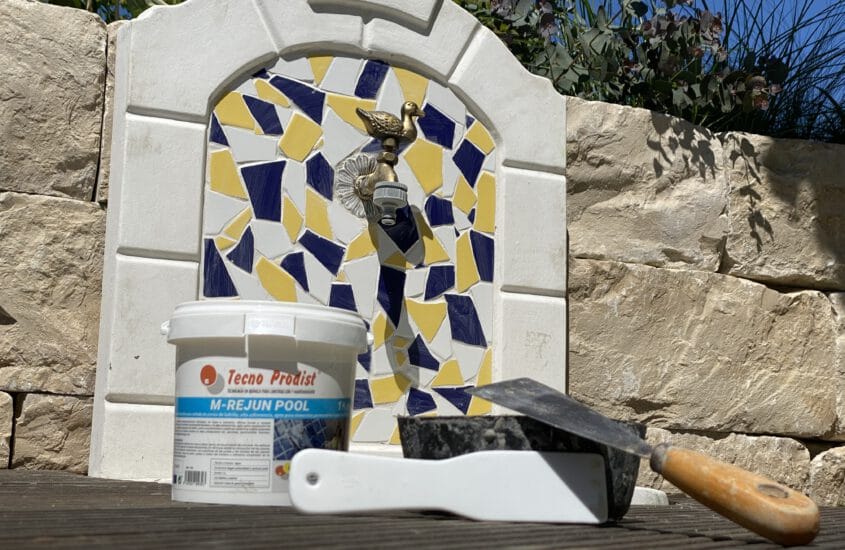 If you want to grout tiles and mosaics in areas that can sometimes be full of water, you need water-, algae- and fungus-resistant grout. I used a special pool grout and am impressed by the result.
Mediterranean white joints in the exterior
Our garden fountain should be embellished with mosaic. Nothing easier than that. But with what should we grout this now? The grout should be white and ideally remain white. Discoloration due to algae, fungi or green coating should be excluded as best as possible. But which grout provides such high resistance to mircobiological influences?
My choice fell on the "M-Rejun Pool Flex from Tecno Prodist" (Amazon Affiliate Link), because this grout is made especially for fountains, swimming pools, showers and water tanks. According to the manufacturer, however, it is also perfect for walkways and patio slabs.
This stuff is made in Spain. I figured "if the Spanish don't know how to grout water fountains, pools and mosaics, then no one does". So I ordered this grout for "permanent submersion".
The application: How to grout?
The application is simple: always mix only as much grout as can be used within 30 minutes. Spread the grout into the joints with a flexible plastic trowel. Wipe excess grout from the tiles or mosaics with a wet cloth.

M-REJUN POOL von Tecno Prodist (5 kg) Flexibler Fugenmörtel zum Abdichten von Fugen von Fliesen und Putz in Pool, Keramik,...*
M-REJUN POOL Flexibler Fugenmörtel für Schwimmbäder, Pflastersteine, Brunnen, Duschen, Wassertanks usw. Geeignet für...
Einsatzbereiche – ein flexibles System mit hoher Leistung in Schwimmbädern, Gehwegen, Brunnen, Duschen, Wassertanks usw. – hohe...

Remains white – even after the first winter
After a year, many things in the garden have taken on a green coating: Bangkirai wood, wall stones, paving slabs. But the Spanish grout, is still white as on the first day – and it also survived the winter without problems.