Offroading the coasts of Greece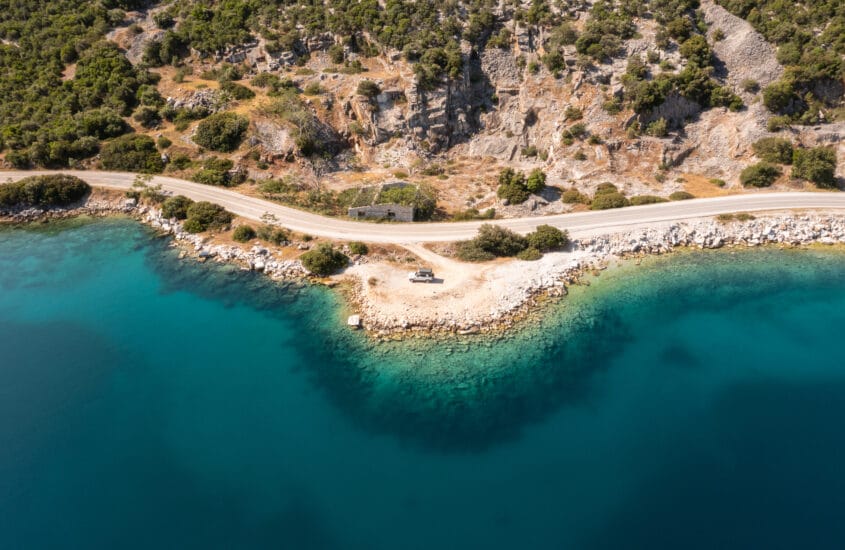 With roof tent and Defender we visit Greece's mainland coast and discover that the east coast is often underestimated. A photo travelogue.
Stopover near Bokod in Hungary
It is 04:00 at night when we set up our roof tent in Bokod. Before that we have crossed half of Germany, the Czech Republic and Slovakia. After four hours of sleep, the first rays of sunlight wake us up around 08:00, heating up the roof tent. We get ready and set out on the only a few meters wide way to the "floating" village of the Bokodi lake.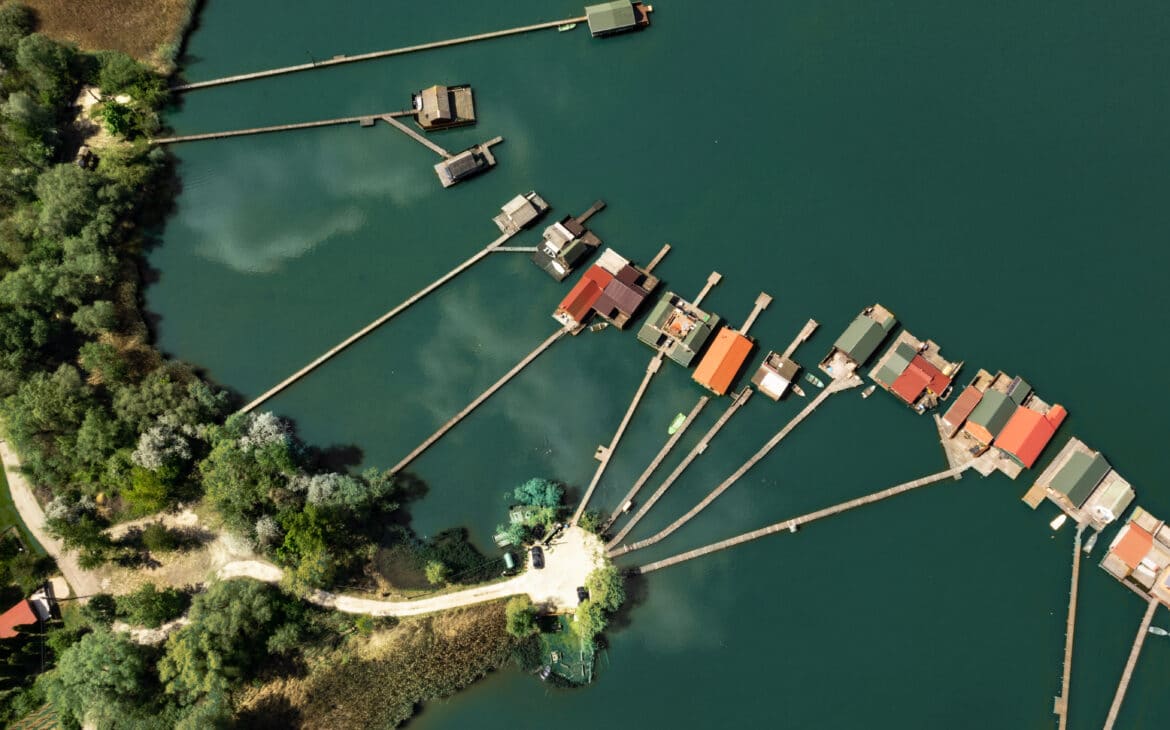 Here, a couple has been working for 10 years to make the former fishing village, whose houses are built on stilts in the lake, more attractive and visible to tourists. They invite us to their house, or more precisely, their roof terrace and make us a fresh coffee. That was a good stop!
The hot springs of Loutra Pozar
Around 11 o'clock in Hungary it was all hands on board, Ralfi wants to go to Greece. With our next destination in mind, we continued our journey towards Loutra Pozar. Still in the same evening we wanted to cross the Greek border, in order to start the next morning with a bath in the hot springs. At about 1:00 a.m., after what felt like an endless and tiring drive, we actually reached our destination. Although the last 1 1/2 hours of driving through mountain roads made our adrenaline shoot up once again, we were glad when we finally found a nice spot and pitched our tent. Listening to the soothing sound of water, we and our dogs all quickly fell asleep.

The next morning we quickly exchanged our sleeping clothes for bathing outfits to dive into the hot springs. A bath in the middle of nature, surrounded by forest, stone and birdsong, can there be a more beautiful start to the day? We treated ourselves to another frappé and fed cute little street dogs before continuing our journey.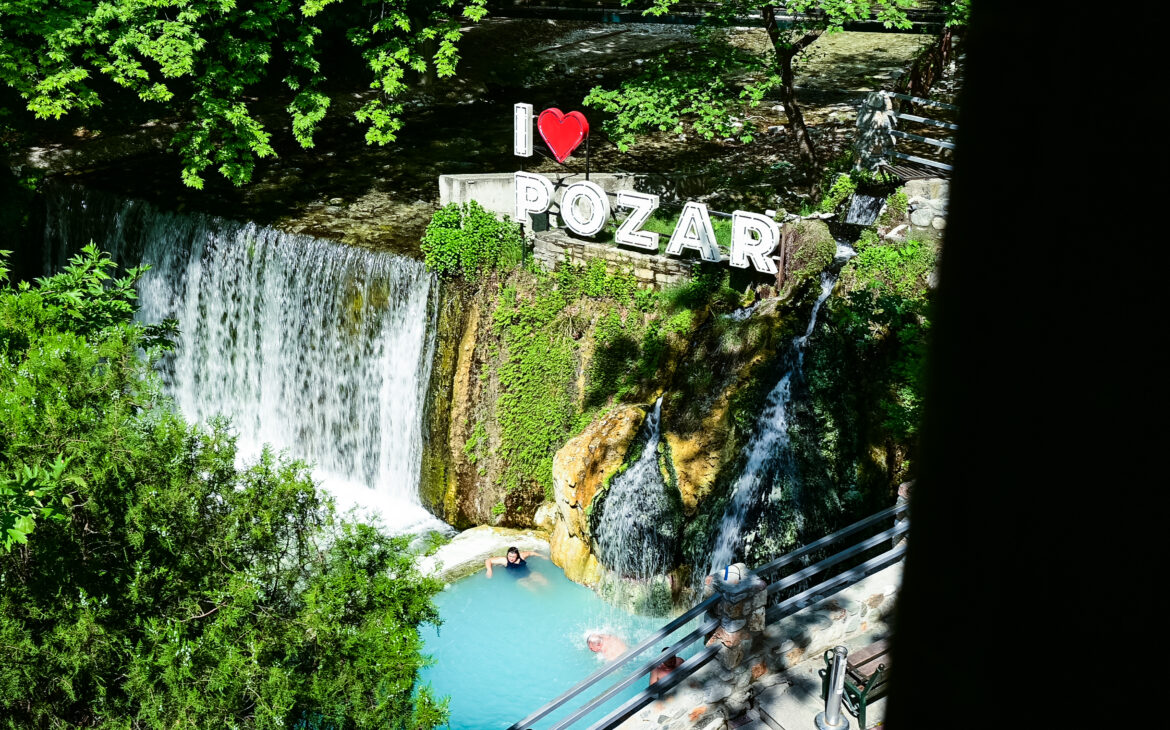 Salt pans of Pydna near Katerini
Upon our arrival in Katerini, our first stop was Tsipouro Meze. In this form of lunch, you order the Greek pomace brandy Tsipouro and receive various delicacies of Greek cuisine.
For digestion and a little nap, we then drove to the salt pans of Pydna. Parts of the salt pans are freely accessible and bathing in the brine is allowed at a designated spot. The high salt content means that one is carried more in the water than in normal bathing water. In addition, the salt bath is good against skin impurities, mosquito bites and supposedly good against joint ailments.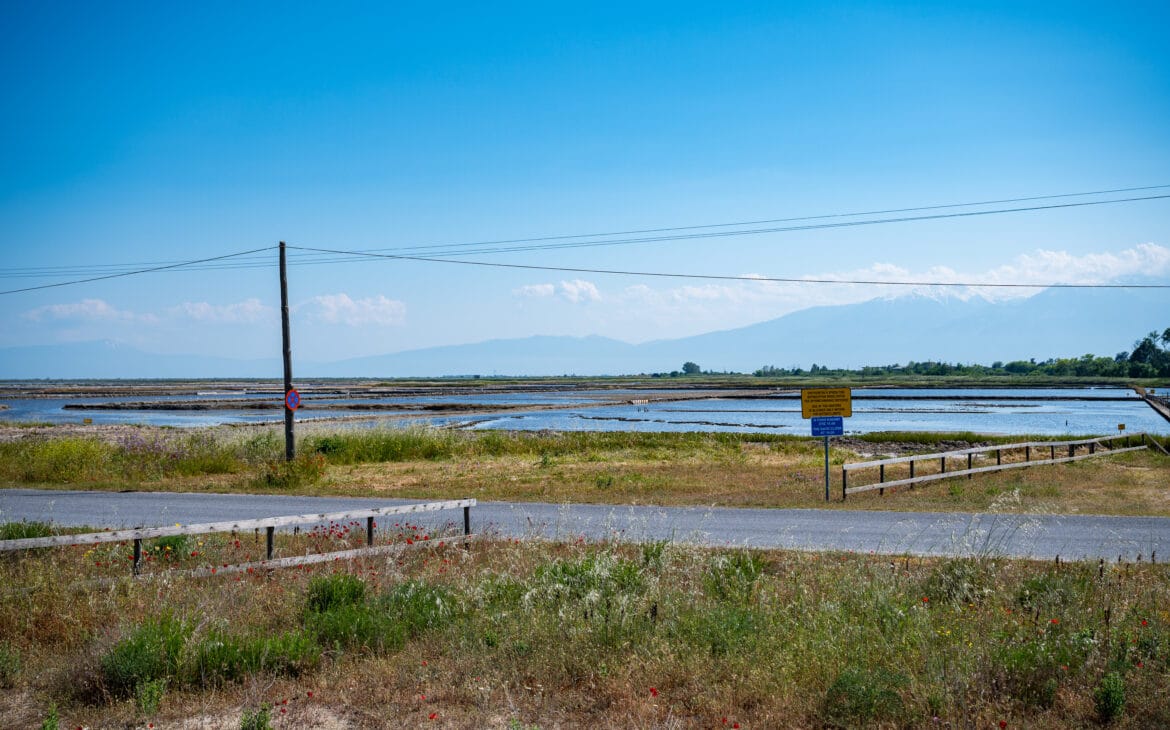 For the first time we could drive with our "Ralfi" directly to the beach. We unfolded the awning (Quick Pitch Awning) and rested a little in the fresh sea breeze. Truffle and Pelle sniffed the Aegean sea air for the first time.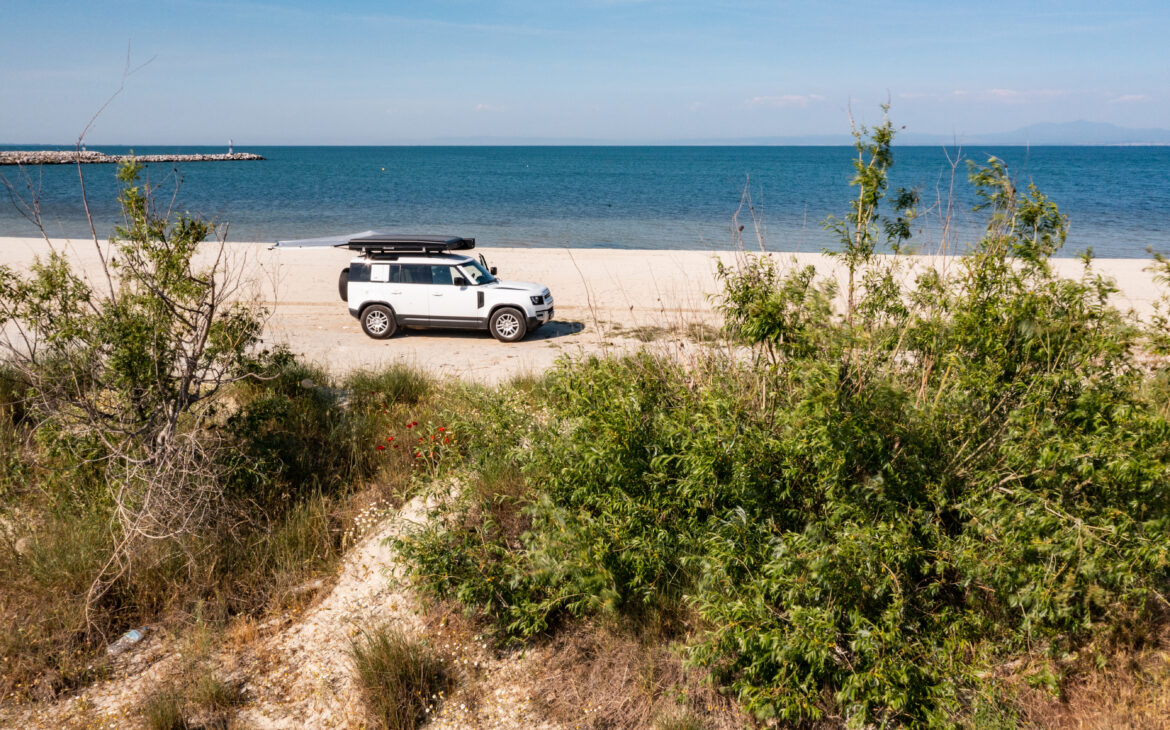 Such a beach day and sea air can make quite hungry, so we decided to go to the tavern "The Koutouki Nikolas" (Το Κουτούκι του Νικόλα) for dinner. It is one of Daniel's favorite restaurants, so the anticipation was huge. After 5 years of abstinence, it was back to Snow White salad and deep fried pork. We discovered that the peperonis were actually VERY spicy and enjoyed our first Greek wine. Without Autan, however, the evening would have been only half as nice.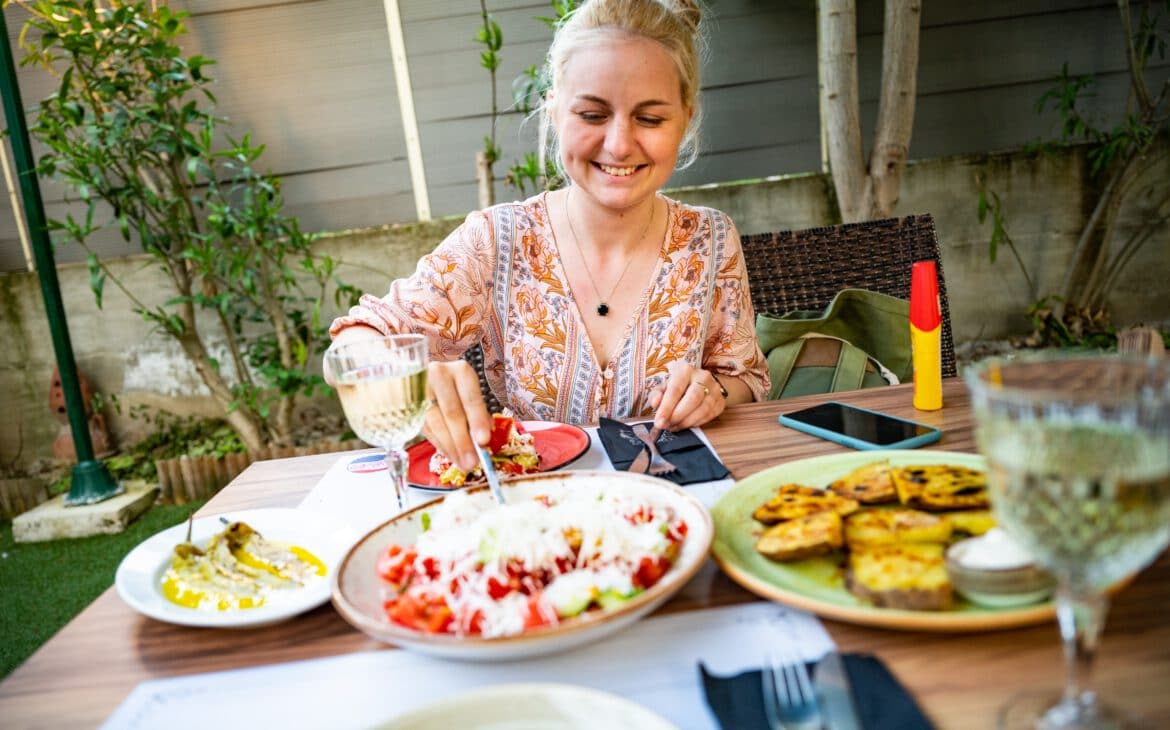 On the way there for dinner, we had already noticed a beautiful place on the beach and campers who were already there. The app park4night helped us once again to find a beautiful place to camp "wild". It followed our first night on the beach, with the sound of the sea and a magnificent view of Mount Olympus and its shining nearby cities.
Over our coffee the next morning we met Stelios. A nice older Greek man who just came from his night shift and wanted to enjoy the sunrise. We got to talking and exchanged ideas about the working conditions in Greece and Germany, among other things.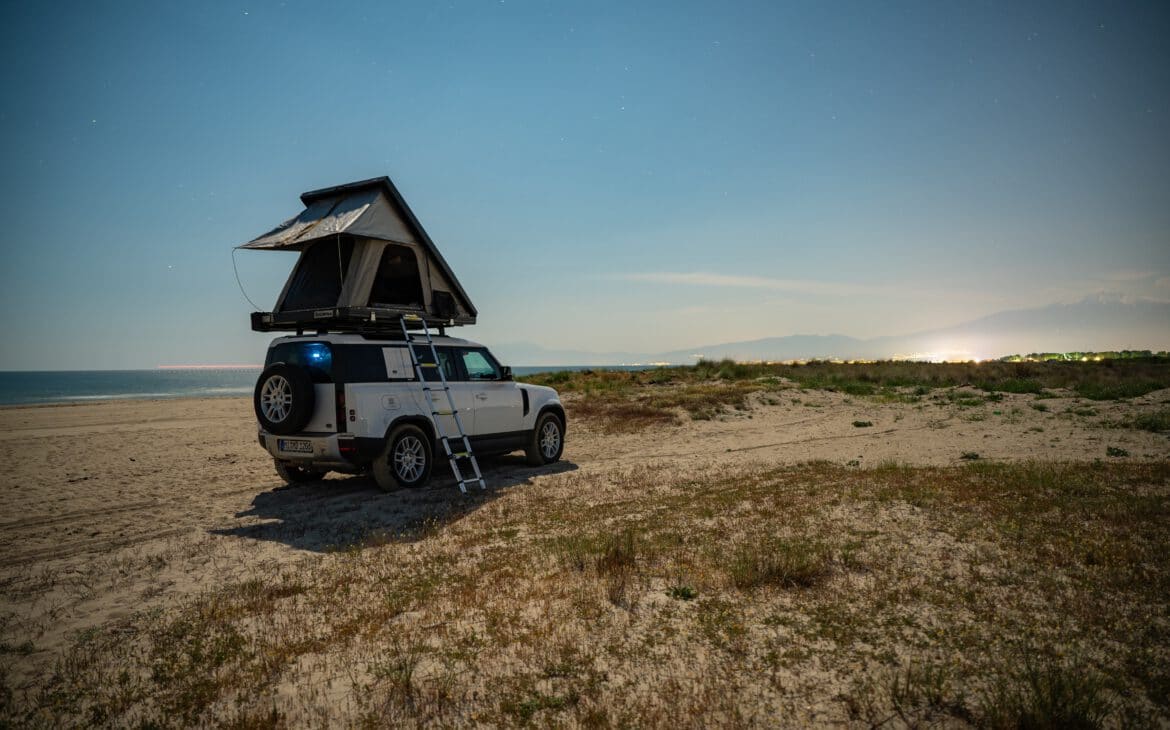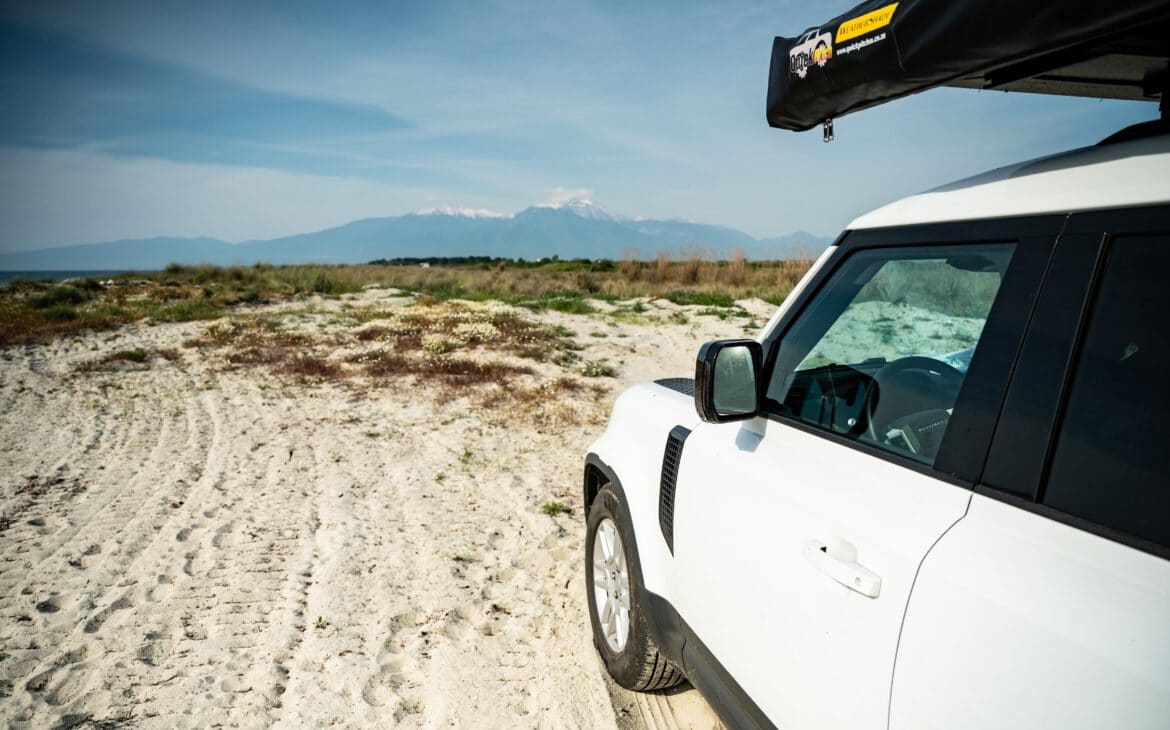 Offroad to Mount Olympus
After both the excavation sites at Dion and the mountain village of Pantaleimonas were overrun by groups of students and spoiled our mood properly, we decided on the spot rather to go to Mount Olympus. Here we should have our peace and at the same time we can test what our Ralfi can do. Before we went to the top, we visited the crystal clear waterfall Orlias. Surrounded by frogs and tadpoles we dipped our 12 feet into the cold mountain water.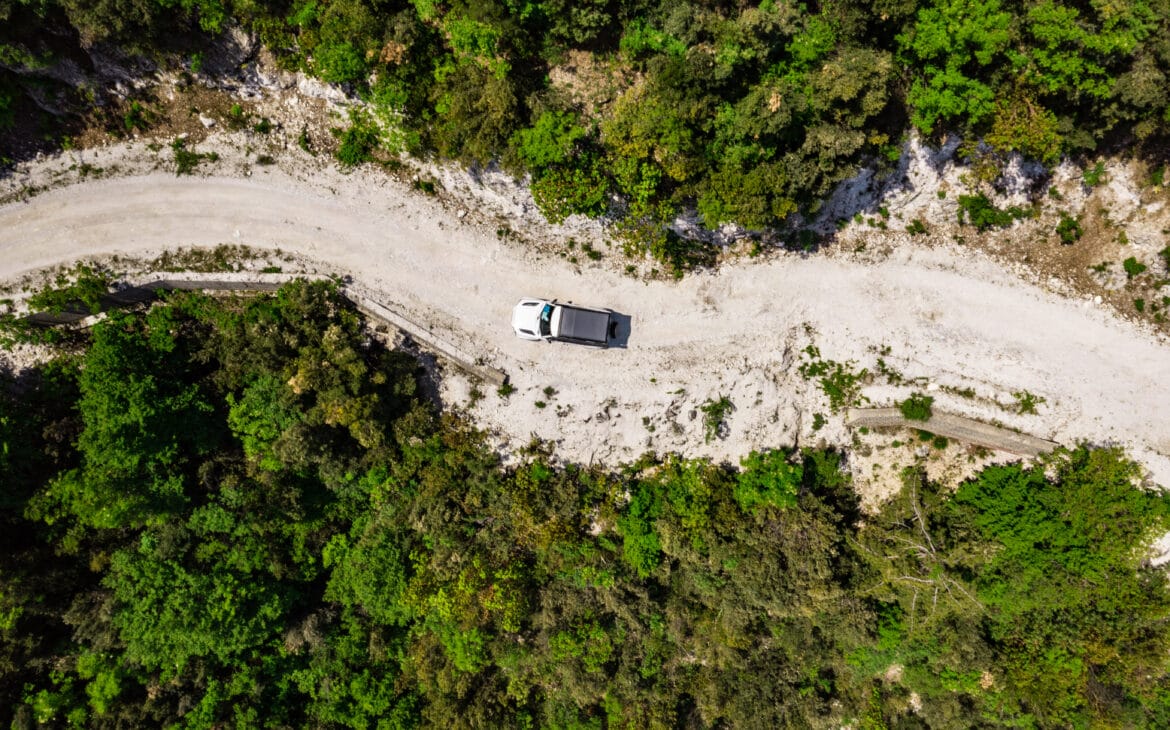 After cooling down, it was time for Ralfi and Daniel to get to work. While Michelle cleared the path of sharp stones and hanging branches, Daniel drove our Ralfi safely on unpaved gravel roads towards "Koromilia Refuge Olympus". At the top we met a bachelor party and thus got to know a troop of funny young men from Israel. We offered them all a chilled beer and exchanged some stories. It was a great encounter!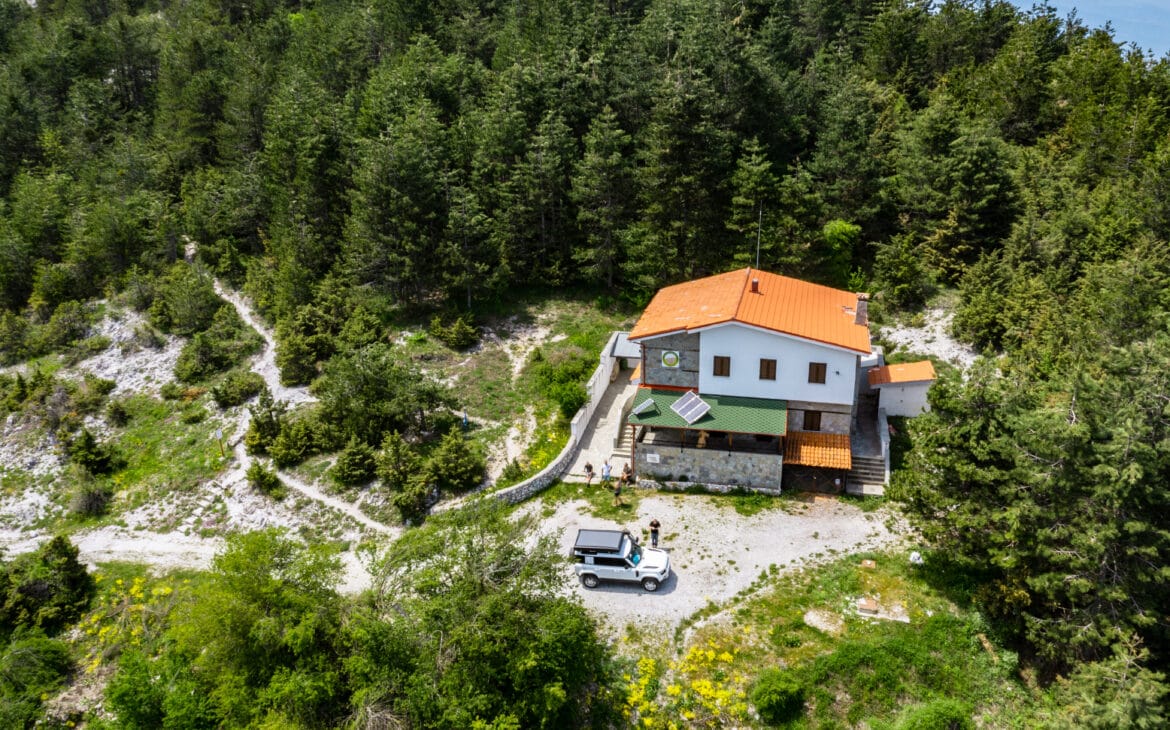 If this is not paradise, where is it?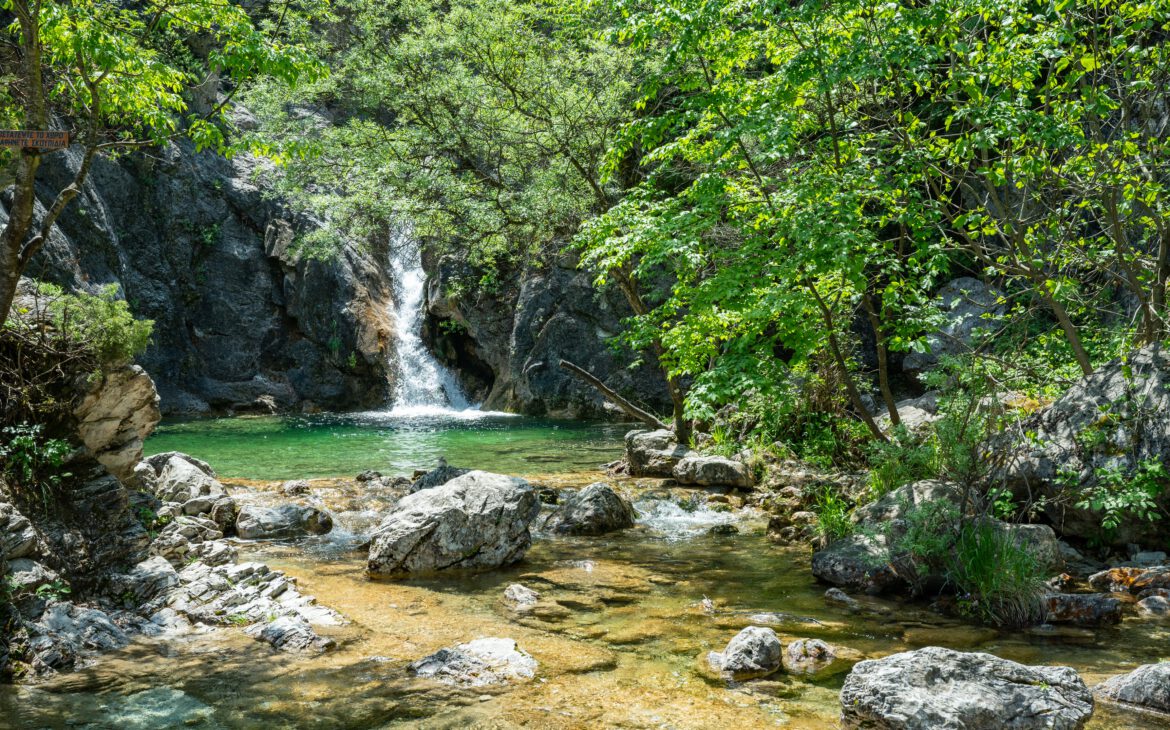 Gallaria
When Daniel was last in Greece in 2017, a bar was just built in the old train tunnel on the beach of Pantaleimonas. Years before even the Orient Express passed through this tunnel, today exactly in the same place you can find an industrial bar with charm and pretty good cocktails. We tried our way through the cocktail menu, were spoiled with strawberries and pears and found new friends here as well. But it wasn't just us, our dogs got found new buddies as well. Dear John Ziakas, thank you for the warm evening and the tequila. We like to follow your guitar skills on Instagram and on our next trip to Greece we will definitely enjoy your hospitality again. Last but not least, we were allowed to pitch our tent in the parking lot, perfect!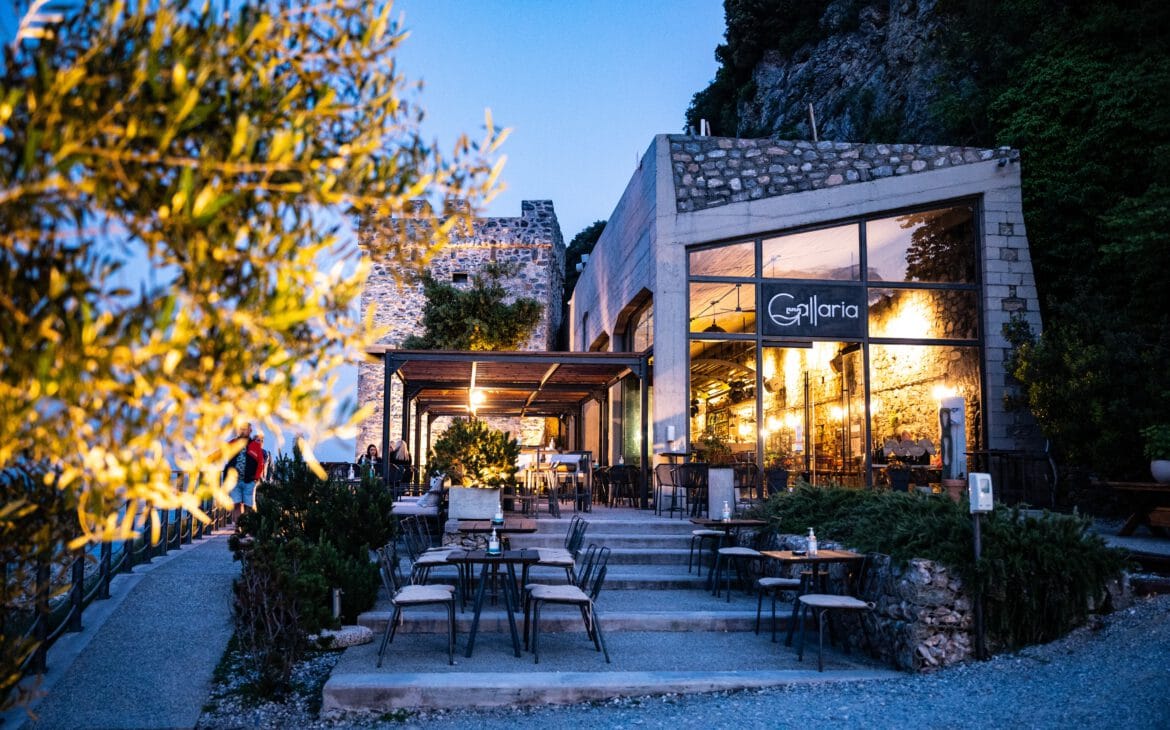 The next morning should start a little relaxed before the onward journey. We took two loungers on the beach and enjoyed a frappé. Just let the soul dangle before the next longer distance waiting for us.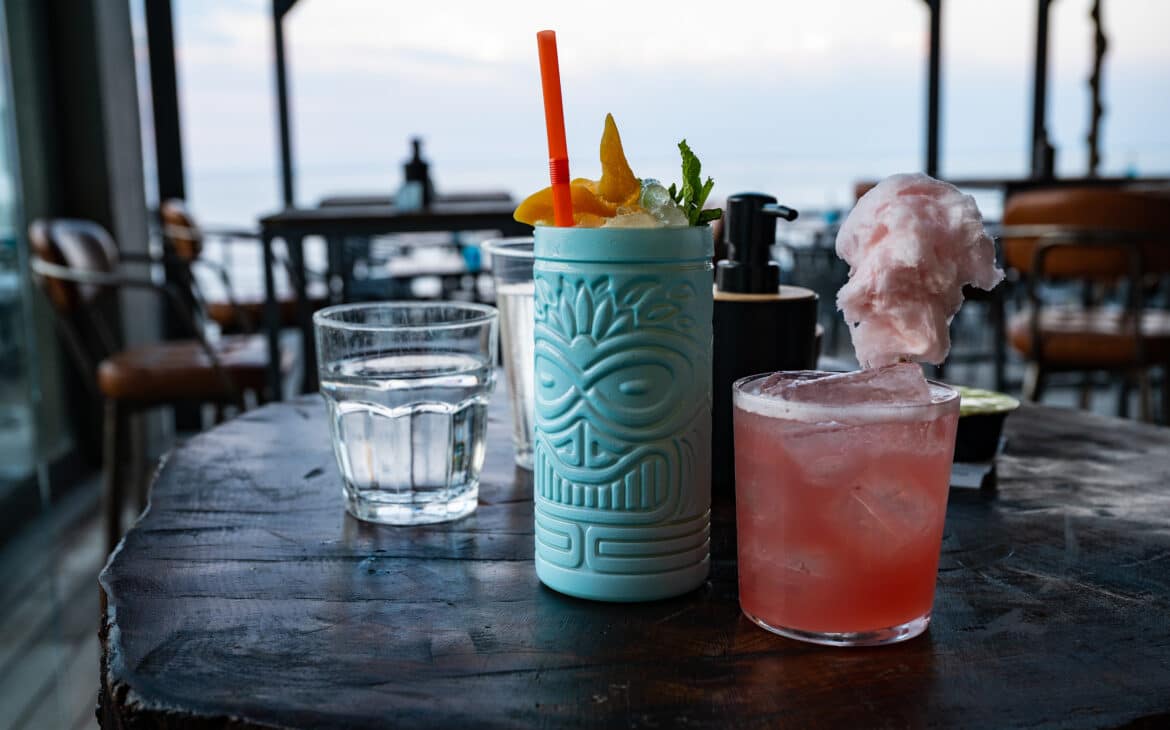 What was to follow after this harmonious morning was anything but relaxed. Michelle had considered a beautiful route from Pantaleimonas to Paralia Agii Saranta. It should go far from the Google Maps navigation, rather directly along the coast. Let's put it this way, that we are still alive today and writing this report, seems like a miracle. Through a kilometer-long unsecured construction site in serpentine form, over sharp rocky paths, to overgrown paths on the cliff, in the middle of Nowhere. This was off-road experience at its finest, and Daniel once again demonstrated his driving skills through sweat. We definitely had a very dear guardian angel at our side. Thanks Ralfi, you still take care of your "Himbeertonis".
The beach was beautiful, but how should this adventurous story end differently than that nothing had opened on the gorgeous beach, but we were hungry, thirsty and exhausted from the day. So it was to go back a bit and look for another place with restoration.
Chorefto
So we ended up unexpectedly and unplanned in Chorefto. The village has a really very nice campsite, which apparently also has glamping tents in high season. Unfortunately, not in low season and so we decided to rather stay near the ports construction site – once again – directly on the sea.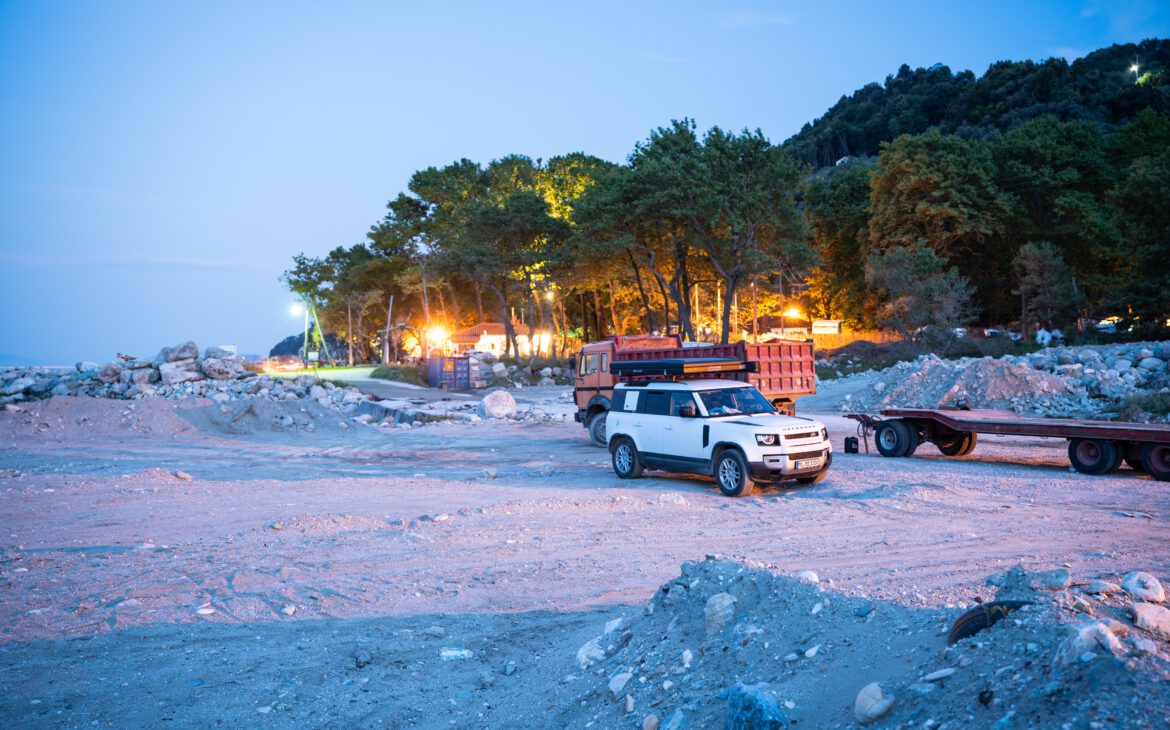 Of course, in the place one thing was more important than anything else: Food. There were plenty of restaurants and bars. Unfortunately, also at least as many, if not more, street dogs. Accordingly, we chose our restaurant based on the criterion of where the street dogs have the hardest time getting to. This way we landed at Petros o Sogabros. The ambience was fantastic, the service good, the seafood as well, but the street dogs still kept us a bit on our toes. All in all, however, a successful evening.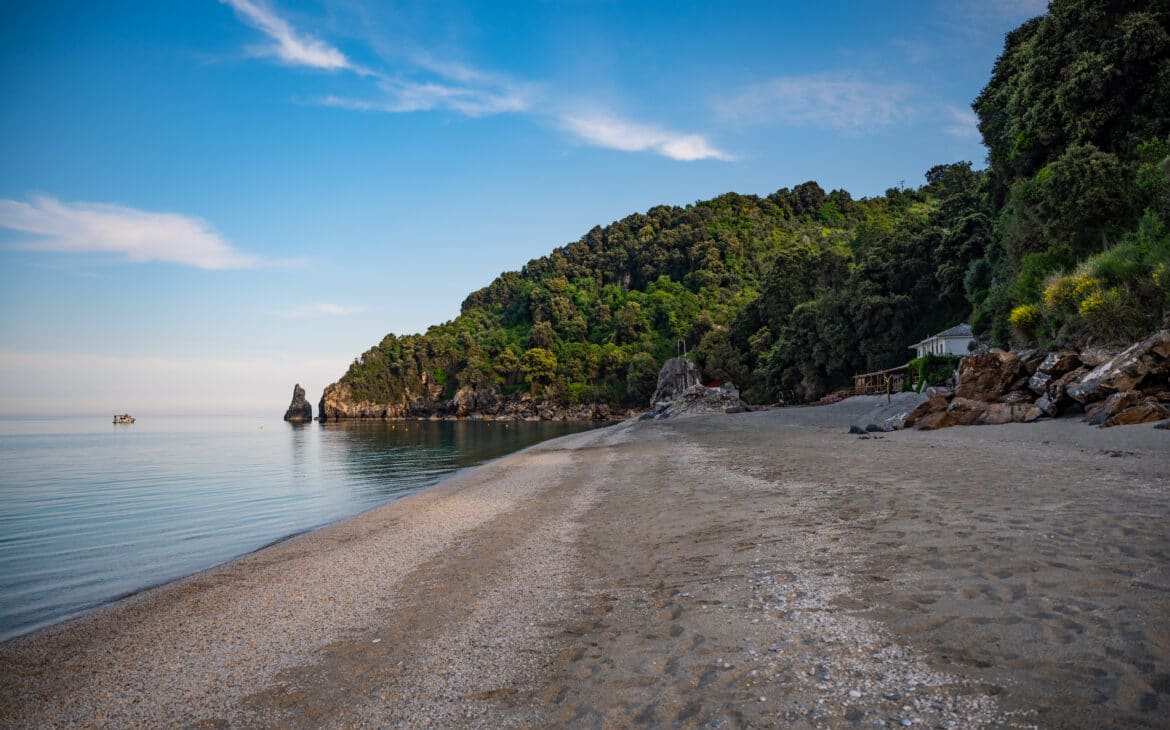 Damouchari
Just as beautiful as its name, is the place itself. Damouchari must have been born out of a dream. Picturesque alleys lead over terraces down to the harbor basin framed by large stones. On the other side of the village there is a wide white pebble beach. By the way, it was a filming location of the movie musical "Mamma Mia".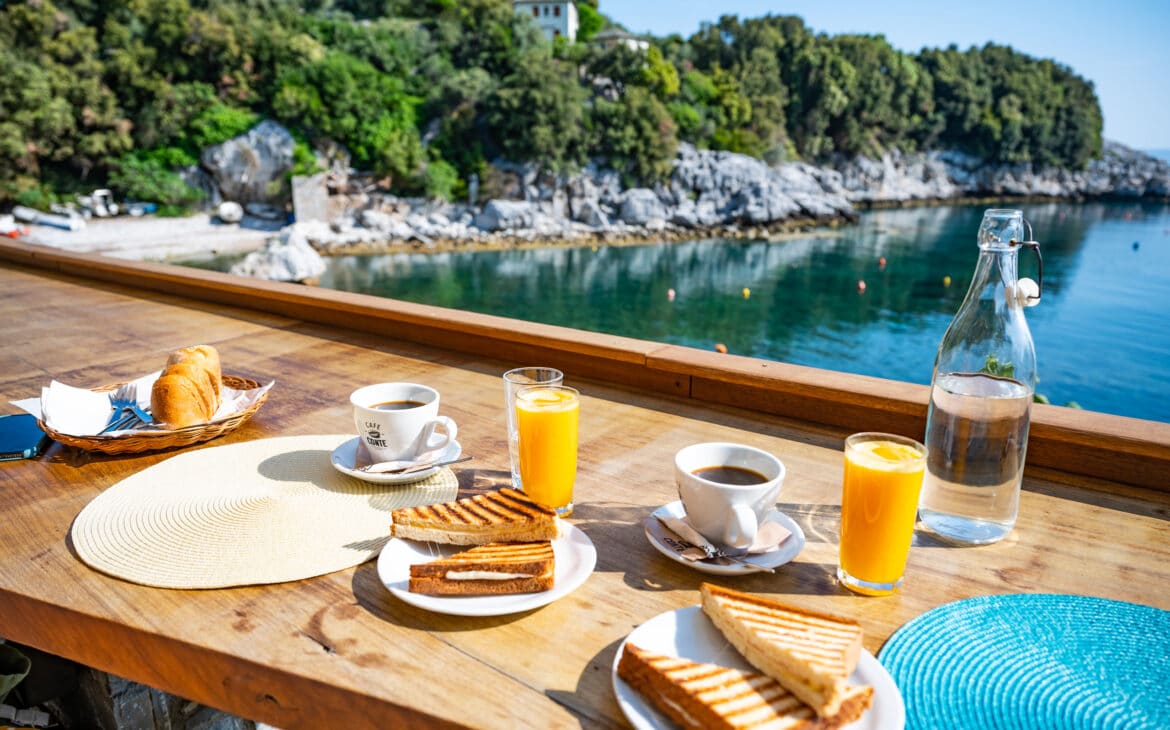 We reached Damouchari early in the morning and enjoyed a delicious breakfast on the terrace of the family led Victoria Café. Here we met a lady from Brighton who has been returning to this place again and again for 12 years. We received numerous tips, including the recommendation to visit Fakistra Beach, which is known for its extraordinary beauty.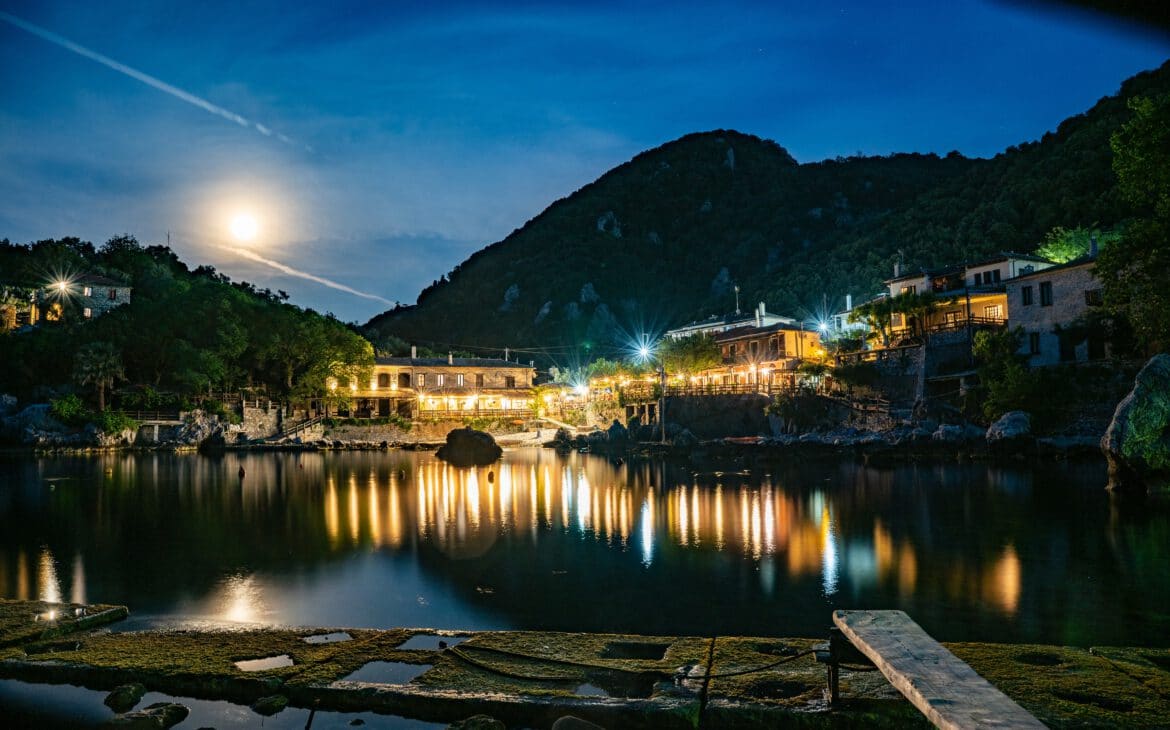 One breakfast turned into 2 nights in the room where Romy Schneider stayed when she visited Damouchari. Yes, this was not a joke at this point. We decided to stop at Guesthouse Ghermaniko to enjoy this dreamlike place even longer. Unsuspectingly, to our surprise, we ended up in Romy Schneider's room, which was also beautifully, very purist but stylishly furnished. The guesthouse also belongs to the owner family of the Victoria Café and is absolutely recommended.

Many experiences and adventures followed, and in just a few days and in what is actually a very small place. Michelle received a private yoga lesson in the olive grove with Katerina, the owner of the inn. We met a new Landi friend in the owner of the Damouchari Hotel and chose our dinner ourselves in the kitchen of the Damouchari Hotel from pots on the stove. And we had dinner together with a trusting fox.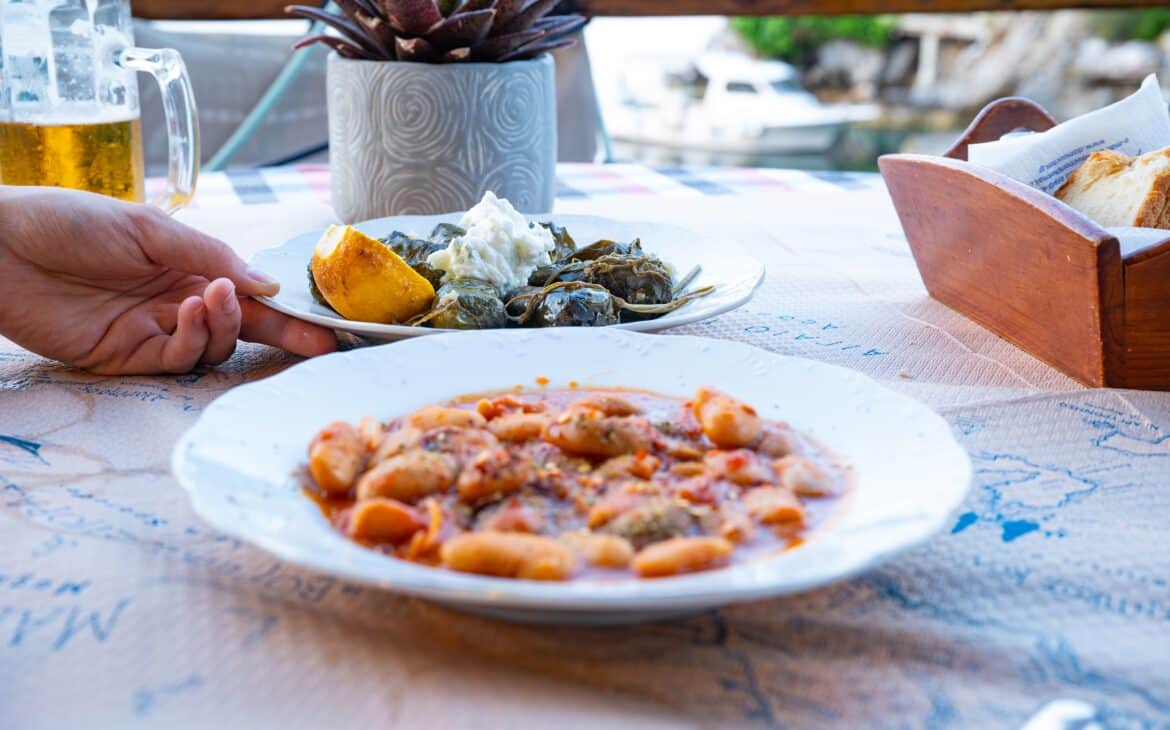 Fakistra
During our stay in Damouchari we visited Fakistra and Milopotamos beaches during the day. The way to Fakistra beach was stony and heavy. Heavy was especially Truffle on Daniel's arm. Being a brave bullipapa, he carried our back-sick Truffle all the way down and later back up again. No idea where Daniel could take the strength from, only love can make such things possible.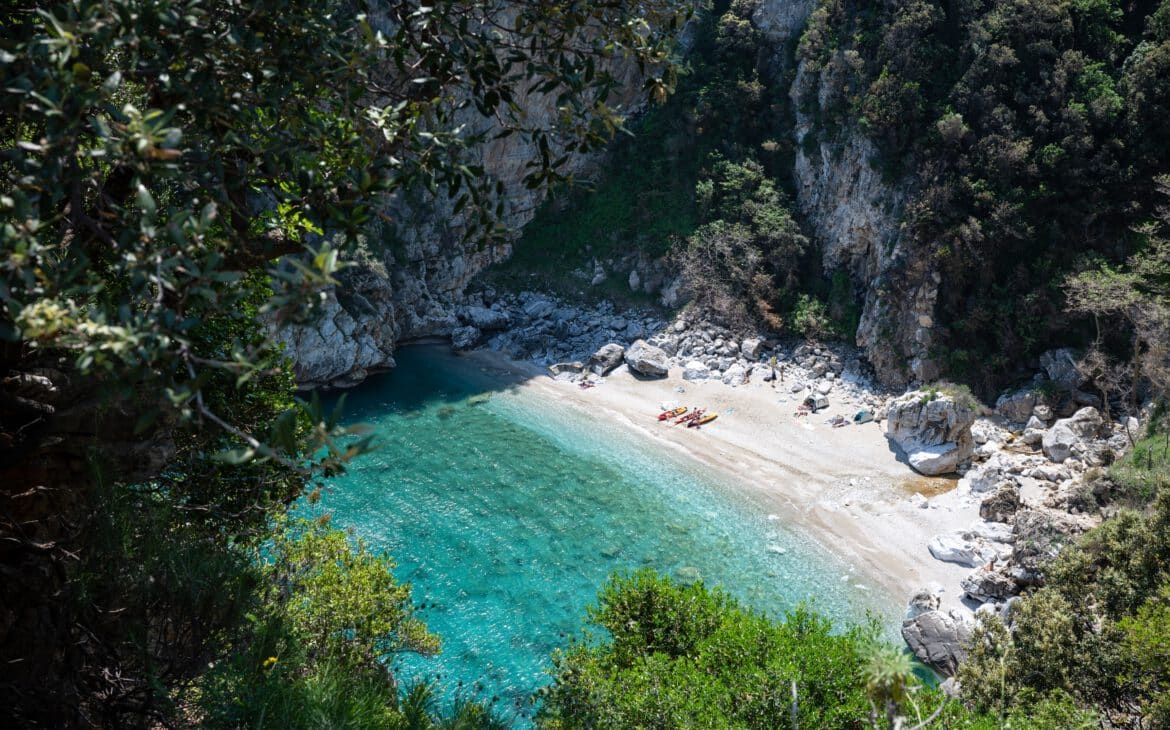 However, the effort had been worth it in every case. Here again we found a paradise on earth, with impressive rocks, beautiful clear blue water, green trees and in addition a waterfall. If you like beaches, you will love this bay! You can't see it on Trüffel in the photo, but he also enjoyed the beach day.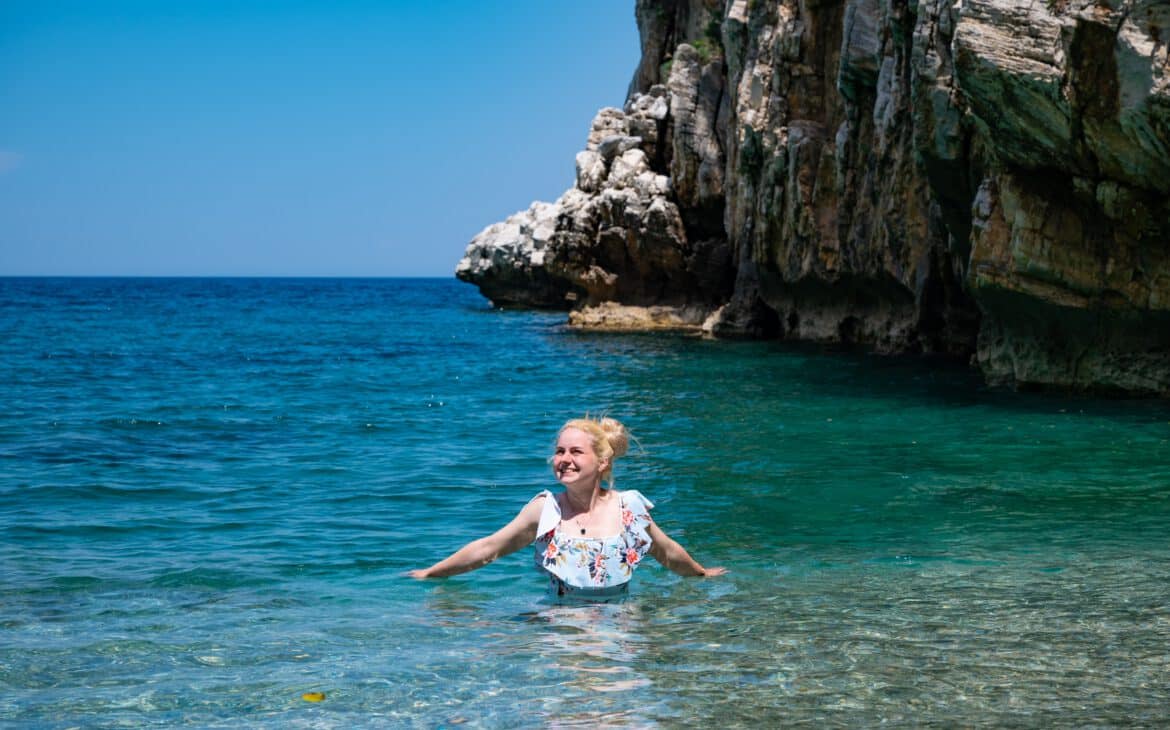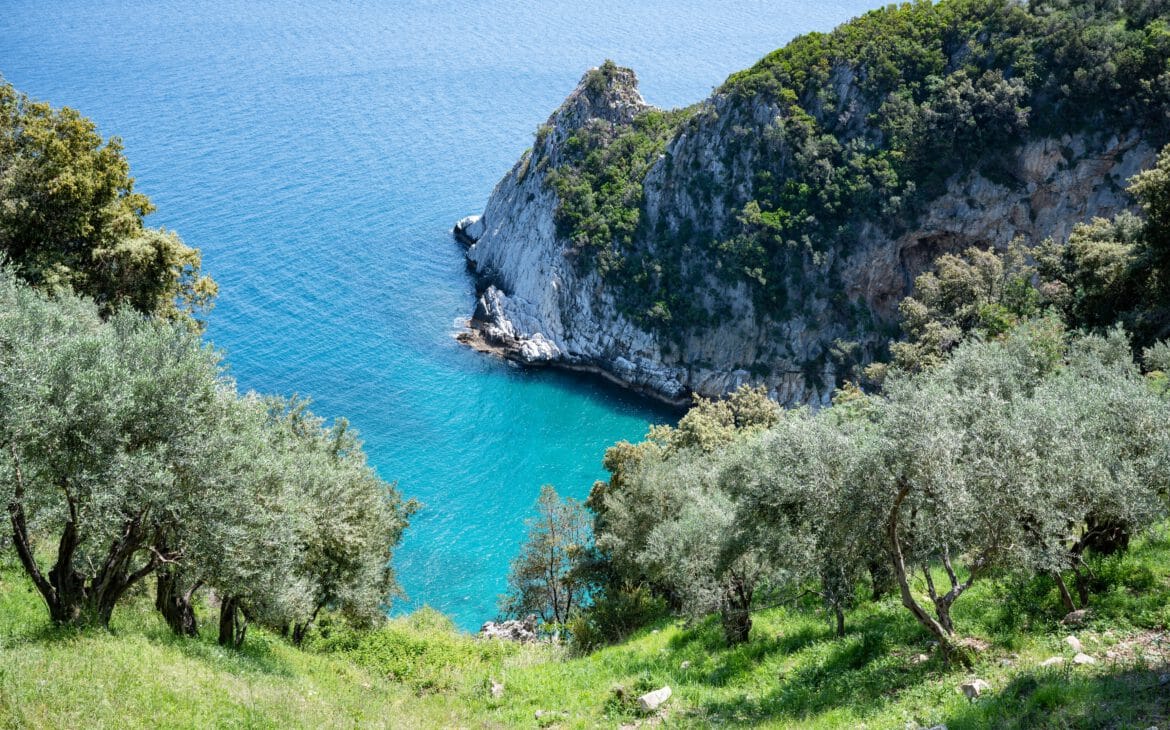 The beach caves of Milopotamos
The next day, the next beach followed. Not quite as paradisiacal, but also really beautiful. Not least because of its caves and rock breakthroughs.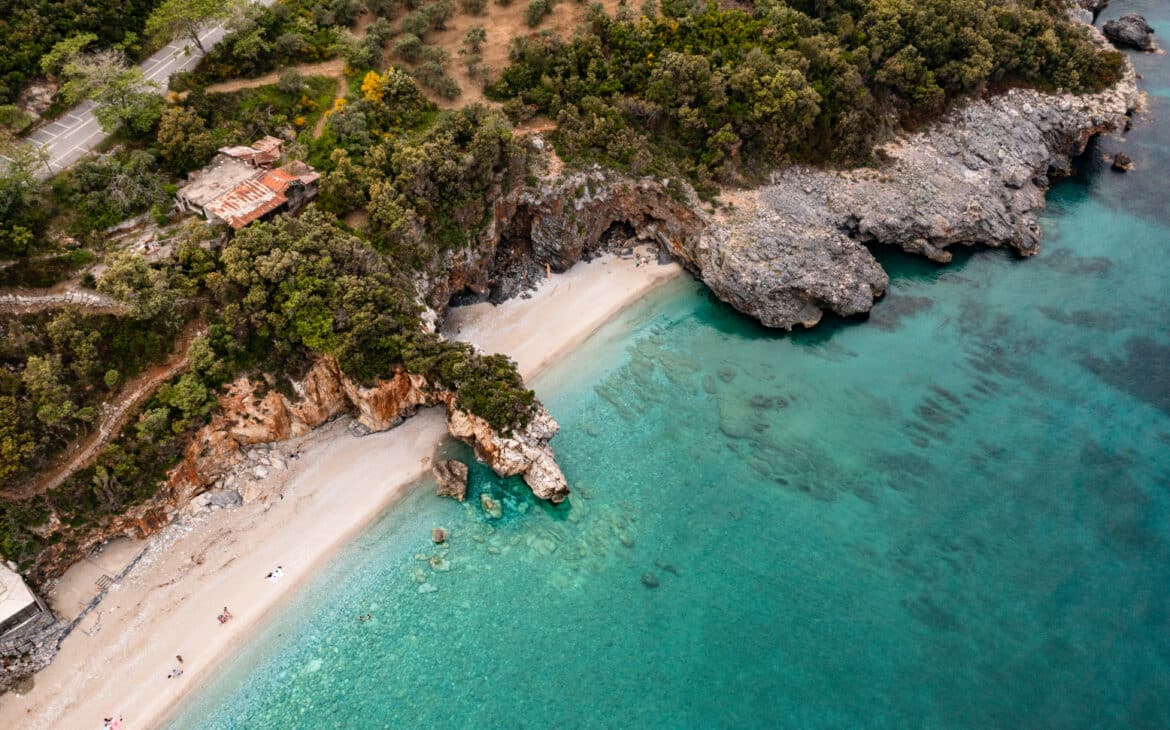 At Milopotamos Beach we explored the caves, which are accessible only from the sea. The water and the entering light from the cave entrance bathes the caves in a blueish light. The water can sometimes make awkward noises, which can be pretty scary at times.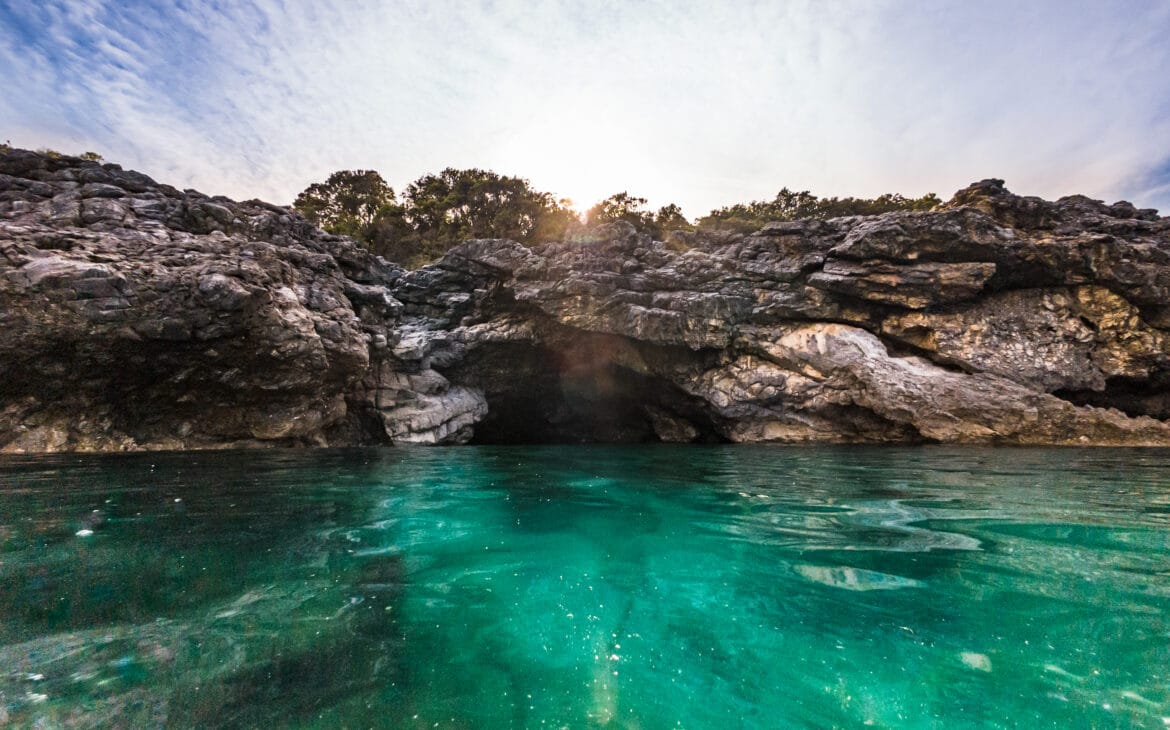 Our way led us further to Melania Beach, where unfortunately everything was still closed due to the season. Just like other beaches on our route. Nevertheless, we got a frappé from the extremely friendly hostess at a taverna that was actually closed and considered a plan B.
The harbor of Katigiorgis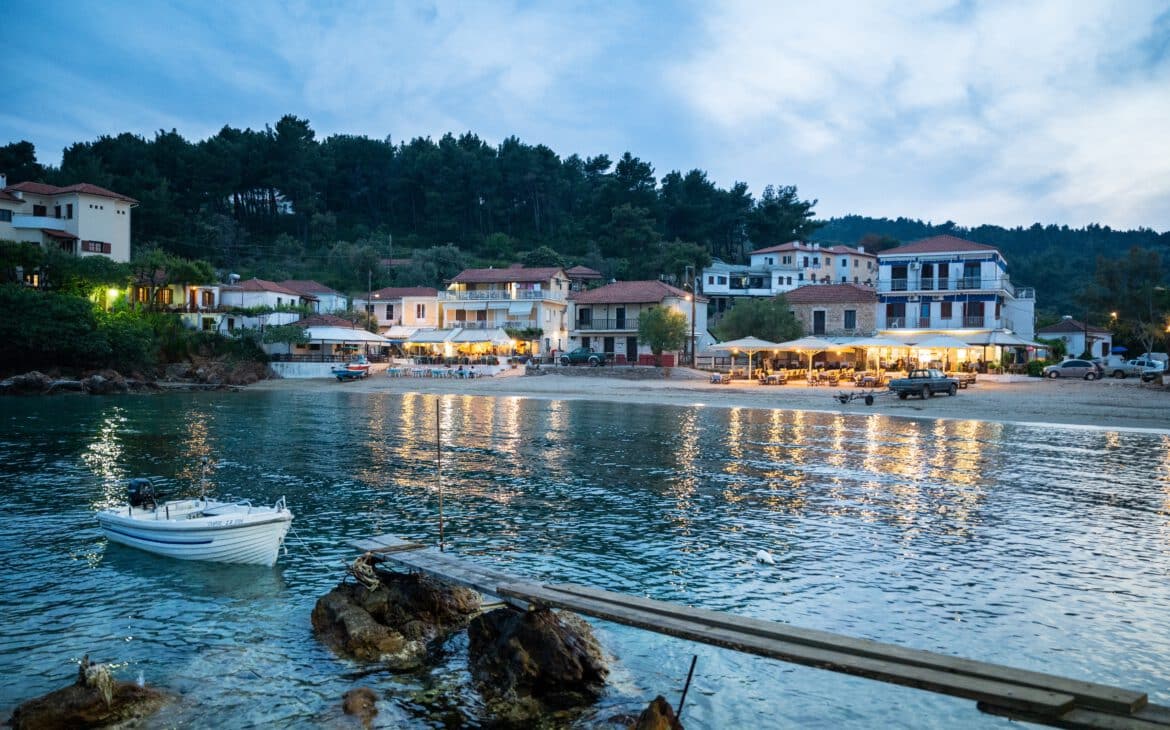 This evening we found our pitch in the harbour of Katigiorgis. In the evening we visited Taverna Areti and were treated with mixed seafood and fish specialties. When we asked the waiter, if we could have a tsipouro "to go" we received a cup full of ice cubes, two bottles of the clear spirit on the house and took off to our car, right across the bay. Back at the car, we backuped photos and videos, developed a few shots and watched the sun go down with our tsipouro in hand. During the night, there was a light cool breeze, cooling our tent. We slept very well.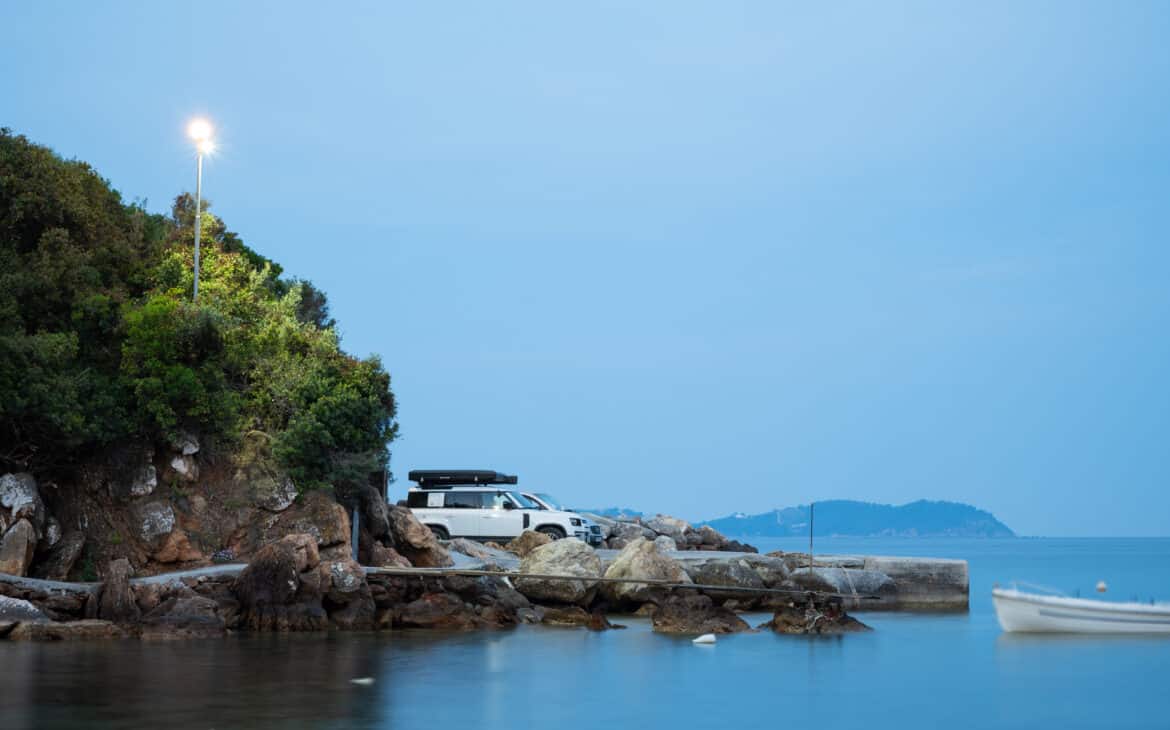 Trikeri – the southernmost point of the Pelion Peninsula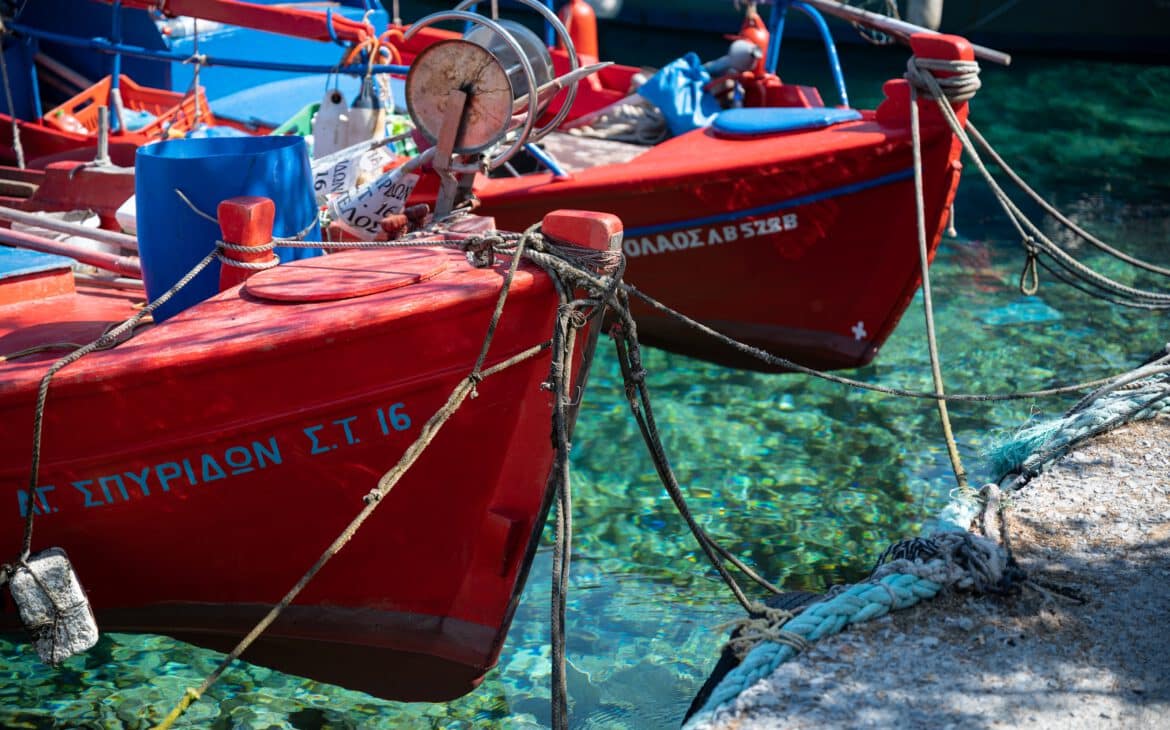 The southernmost town of the Pelion Peninsula: Kiriaki near Trikeri. We arrived before noon, went to this beautiful town and explored the alleys, the shipyard and the backyards. Around 12pm we sat down at Manola's taverna right by the harbor. What a beautiful, quiet day. The appetizers had just arrived when a stray cat caught Pelle's attention. This little bad bastard broke loose along with his leash and chased the cat. We ran after him yelling "Pelle, Pelle!" but eventually he was out of sight. Thank God the cat escaped and Pelle returned to us in one of the streets. I almost had a heart attack! When we got back to our table, the whole town had gathered there. Everyone heard the crazy German tourists calling all over the village for their dog. But everyone was friendly and many asked if our dog was okay and if everything was fine, even when we were on our way back to the car later.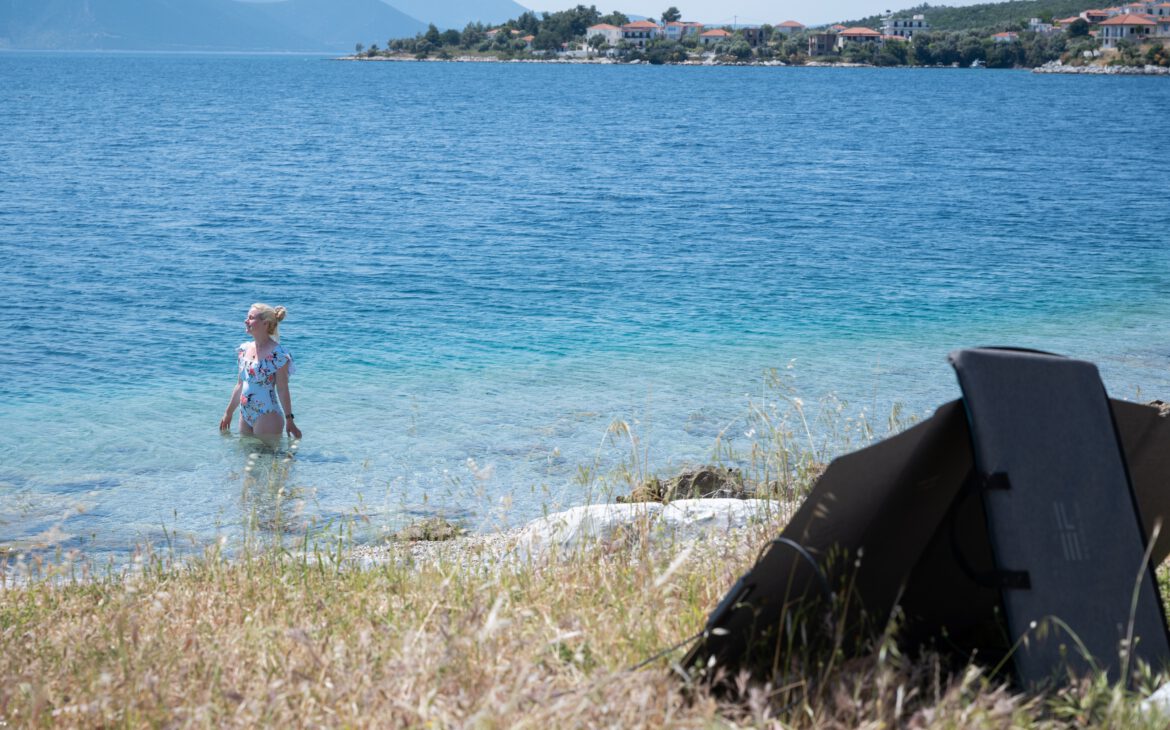 We ate the best fresh lobster at Manolas and then went back to the car. We set up our photovoltaic array, loaded our gear and went for a swim until thick clouds rolled in on the other side of the bay. We folded up the awning and headed back into town to Manola's taverna – just in time before it started raining. An hour later, a thunderstorm started and it seemed impossible to return to the car without getting completely soaked. But the friendly Manolas jumped in and offered to drive us in his car across town back to our "Ralfi". Until 3:00 am we slept on the driver's seats, then the wind dropped and we put up our tent to be able to sleep properly for at least 4 hours. Thank you Manolas for this great day and your great seafood!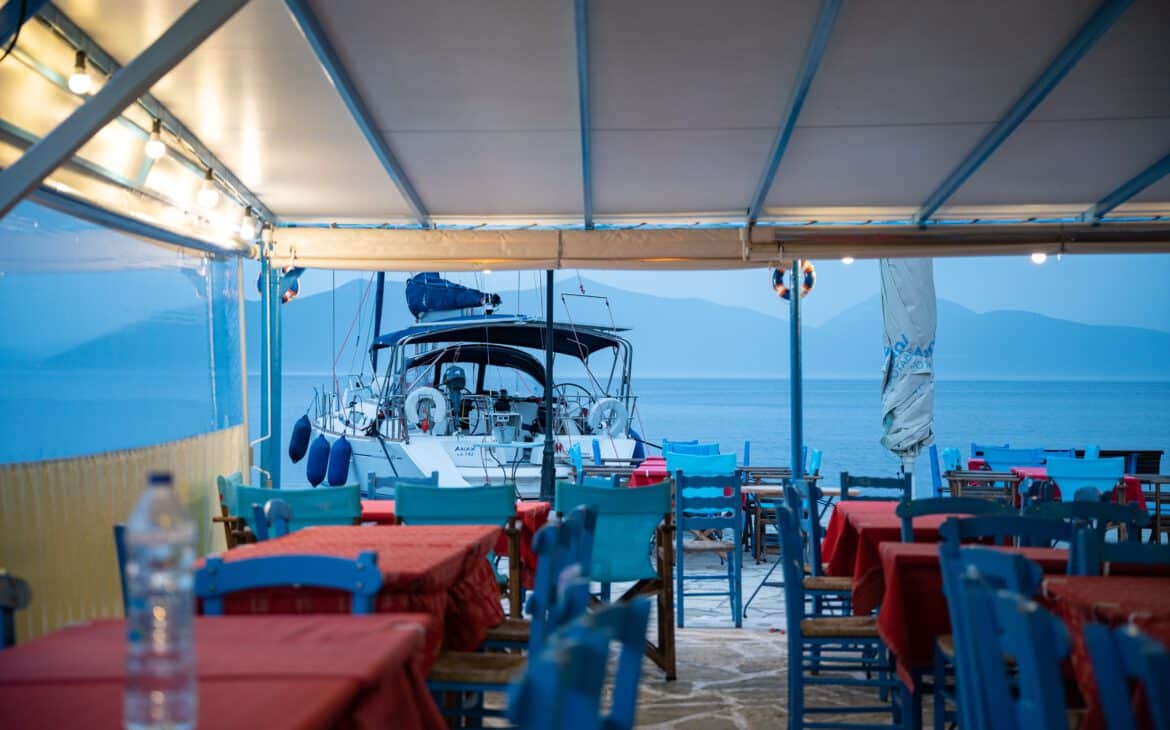 We slowly leave Pelion towards the west coast
One thing we can say now: The east coast is widely underestimated. Everyone praises and recommends the islands and the west, but what they tend to forget is how crowded it can get there. We prefer the (somewhat) more secret corners of this world and Pelion alone is worth a trip.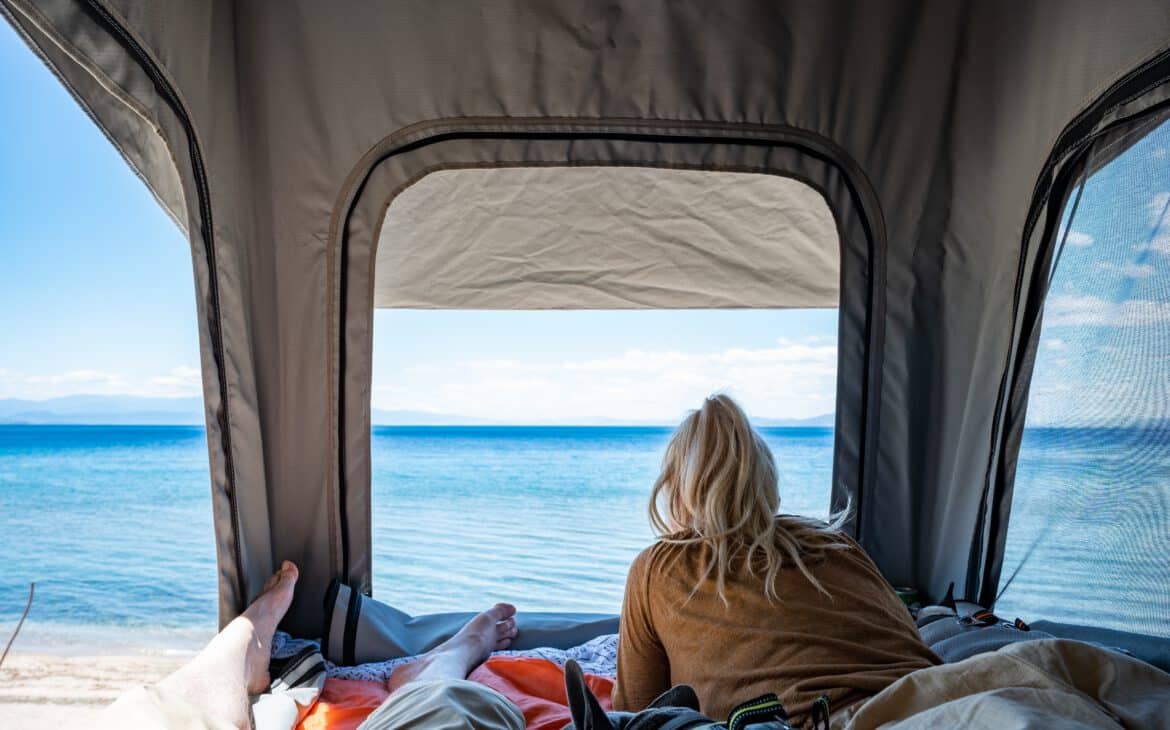 Continuing our journey the next day, we first stop in the small fishing village of Kóttes to have a real Greek coffee in the taverna Ψαροταβερνα Τσέτα. The old couple was very happy to see our two dogs and our visit. Although we could not communicate properly, it was a cordial meeting. At noon or in the evening there should also be delicious fish and seafood in the taverna, too bad that we do not have infinite time.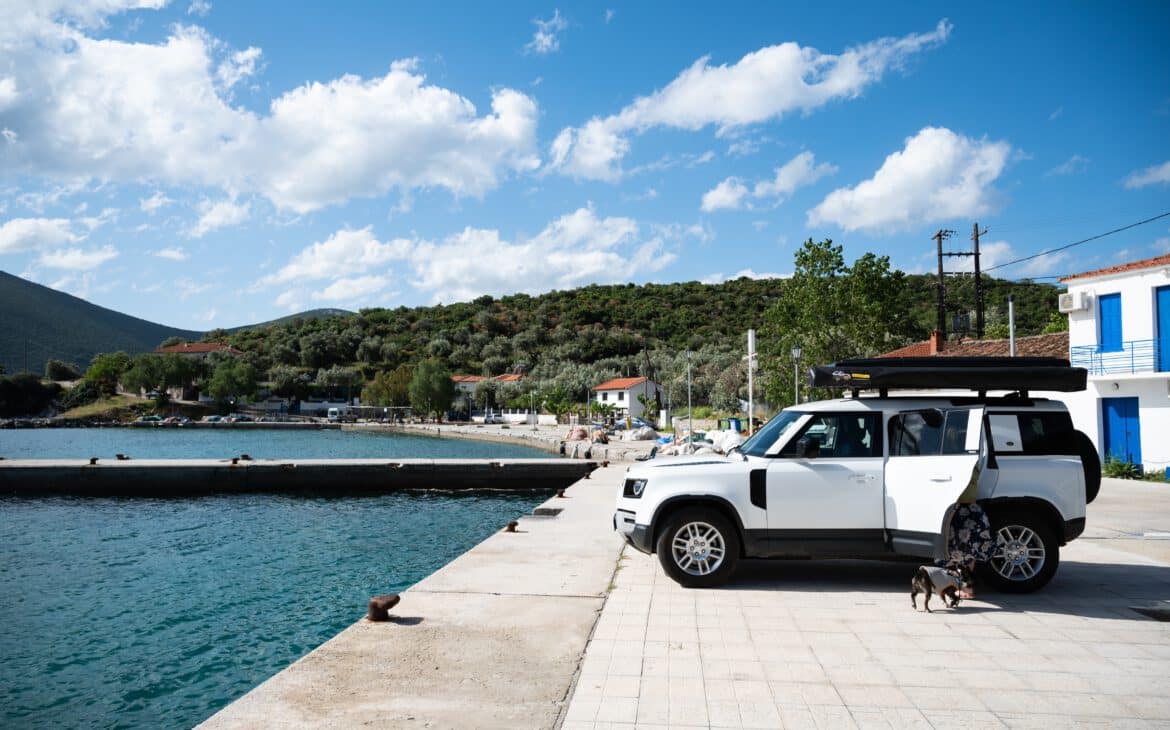 Our goals for the day were to take a shower and do laundry for the first time. So we needed a campsite that allowed both and was also on our way to the west coast. After extensive research, we decided on the Sikia campsite in the village of Kato Gatzea. Our way led us to the beautiful pebble beach Παραλία Ραζή, which was surrounded by shady trees. One look was enough and the decision was made, this is where we will make a quick stop, have a beer, unwind and maybe catch up on some sleep. This would also be a wonderful place to stand free, unfortunately we would have been out of fresh underpants. Just a stone's throw away, we fortified ourselves with a tsipouro meze at Marabu Taverna and got to enjoy some of the best gavros on our trip. For all non-Greeks among us, these are deep-fried anchovies.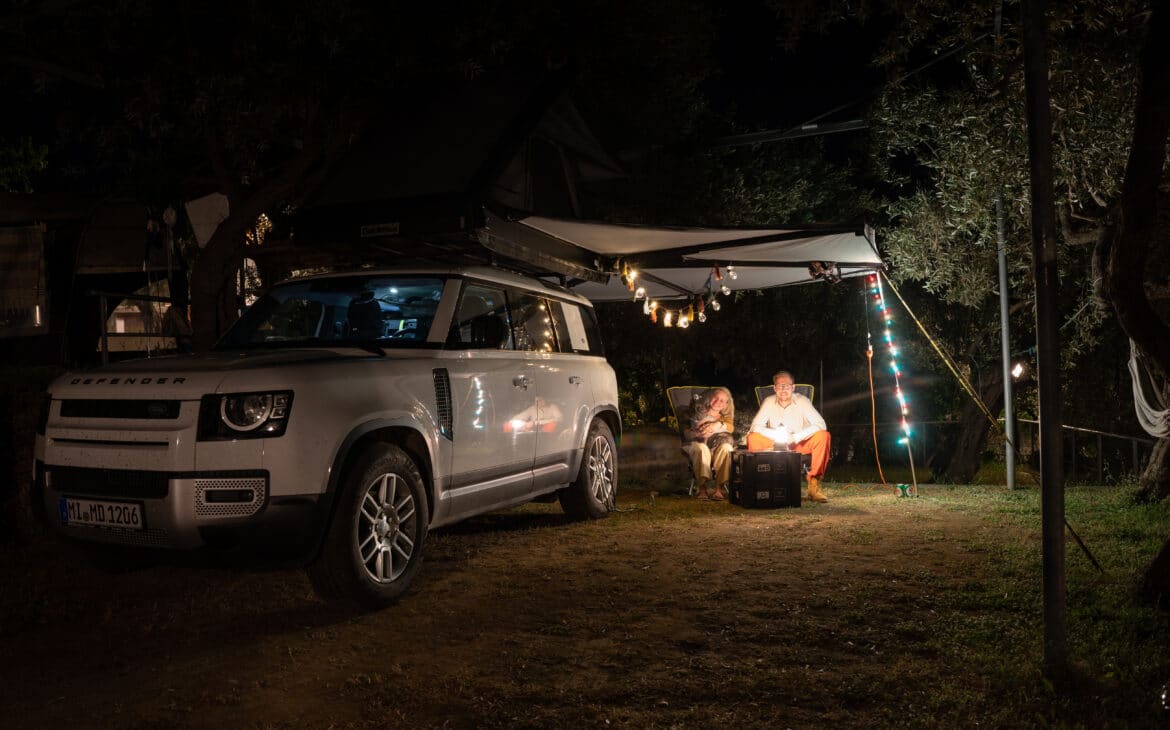 The campsite Sikia was surprisingly full. We were no longer used to that, where we were almost the only tourists far and wide everywhere else. Nevertheless, it was really nice and we could quickly understand why there has been so much going on. The clear majority of the pitches had direct sea views due to the terrace structure of the campsite and old olive trees were everywhere. On the day not only our laundry hung on the line, but also we relaxed for the first time in our hammock. In the evening we went to the tavern on the beach. The ambience was excellent, the eggplant salad, however, unfortunately not. The evening ended in a beach bar one campsite away with very good cocktails, which were prepared with dedication. Only the bar-cat Oliver did not have such a nice evening, as usual, due to our terror-pets.
Wild camping like in the adventure novel "A Winter at the Indian Creek" – only in warm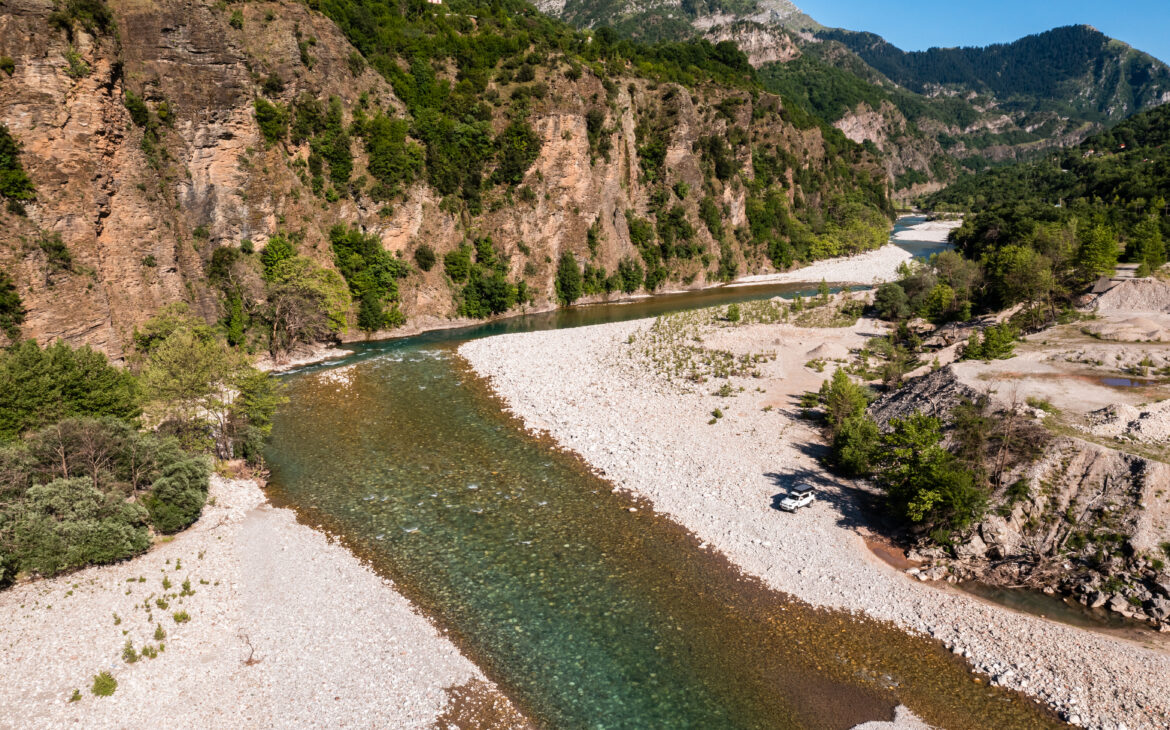 Our next goal for the day was to get as far west as possible. That is, to make a good distance. For refreshment we set ourselves a stopover at the restaurant Anabrysoúla. This restaurant is an absolute recommendation from our side. And if you like to eat trout, you can also enjoy a little adventure. If you want to eat a trout, you have to fish it out of the restaurant's own trout pond. We preferred to stay with our Tsipouro Meze and watch the spectacle at the next table. Not far from the restaurant is a charming spot for all photographers among you. The stone bridge with its waterfalls of Palaiokarya. The very brave can also cross the lower waterfall on foot over a kind of masonry, but here water shoes are recommended.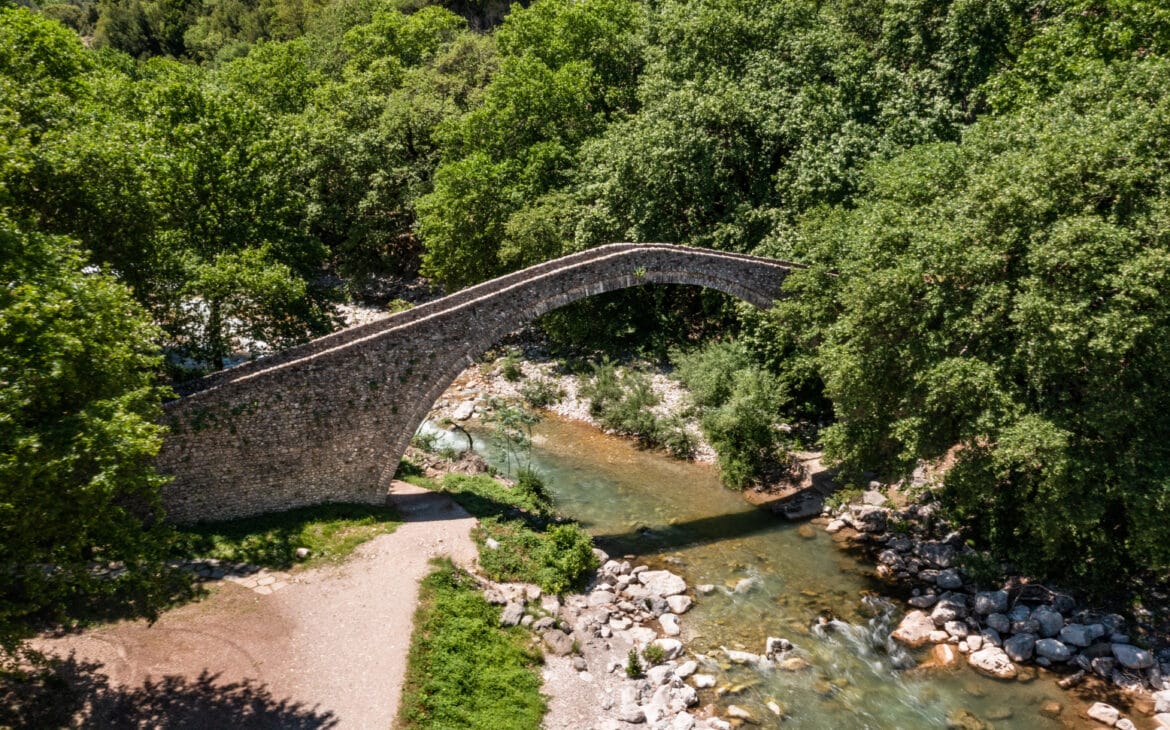 We crossed the spectacular Mesochora Dam, but due to permitting difficulties it has never been put into operation since 2001. A classic multi-million dollar construction sin, but with beautiful blue lakes.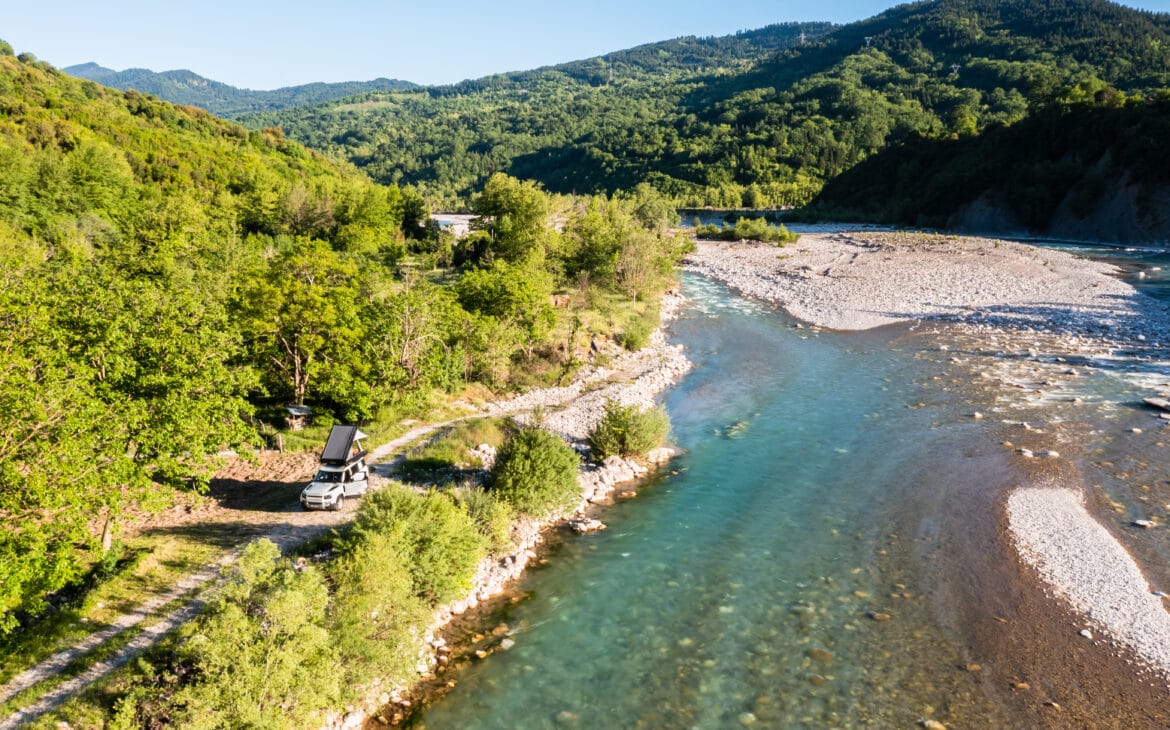 After a small off-road adventure through the riverbed, our campsite should be a little wilder and more natural this evening. We set up our tent right next to the river Acheloos. Here it was just us, bees, fish and the last rays of sunlight falling over the nearby mountain ranges into the valley. In places like this, you get a faint sense of what the word freedom can actually mean.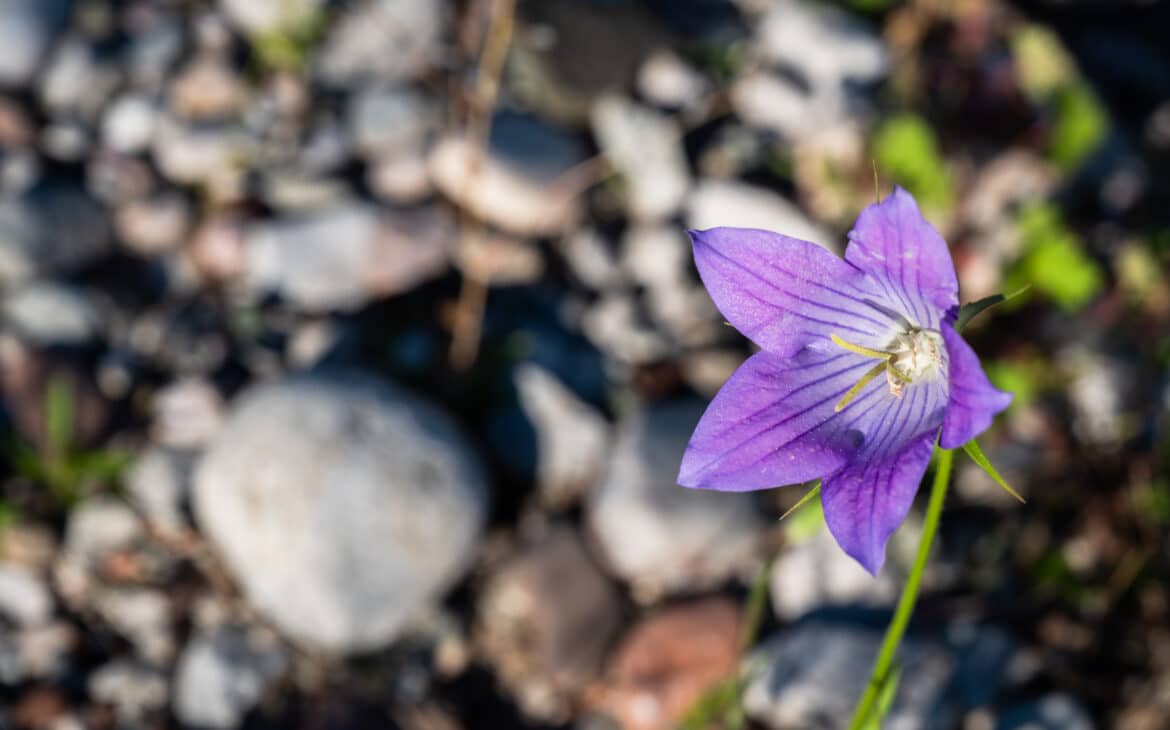 Koronisia and its lagoon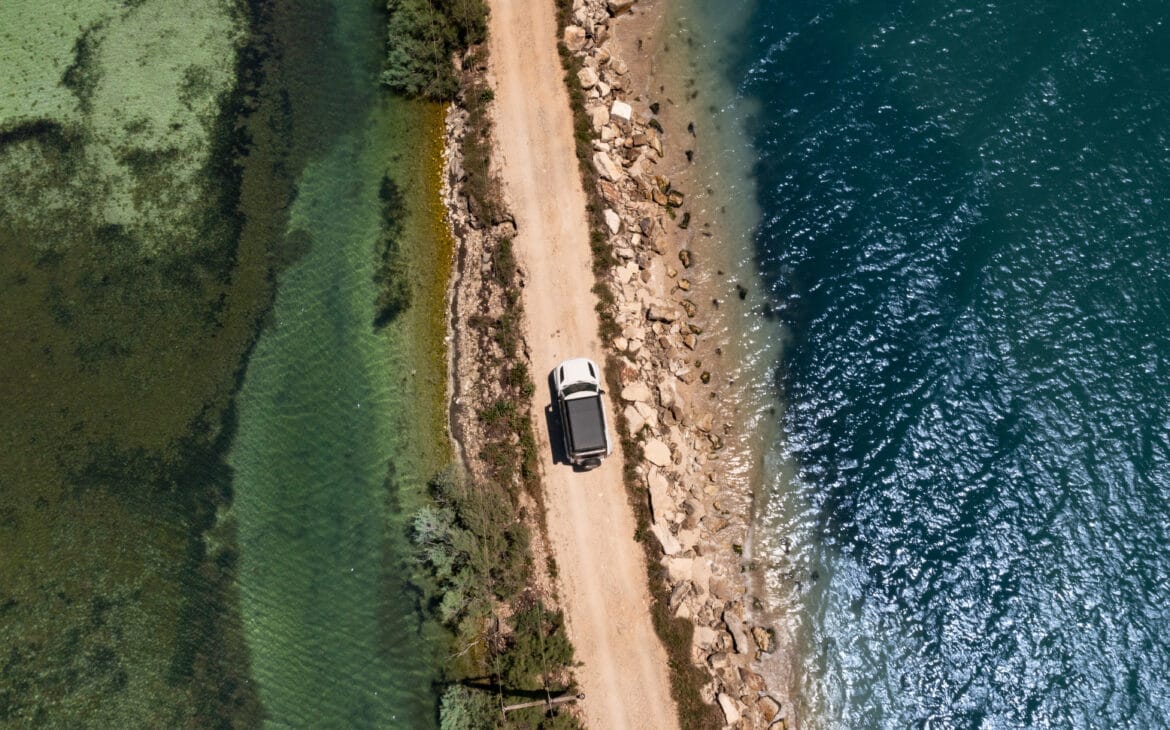 In the west of Greece, however, not only the coast was waiting for us. Michelle had picked out three spots that she really wanted to visit besides the coast. One of these spots was Koronisia, a kind of island in the Ambracian Gulf, which is only connected to the mainland by two narrow roads. Waiting for us were turtles, lots of snakes, romantic blue fishing huts, abandoned wooden boats and, unfortunately, once again a lot of street cats and a few hostile street dogs. We would have liked to stay longer, but due to the circumstances it was then only enough for an unrelaxed but very tasty meal at Γαρ Οίδα. Nevertheless, the fried cuttlefish and the bean salad on the menu are highly recommended.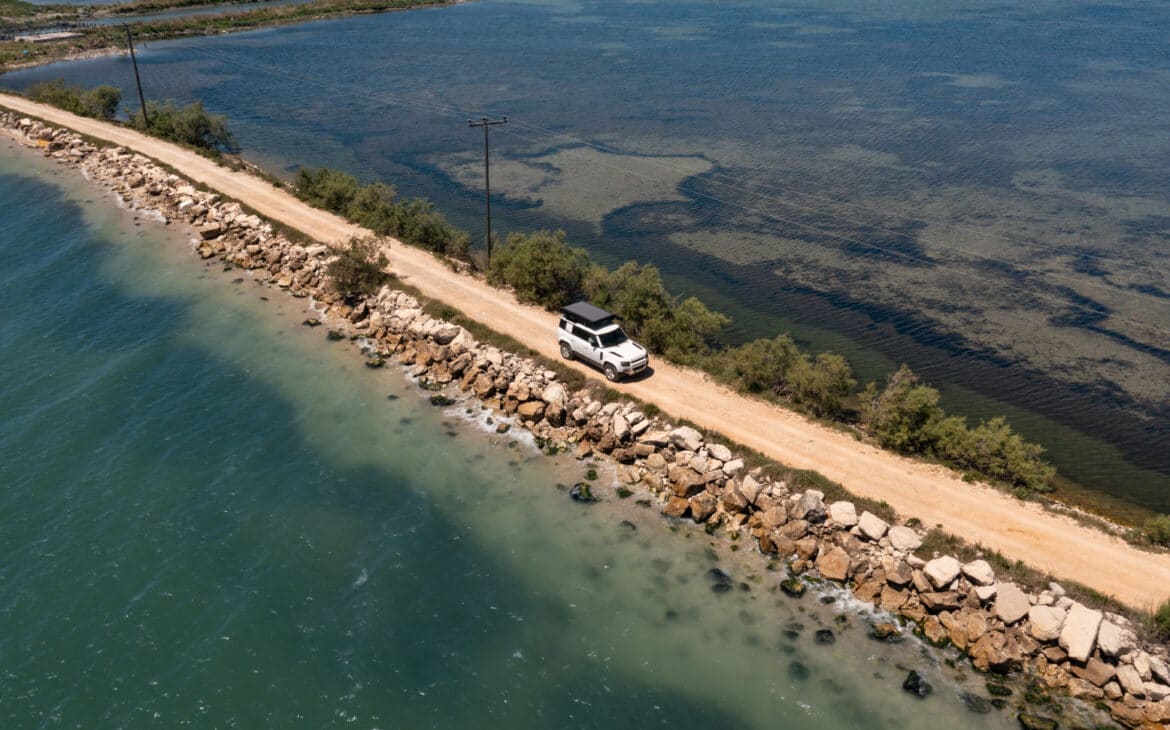 Red clay site in Kokkinopilos – a rare geological phenomenon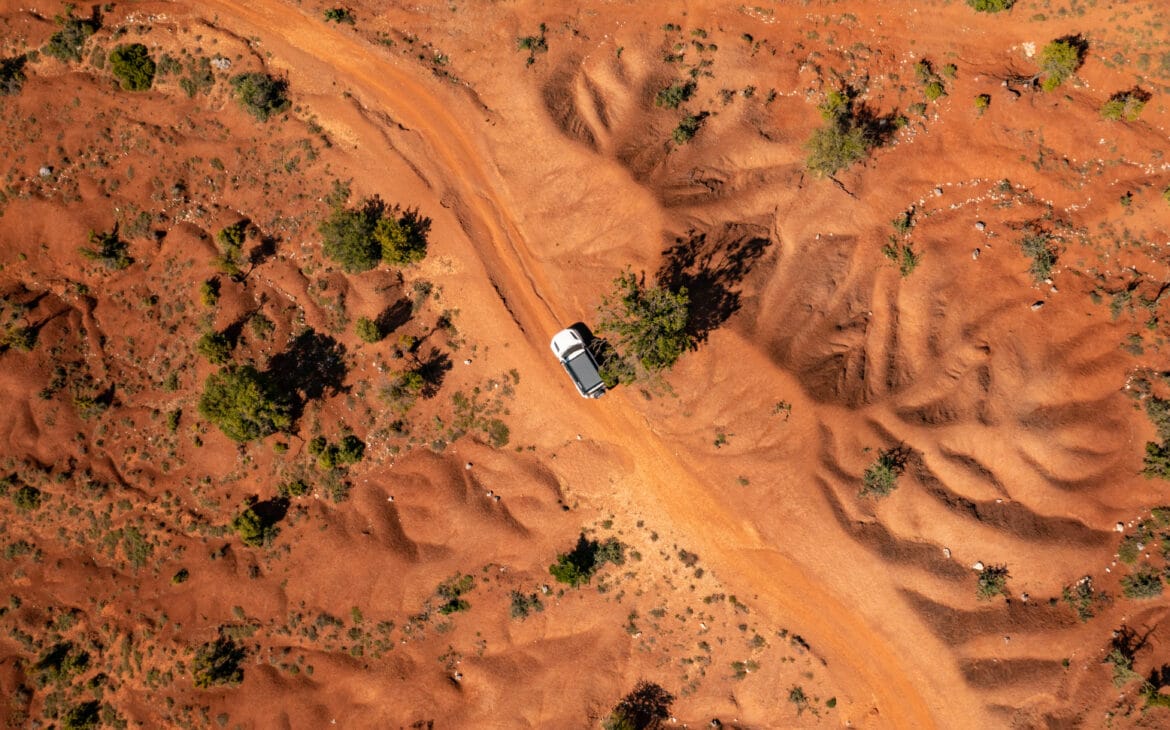 In the middle of the otherwise inconspicuous surroundings of Kokkinopilos, a natural wonder occurs. Out of nowhere, you land in desert-like fields of red clay. It feels like being on another planet, are we suddenly on Mars? The area is not huge, but if you like it unusual, this is the place for you. The perfect ambience for offroading and photo shootings. A bit further north, the next highlight awaits: an old Roman aqueduct. Unfortunately, both are no spots to stay overnight, because high fines of 300€ can follow.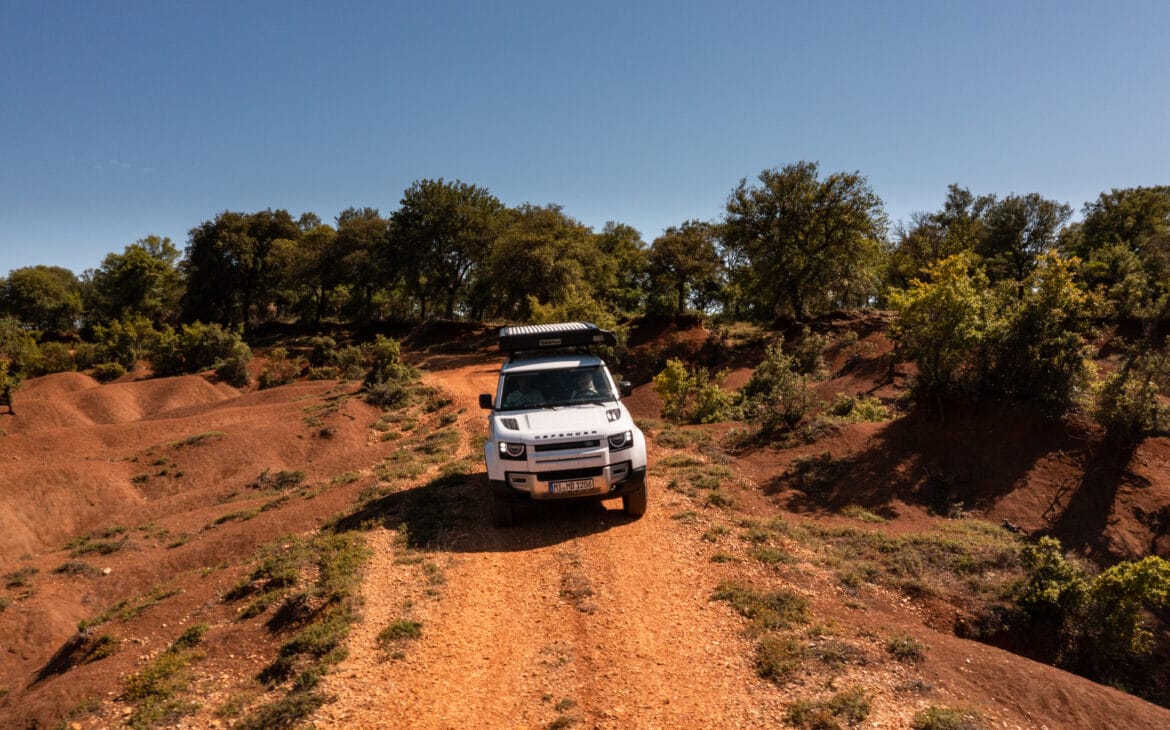 The kayak lake Zirou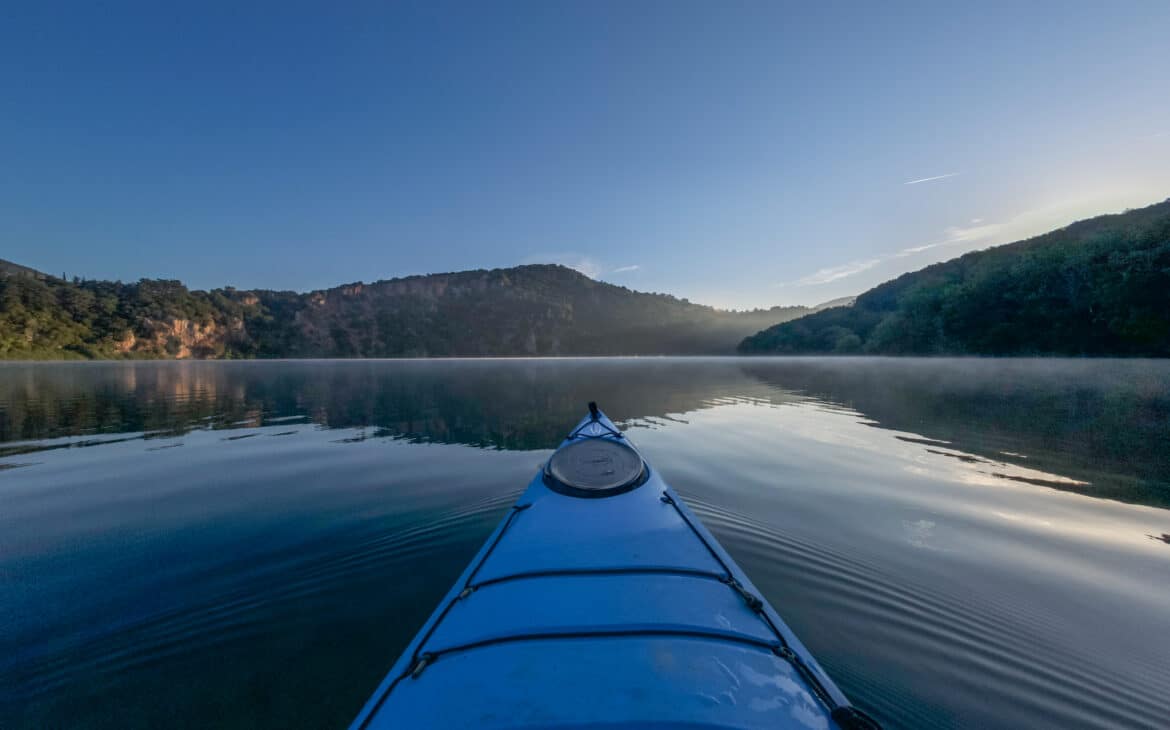 However, the perfect next site is not too long in coming. At Zirou Lake, Loukas has realized his dream of a life as a dropout. After studying business and an unhappy job in a company, he now does what he is good at and fills him with pure joy: He runs his own kayak rental business. We hit it off right away with Loukas and the rest of the team and were allowed to stay overnight on his premises. In return we kept an eye on his boats, fair deal I would say. Daniel got a paddle, life jacket and kayak that very evening so he could enjoy the sunrise over the lake during a quiet kayak tour in the early morning hours. Dear Loukas, we wish you continued good luck and above all success in realizing your dream of living "into the wild".
I almost forgot to mention something extremely important and fabulous. As dusk began to fall, we noticed that we were surrounded by an extraordinary shimmering and blinking. We were virtually standing in the middle of a sea of fireflies. A breathtakingly beautiful sight.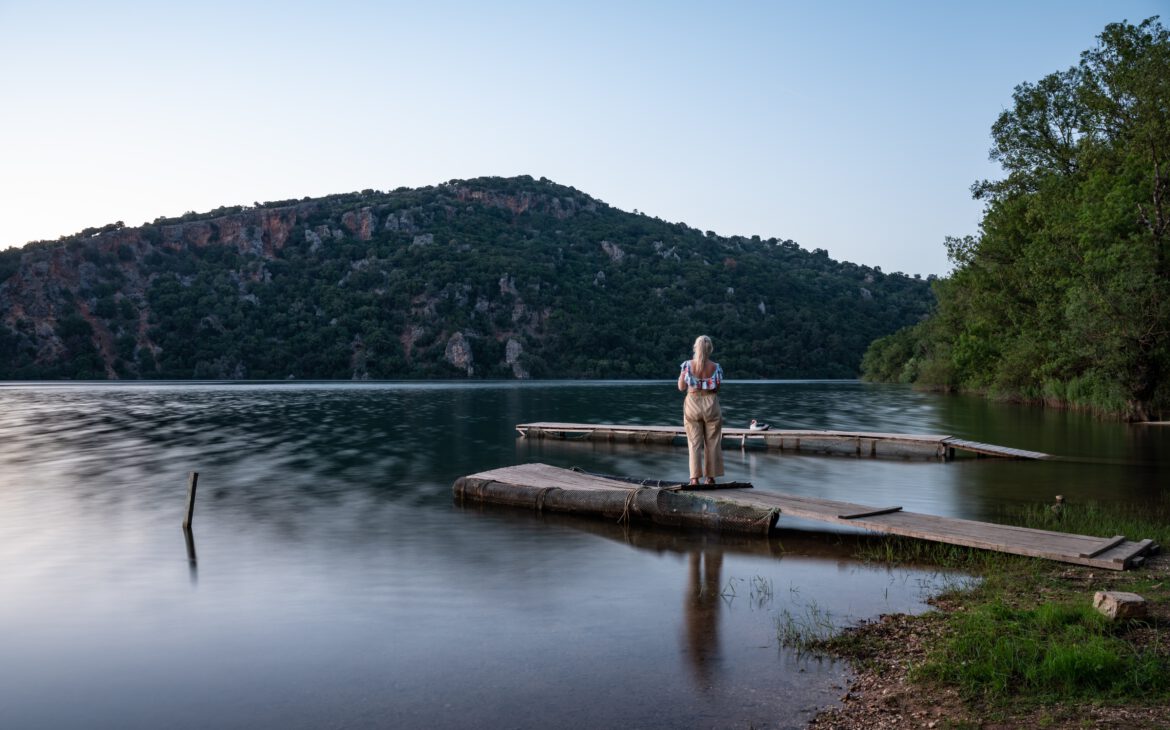 Free standing near Igoumenitsa
The harbor town of Igoumenitsa is probably known to most people because of its ferry connections. We find our place away from the traffic and harbor bustle in a bay called "Corfu Beach". From the satellite pictures on Google we had hoped to be able to drive maybe completely on the beach, but unfortunately this was not possible – at least not without AT tires and their resistance to sharp-edged and pointed stones. Thanks to the additional ground clearance provided by the air suspension, however, we managed to get one "floor" lower to the water.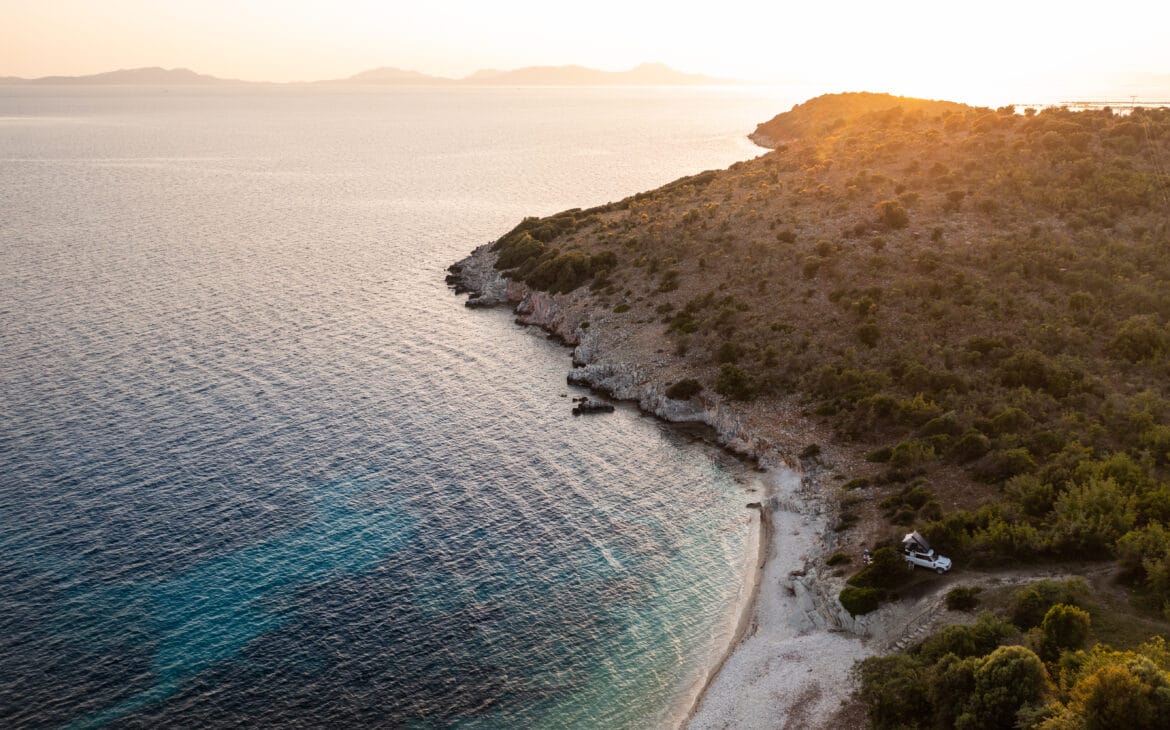 We park our Landi so that we can look out of the tent in the direction of the island of Corfu. In the evening we cook behind the car and are awakened at night from time to time by the roar of the ship's diesel of the ferries passing in the far distance.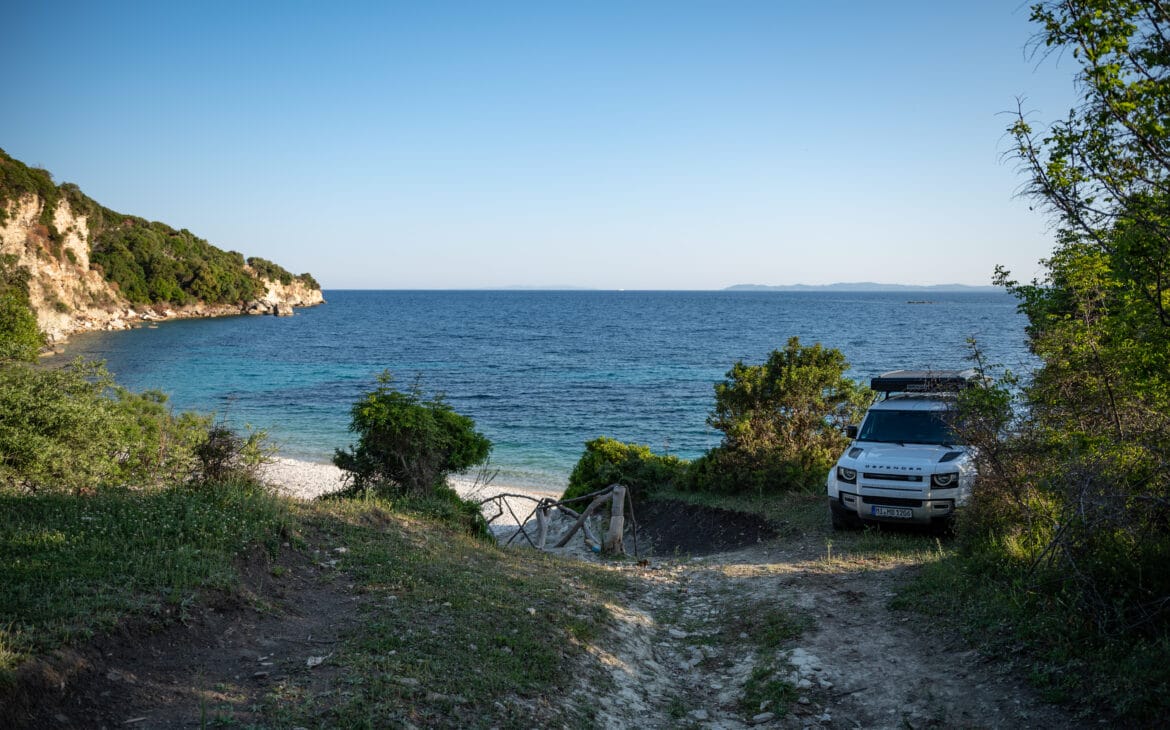 Albania
Albania has always been on our bucket list of trips so far. So if we are already in the vicinity, why should we not drive straight past and use the way back for a first visit?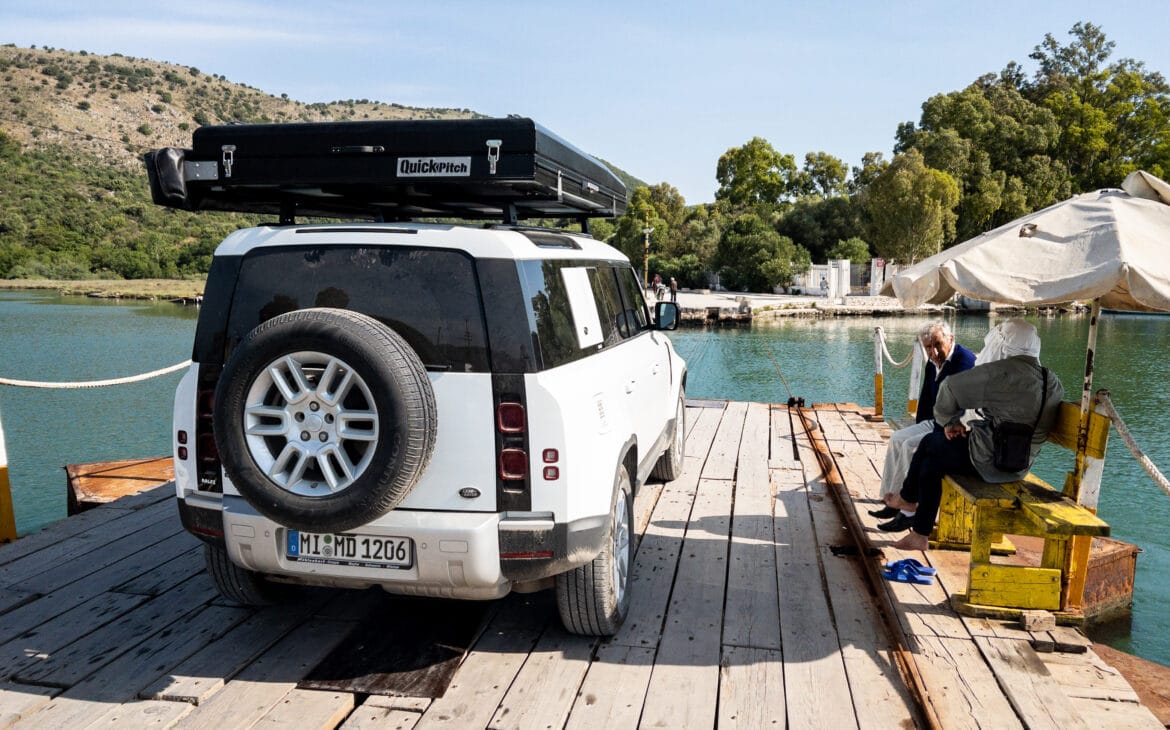 In Butrint we cross over with a kind of raft that is pulled through the water by a chain drive. A bit adventurous.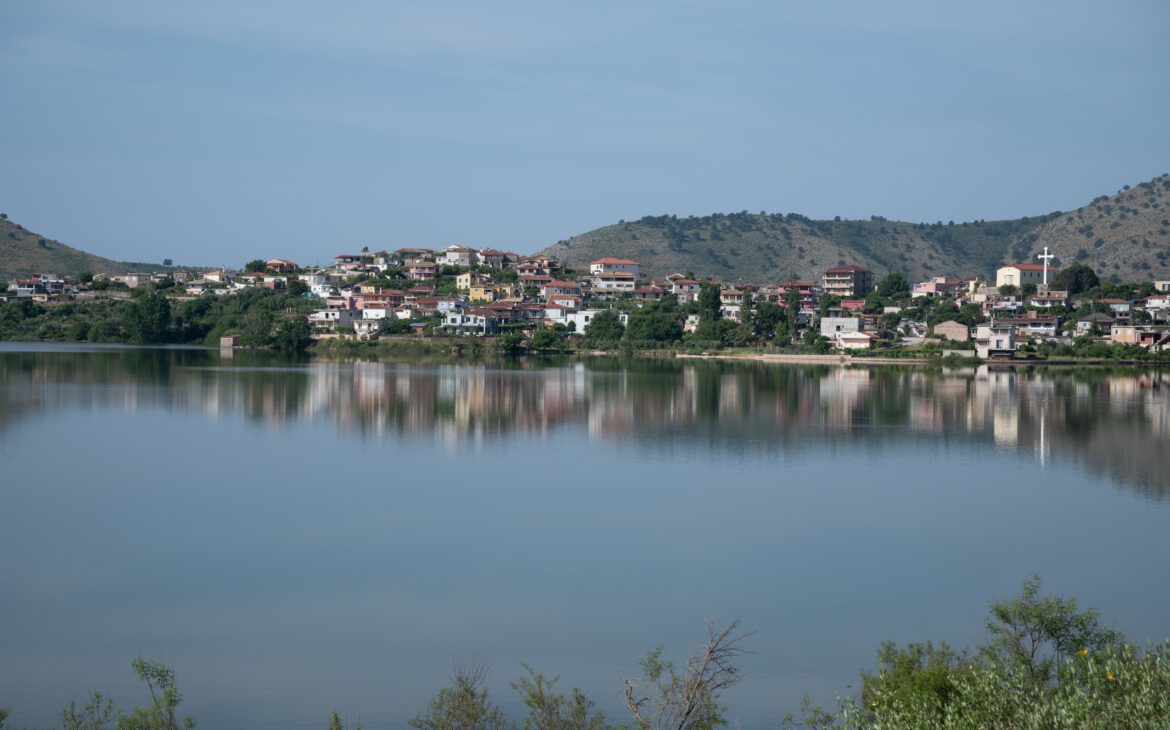 After the much too short raft crossing, we bought the most delicious strawberries in the world from a street vendor and refueled at a very helpful Albanian, who gave us valuable tips. We should change money in restaurants rather than get cash at ATM machines, because they would charge a very bad exchange rate. Also, we should rather not drive up the coastal road as planned, but explore the inland and the mountains of Albania, as the coast would not represent the true Albania, but would be very touristy. Although we followed his advice regarding the money exchange, but unfortunately not the advice with the coastal road. We had a coffee and a latte in a street coffee of Ksamil and enjoyed the urban hustle and bustle around us before we went to the Musselhouse.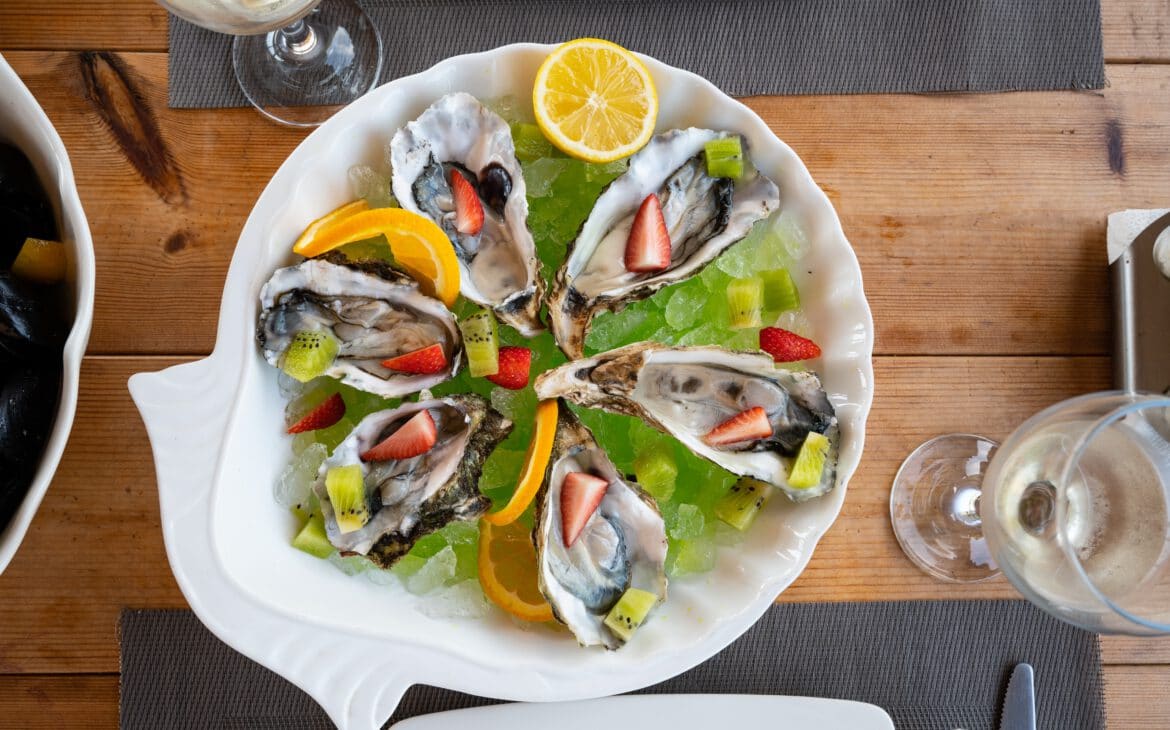 What awaited us here we had not guessed, it was a dreamlike place. We ordered white wine, fresh oysters and several varieties of moules. Never before had we received such creatively arranged oysters and never before had we been able to watch crab fights and schools of fish while eating mussels. The experience was rounded off by outstandingly good service and a nice and honest conversation with our waiter, who told us about the living conditions in Albania.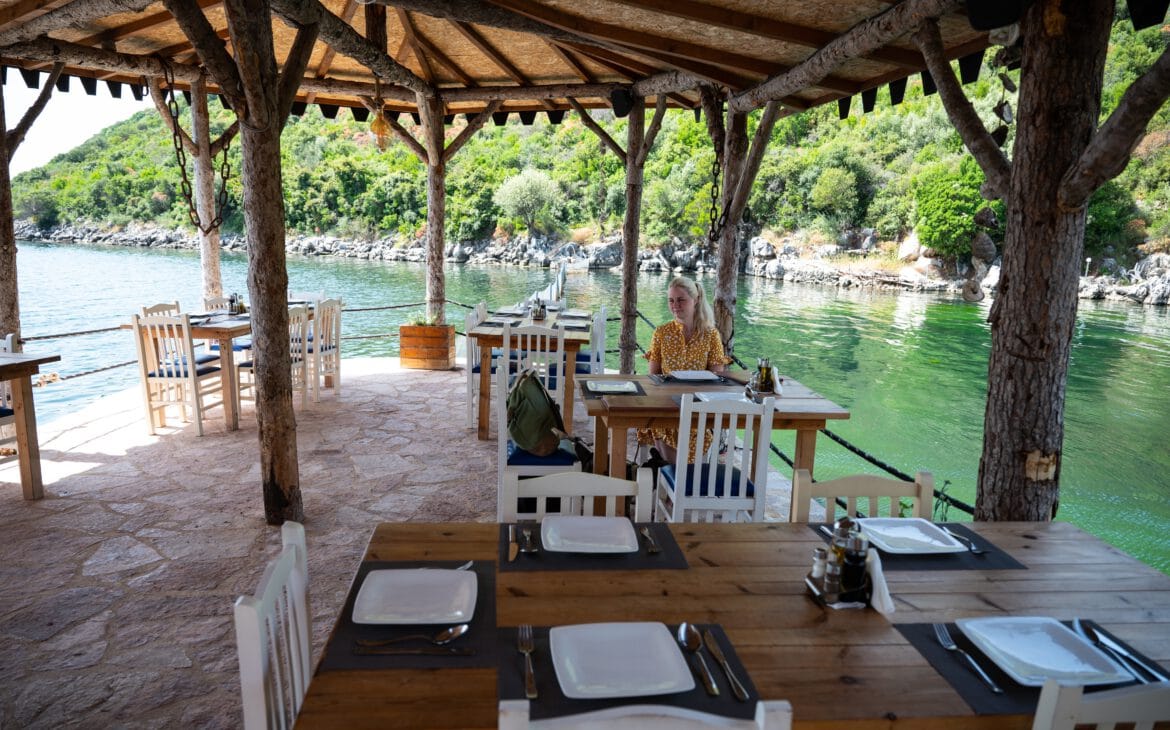 Everything that then waited for us between the Musselhouse and the campsite Kamping Pa Emer was worse than the gas station attendant let us fear. Although there were as hoped beautiful bays and beaches, but built with not exactly appealing hotel facilities and paved with sun loungers. Too bad coast of Albania, you could be so beautiful.
When we felt like we had reached the edge of the earth's disk and briefly felt like we were in the back streets of Mombasa, we finally reached the campsite we were aiming for. Again, everyone was incredibly friendly and the site was natural and beautiful. Our campsite had its own beach access and the sea was so shallow for meters that it felt like you could wade through the warm water all the way to the horizon. Our highlight was the sunset over the restaurant of the campsite, which is accessible only via a long wooden walkway.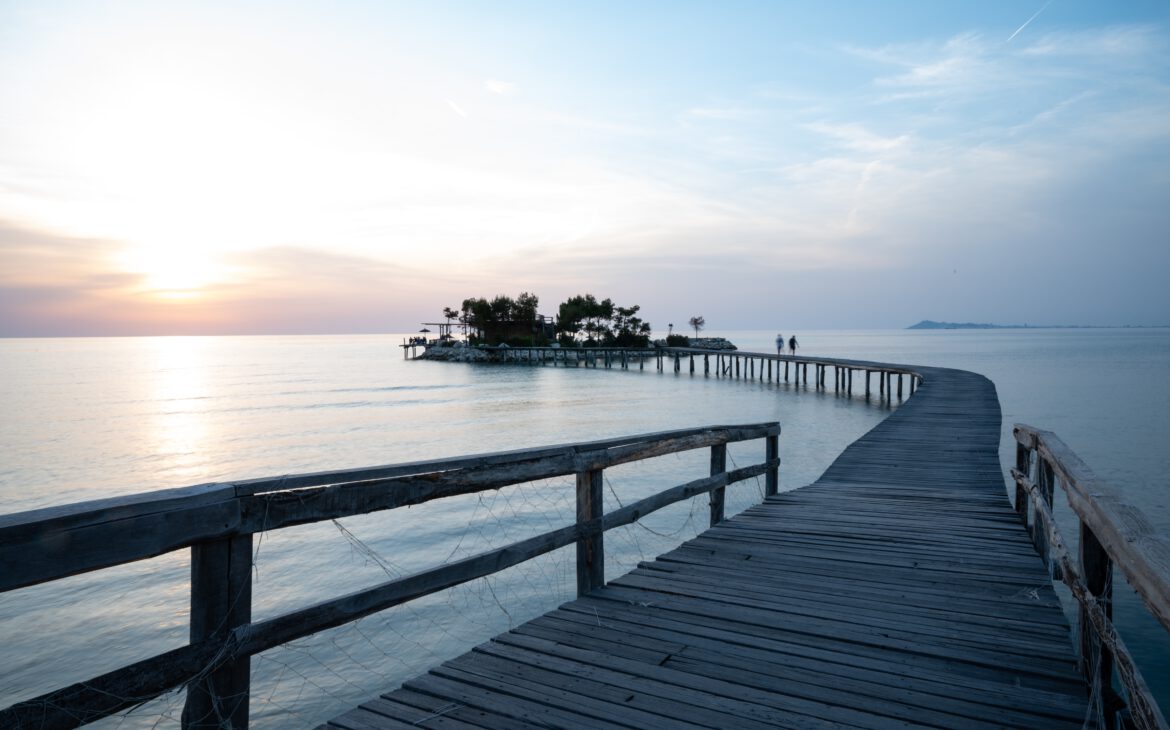 When the waiter asked us in the evening whether it was our first time in Albania and whether we would like it, I had to think briefly whether I was really telling him the truth and then I did: "The people are all very open-minded and friendly. Half of the coast is beautiful, great nature, the other half consists of the building sins of large hotel resorts and tourist strongholds." He smirked and said that the coast was not necessarily a good representative of Albania. The true Albania would be found inland and in the mountains. We had heard that before.
He may well be right. But as much as we would have liked to visit Teth, Shkodra and the Komman on our own Albanian vacation: If you dear Albanians don't manage to avoid at least one serious to fatal accident per hour due to your driving style, we won't be coming back anytime soon. This is not a vacation for us. We can still laugh about farmers who drive goats or turkeys across the highway with a stick, but if, as a matter of course, despite oncoming traffic is deliberately swerved to overtake, then you can live it out without us.
Despite the adventurous to dangerous traffic behavior, we leave Albania, cross Bosnia and find our last campsite at Cape Karmenjak, near Premantura in Croatia. This is the site where our Croatia road trip along the Adriatic coast started in 2018. On the campsite Arena Stupice this travel report is created.
Our travel report "GREECE TRAVEL DOCUMENTARY | Offroad secrets along the coast: Pieria, Pelion, Damouchari, Fakistra, Trikeri" on Youtube