Outdoor speakers 2020: My experiences and recommendations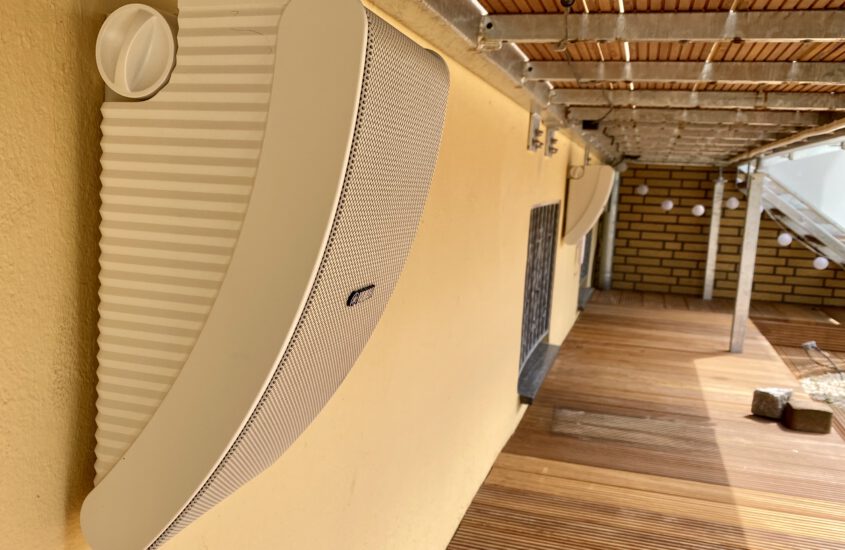 In the course of the new construction of our terrace, the question of good outdoor loudspeakers was naturally also raised. In the internet you can find many recommendations and tests, unfortunately many of these pages refer to the American area and most of the products tested there are not available in Germany. I have heard myself through a variety of available products and share my experience here.
For the speakers on our new terrace I looked around the German market and tested some products. Long Story Short, in the end I decided on the outdoor speakers from Yamaha.
In my selection I have set high standards for sound quality. For indoor use, I have relied on Bowers & Wilkins, Nubert and KRK for years. So it should be clear that I didn't want to deal with low-quality sound and battery-operated Bluetooth cans. I was looking for permanently mountable outdoor speakers and applied the following criteria:
Good and balanced sound quality, both at low and high volume. No unnaturally exaggerated basses.
Loudspeakers must be attractive and fit into the overall picture of our terrace
It must be possible to mount loudspeakers in such a way that the cable gland behind them is not visible. I hate visible cables.
Loudspeakers must have a trustworthy, weatherproof enclosure that can withstand winter weather.
Speakers suitable for wall mounting.
Solid wall mount without sound transmission to wall or wooden balcony.
At the beginning of my research I stumbled across several test sites that recommended a selection of outdoor speakers. I quickly found out that most of the tested products were no longer or never before available on the German market:
https://musiccritic.com/equipment/speakers/best-outdoor-speakers/
https://www.techradar.com/news/best-waterproof-speaker
So I checked Amazon to see what speakers they had. I'm an advocate of extensive testing and trial listening when it comes to speakers, so I ordered the following products for testing:
First of all, I probably would have gone for the Bose ® FreeSpace 51 (Amazon Affiliate Link). Although the boxes are mounted on the floor, I somehow always found the design interesting. At the time of my test the boxes were only available in green. This is great if you want to hide the boxes in the flowerbed, but looks rather modest on a Bangkirai deck. I also don't need a 360-degree beam angle, as this would cause reflection on the walls of the house. Also, I don't want to bother the neighbourhood unnecessarily. If the sound is directed to our terrace, that should be enough for me.
My test result
The Bose ® Environmental (Amazon Affiliate Link) didn't sound nearly what I expected from Bose – and I didn't expect much. I was impressed by the small size, but it also reveals weaknesses in the bass range at higher volumes and weaknesses in the trebles at low volumes. For 246€ there should be more value for money. However, this speaker comes with all necessary mounting hardware in form of dowels, screws and washers. Yamaha can't manage that.
As far as the sound quality is concerned, it was way better with the Yamaha NS-AW294 (Amazon Affiliate Link). There was more bass and the speaker sounds less tinny than the previously tested Bose speaker. With only low volume, I missed the treble this time. Right in front of the speaker the sound was alright, but with a distance of 4 metres to the speaker it didn't look so rosy anymore. With dimensions of 31 x 19 x 22 cm I would have expected more treble detail even at a distance.

My test winner
The Yamaha NS-AW392 (Amazon Affiliate Link) and Yamaha NS-AW592 (Amazon Affiliate Link) are basically the same shape, differing only in the dimensions from 13.5 x 17 x 27 cm to 17 x 20 x 34 cm and the wattage from 120W to 150W.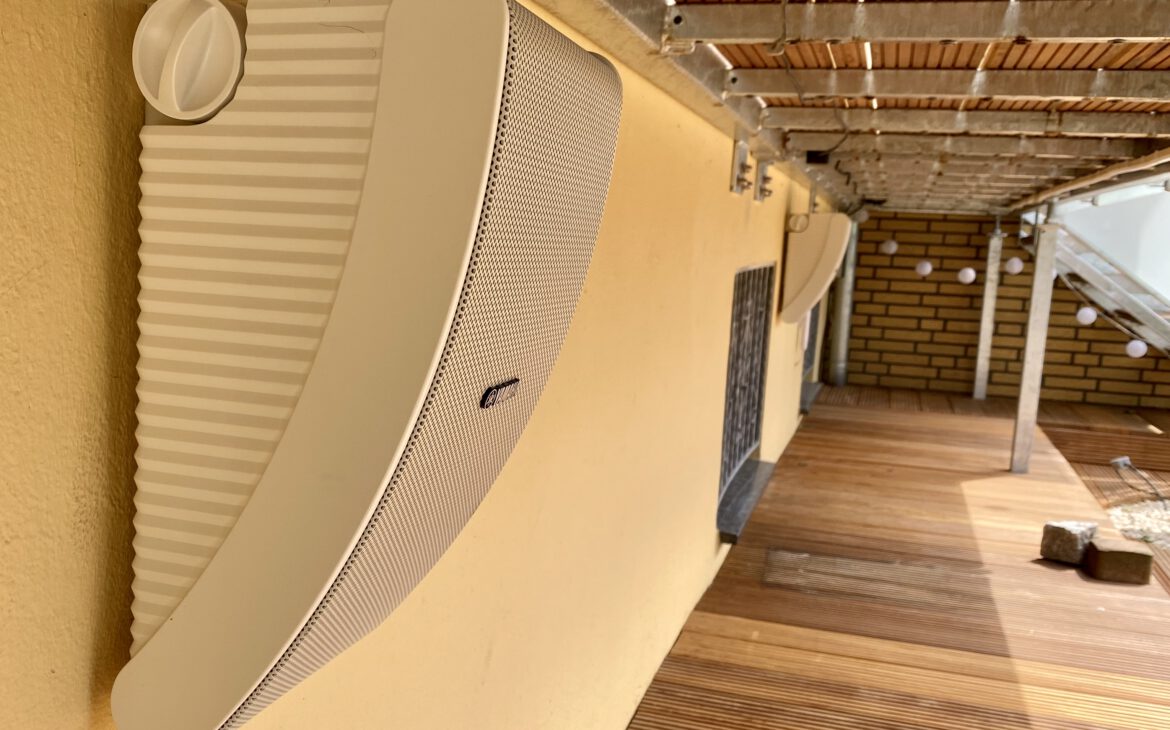 According to my hearing, the sound is equally good in both versions. Highs, mids, lows, there is nothing missing here, the different pitches sound balanced without significant weaknesses and that even if I sit a bit further away. Another difference is at maximum volume, the small version has a slightly lower midrange, but to be honest, I'll never use these speakers at this volume level for the good of the neighbourhood.
In the end, I decided to use the larger Yamaha NS-AW592 (Amazon Affiliate Link), because I had bought them for 94,00€ instead of the regular 170,00€ through a special offer via Amazon Warehousedeals in "as new" condition. The small version would have been enough for me, but it would have been new with about 150,00€. For this I gladly accept the somewhat larger dimensions.
Only drawback: Yamaha, couldn't you include 8 plugs, stainless steel screws and washers? Is that really too much to ask?
One weakness in all tested boxes
The cabinets of all speakers I tested made a good impression throughout: no large gaps, no holes, no obvious weak points.
Only the cable clamps are a weak point. Here, moisture can penetrate all speakers right up to the strand of the speaker cable and in the worst case scenario can penetrate the cable and cause damage. To prevent this from happening I sealed the cable port with hot glue. At first sight this sounds like a botch-up, but it reliably prevents water from getting to the connections. If necessary, hot glue can be removed from the back of the speakers with a little effort.
The right amplifier
As amplifier I use a R-N402 D Netzwerk-Verstärker from Yamaha (Amazon Affiliate Link). I had wisely installed this in the bedroom. It has two output zones, which can be used simultaneously if required. Zone A I use on the Nubert NuBox 313 (Amazon Affiliate Link) on the bedroom closet, zone B now brings music to the terrace.

The amplifier can be played wirelessly via Spotify Connect or Airplay and controlled via app. To ensure a reliable connection, I connected the amplifier to the network using an old-fashioned RJ45 port and LAN cable. I think that if something is in a fixed location and you can connect it to the network via cable, you should do that too. Less latency, less downtime, less hassle.
All of the above links are Amazon affiliate links. By clicking on an affiliate link, I get a percentage of your subsequent Amazon purchases. However, this circumstance does not influence the background of my product recommendation. This product recommendation is independent, honest and sincere.