4×4 with the New Defender – our new way to travel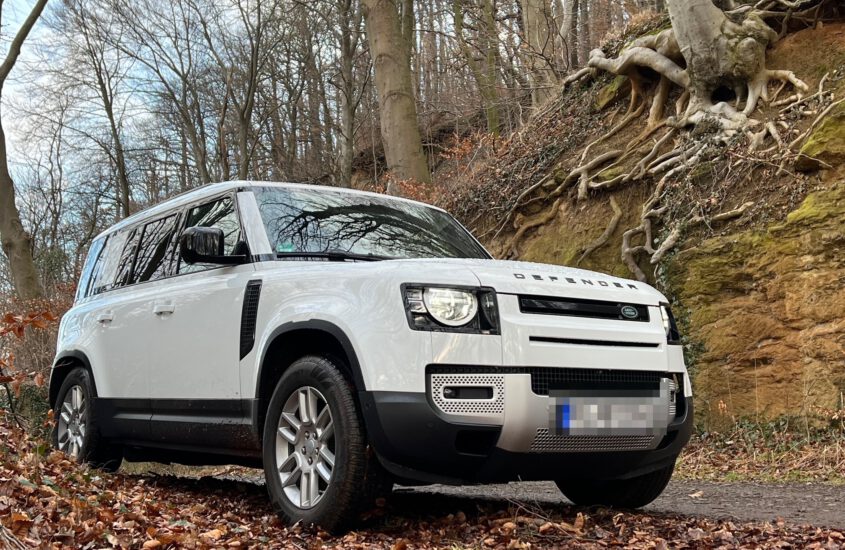 We want to experience off-road travel and be mobile where the big RV can't go. Even when choosing the equipment, we trade comfort for compromise and focus on the essentials. We look forward to future adventures with our Land Rover Defender 110 called "Ralfi".
How does one get the idea?
At the beginning of the Corona pandemic, we were longing for a way to travel flexibly and without much effort. Spontaneously pack a few things, go to a nice place, for example somewhere on the banks of the Weser, and then spend the evening there.
Land Rover was offering a test drive of the new Land Rover Defender at that time. You could rent it with a roof tent for a weekend. We were hooked – until we saw the price for this short adventure. Nevertheless, the idea remained in our minds. We liked the new Defender anyway, we had seen it rather by chance at a Jaguar dealer and were thrilled by the design. In our eyes, a contemporary successor to the original Defender had been designed.
In 2021, we were then on the road in Slovenia with the motorhome. Narrow mountain passes and hour-long descents are only little fun with 4.5 tonnes and 7m in length. Often the dimensions mean that you can't visit some remote regions at all. Thus, large parts of the Triglav National Park remained hidden from us and we were also denied access to large parts of the Bohinj area. Some passages near Kobarid or in the vineyards in the north were possible – but with big sweat stains under our arms. Once again, we remembered our romantic idea of the 4×4 off-road vehicle with roof tent.
By the way, you can watch our travel report about Slovenia here on Youtube.
In Kobarid, at Camp Lazar, we met a couple from Munich one evening who were visiting Slovenia with a roof tent and Landi. We exchanged ideas and were now a bit more sure that we would like this kind of adventure. With the right vehicle, Albania tours, Greece road trips or an autumn in the French Maritime Alps seemed more real than with our RV. Someday we would fulfil this dream, we told ourselves. Sometime in a few years.
On 13 November 2021, my father Ralf died at the age of 65. He spent the first and last month of his retirement in the hospice. He used to say "life, that's what happens while you are busily making other plans". In the last weeks together, I talked a lot with him. Among other things, about the time when he drove off-road vehicles himself: Isuzu Trooper, Nissan Terrano. We exchanged ideas about the right tyres and equipment, technical features and some anecdotes that were nothing but fragments and nebulous memories from my childhood for me.
Aware that life can be short and some plans should not be postponed for too long, moreover in a kind of "quarter-life crisis" in which I emulated my father out of a search for comfort in various attitudes and interests, we ordered our Defender 110 in mid-January. On 4 February the time had come and we brought our white "Ralfi" home from Schwerin.
The right off-road and camping equipment – compromise vs. compromise
Our cherished motorhome cannot replace an off-road vehicle and neither can the Hymer be replaced by the Defender. We cannot expect the comfort of the motorhome in the off-road vehicle. We suddenly have to deal with things that are taken for granted in the motorhome: Fresh water, hot water, heating, cooling, sleeping arrangements. All these points can only be considered much more rudimentary, one could also say more purist, due to lack of space and weight. And that is fun. Compared to a motorhome, these are simply always compromises. But it is precisely this weighing up of compromises against each other to find the optimum compromise that is so much fun – and, unfortunately, also quickly hits the wallet.
Sleeping in the roof tent
A roof tent is needed. But a huge choice does not make the decision process any easier. Normal roof tents are the lightest, cheapest and take up less space on the vehicle roof. Hard-shell roof tents are expensive, quicker to erect and dismantle, often more fuel-efficient but above all more resistant to stripped branches and moisture.
Hybrid tents combine the advantages (and disadvantages) of both concepts. In the end, a certain laziness also led to the decision in favour of the hard-shell roof tent. The bedding can stay in the tent, you don't have to move it around, you save space in the car and the set-up times are simply faster. At first we favoured the "Airlander Plus" or the "Alu-Cab 3.1" and then finally came to the "Quickpitch" aluminium hard-shell tent.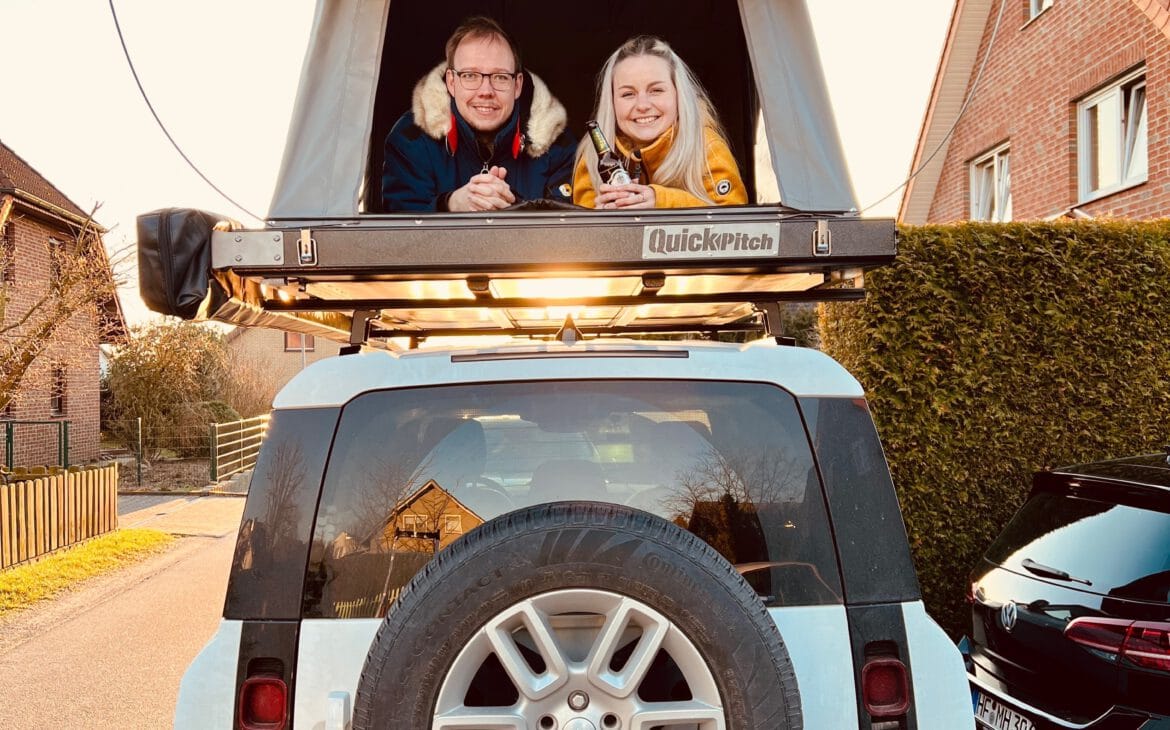 A big advantage here is the possibility of attaching equipment such as awnings, headlamps or sand boards directly to the tent frame. Even the attachment of solar panels is possible. The Quickpitch tent has one (!) continuous hinge for opening and is slightly cheaper than similar tents.
Keyword awning: With the 270° awning, Quickpitch offers an awning that can be attached to the tent and folded out 270° around the car. It doesn't get any more convenient than this.
Tyres for off-road use
The smaller the rim, the more "rubber" the tyre may have. And the more rubber there is between the rim and the tyre, the tougher the tyre is. The standard 19″ rims have to go, instead we need off-road all-terrain tyres with winter properties (Alpine symbol). Already my father was a big fan of General tyres, reason enough for me to put my trust in this brand. Of course, the original Land Rover 18″ rims would be ideal, but at 320€ for a simple, no-frills steel rim (!) the fun stops for me. I'd rather go for the Dotz Kalahari for around 250€ and invest the money in good tyres instead.
Sitting, eating, drinking, living
There are great concepts where tables and chairs can be inserted into the roof rack when driving. Sounds great at first, if you can save cargo space in the vehicle. However, if you have to clean the furniture of brake dust and road dirt before each use, you quickly abandon this plan.
Space-saving aluminium chairs and a rollable aluminium tables are more practical – above all, we already have both in our RV-motorhome.
Water canisters on the roof look cool. In winter in the Alps, however, not a good idea. Much more practical is a water tank that can be installed between the front seats and the folded-down rear seat. The water is then at room temperature and does not unnecessarily increase the vehicle's centre of gravity.
This is just the beginning
As you can see, there are endless questions to deal with as a newcomer and many more questions will follow. One thing is certain: we will embark on this adventure, this new way of travelling. We are looking forward to many travel stories on our blog, which were only made possible by our "Ralfi". Stay tuned!