Cladding visible steel beams with wood (incl. lighting)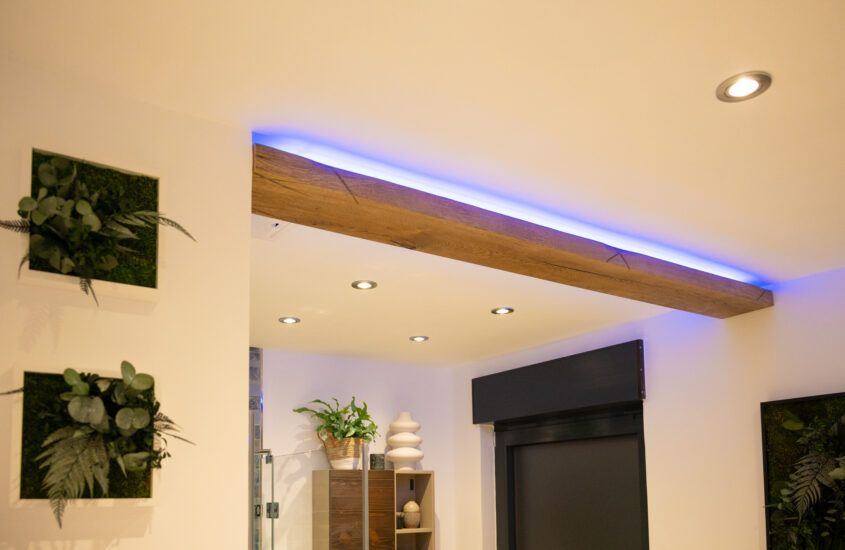 Visible steel beams can be covered with wood. In addition, we can integrate LED strips for indirect lighting. A DIY project.
Since we had to make one room out of two for the renovation of our bathroom, we had to replace a load-bearing wall with a steel beam.
But how do we integrate a steel beam into a bathroom or a room that can't really tolerate "industrial style"? With wood, of course. Properly clad, it is even possible to accommodate indirect ceiling lighting in the beam by means of two LED strips.

First of all, we paint the beam in white – so it fits perfectly into the white ceiling, and later gives off the light of the integrated LEDs optimally. For this I use Hammerite metal protection paint white glossy (Amazon Affiliate Link). In my case, two coats were necessary with it.
When the paint is dry, we can install the LED strips. I trust the Philips Hue system everywhere, because the components are characterized by high quality, durability, good integration into various smarthome systems and reliable control. Specifically, I have installed a Philips Hue White & Color Ambiance 2m strip (Amazon Affiliate Link) on each side of the beam. I was able to conveniently shorten this to the required length with scissors. The stripe has a self-adhesive back and is simply glued very deep in the beam – as close as possible to the center crossbar.

Now it's time for the construction of the wooden cladding. I wanted to have a self-supporting construction, which saved me from having to drill the beam or glue the cladding to the beam.
Finally, we build a wooden U-profile. On the construction drawing above we see a wooden support surface attached to the U-profile on the left side. With this, we first hang the wooden construction on one side in the beam.
When the cladding has been temporarily attached, we can screw several grub screws (Amazon Affiliate Link) into the wood on the right side. For this we should cut a thread into the wood beforehand, or at least pre-drill generously – depending on the hardness of the wood used. Turned far enough into the wood, these grub screws then serve as a bearing surface on the right side. By using black grub screws, we do not see any screw heads and the grub screws serving as suspension are hardly noticeable.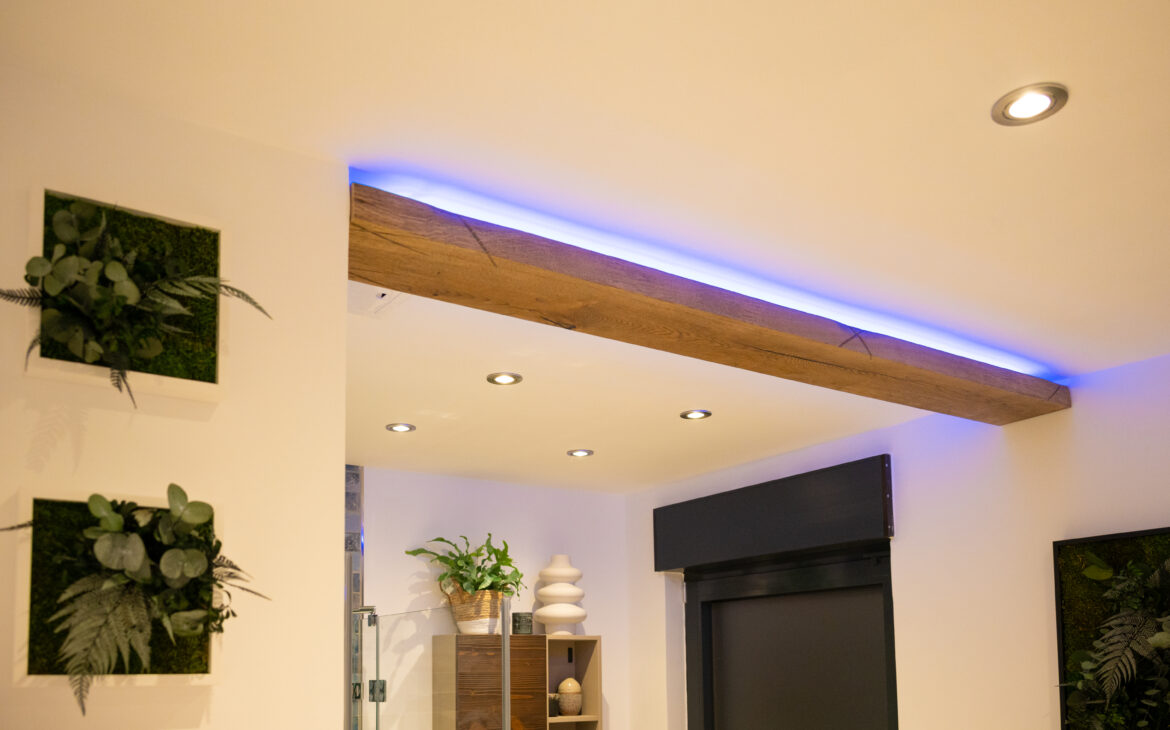 If you are interested in our bathroom renovation, you can find a picture gallery here.