Nikon D5, D850, D500, Z6 and Z7 get support for CFexpress memory cards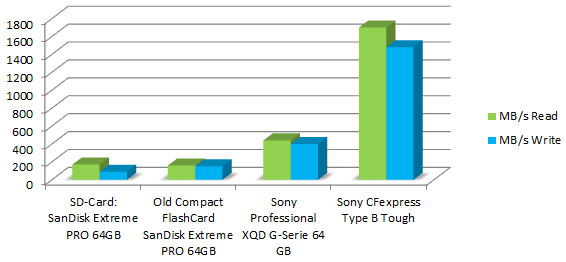 With a press release from 14.02.2019 Nikon quietly and secretly announces a firmware update, with which the cameras D5, D850, D500, Z6 and Z7 can also be operated with CFexpress memory cards.
The slot for XQD cards built into the cameras is identical in construction to that of the CFexpress format. The new supported format gives photographers the possibility to use the much faster CFexpress memory cards compared to the XQD card as soon as the first CFexpress cards will be available in early summer 2019. The new CFexpress format should not be confused with the old Compact Flash cards – they have nothing to do with each other, even if the abbreviation "CF" suggests a similarity.
According to a Sony press release, the CFexpress cards (Amazon Affiliate Link) are characterized by extreme robustness:
withstands a force of 70 Newton
temperature-resistant
insensitive to X-rays
antistatic
integrated UV protection
I myself did not use the XQD memory card slot of the D500 as a backup slot in the past because the price of the XQD cards was too expensive for me. I don't have much hope that the new CFexpress cards will be cheaper than the XQD cards. After all, the new CFexpress cards are a bit more expensive than the XQD cards in terms of speed, and the manufacturers will certainly have to pay for that. In addition, the cards will only be available with 128 GB, 256 GB and 512 GB capacity, the inexpensive 64GB variant should be omitted at least at Sony.
Update January 2020: SanDisk, my favorite SD-Card manufacturer, has published CFexpress cards (Amazon Affiliate Link) with 64GB, 128GB, 256GB and 512GB as well. These will be my choice, take a look at them here: San Disk CFexpress cards (Amazon Affiliate Link)
There's still one small glimmer of hope: Maybe the "old" XQD cards will become cheaper after the launch of the CFexpress cards (Amazon Affiliate Link).
Comparison of speeds
The CFexpress cards (Amazon Affiliate Link) achieve a significantly higher write and read performance than the XQD cards. A comparison with my previously preferred SD card shows the speed advantage particularly clearly. For comparison a fast, "old" Compact Flash card again.
If you don't want to record 4K videos with 60fps (which the above mentioned cameras can't do), you probably won't use the maximum possible write rate of the XQD card or the CFexpress cards (Amazon Affiliate Link).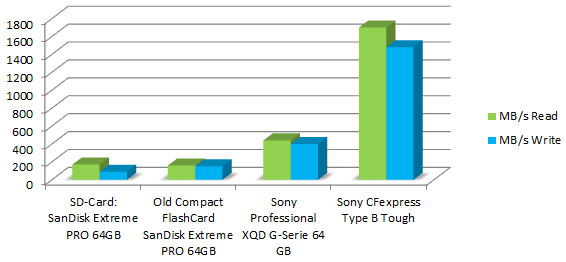 SanDisk Extreme PRO 64GB SD Card: 170 MB/s Read, 90 MB/s Write
Compact Flash SanDisk Extreme PRO 64GB: 160 MB/s read, 150 MB/s write (just for comparison, has nothing in common with CFexpress)
Sony Professional XQD G-Series 64 GB: 440 MB/s Read, 400 MB/s Write
Sony CFexpress Type B Tough 128 GB: 1700 MB/s Reading, 1480 MB/s Writing
Availability of the new firmware

When the update will be released is still unclear, more information can be found in the original Nikon press release:
https://www.nikon.de/de_DE/news-press/press.tag/news/firmwareupdate_zseries_14022019.dcr
My first choice as a Lightroom alternative
I'm gonna do some advertising. I've been dealing with all kinds of image editing software for months, comparing a lot, testing a lot and finally choosing RAW developer and Lightroom alternative Luminar 3.
Have a look and try the free trial version. Just click on the banner:

All the links in this text are Amazon Affiliate Links, and by clicking on an affiliate link I will earn a percentage of your subsequent Amazon purchases. However, this circumstance does not influence the background of my product recommendation. This product recommendation is independent, honest and sincere.
Bei allen genannten Links handelt es sich um Amazon-Affiliate-Links. Durch einen Klick auf einen Affiliate-Link werde ich prozentual an Euren darauf folgenden Amazon-Einkäufen beteiligt. Dieser Umstand beeinflusst aber nicht die Hintergründe meiner Produktempfehlung. Diese Produktempfehlung erfolgt unabhängig, ehrlich und aufrichtig.