Short version: Flying a drone with a camera and/or a weight of more than 250g in the EU as of 2021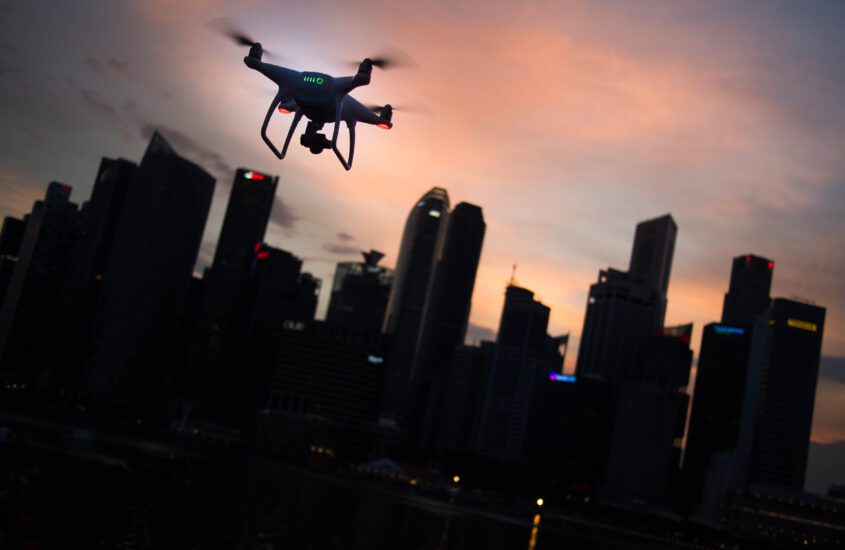 From 2021, new laws for drones will apply in the EU. Here is what should interest most DJI Mavic pilots with links to registration, training and online exams.
Short basics
Your drone weighs more than 250g or has a camera? Then you have to register as a pilot at the Luftfahrtbundesamt. In addition, you must take an online test at the Luftfahrtbundesamt.
Without a test, only drones with less than 250g take-off weight and without sensors such as cameras may be flown.
1. Register as a pilot
You can register as a pilot at the Luftfahrtbundesamt under the following link:
https://uas-registration.lba-openuav.de/#/registration/uasOperator

With the login created there, you can also access the online trainings and online exams later. When registering, you must enter master data about the operator, i.e. address and personal data for private individuals or address data if you are registering as a company.
To verify the data you have to upload a copy or a photo of your identity card or passport, or in case of a company a document such as the business registration.
In addition, the existing liability insurance of your drone with insurer and policy number must be specified.
After manual verification of the registration, the drone pilot is then provided with a remote pilot ID and a license plate for the drone (UAS operator number (e-ID)), which must be affixed to the drone from now on.

I recommend these personalizable, fireproof and lightweight drone license plates from Amazon (Afiliate Link). Looks good and is easy and reliable to stick.

2. Online-Training
After entering all the data required for registration, we can start the online training from this page. You have to answer 20 multiple-choice questions in 30 minutes, but you can repeat the training as often as you like. If you have closed the registration interface in the meantime, you can open the page again via the following link:

https://exam.lba-openuav.de/#/uasDashboard
3. Online-Exam
If you have passed the online training, you can now start a 40-question multiple-choice exam on the same page, which must also be completed in 30 minutes.
If you have closed the registration interface in the meantime, you can open the page again via the following link:
https://exam.lba-openuav.de/#/uasDashboard
After successfully passing the exam, you can download the exam certificate, see the following example: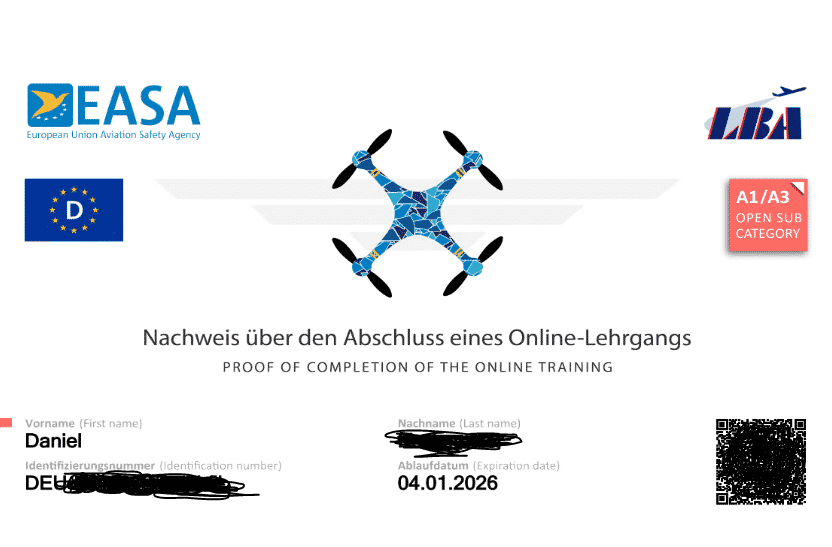 The certificate will also be sent to you afterwards as a PDF by e-mail. The certificate is valid for 4 years.
Drone Landing Pad
At first I didn't understand why you need a landing pad for the drone. After all, I thought, I could take off and land on all flat surfaces. That's only half true, because you'll have problems in tall grass, deep leaves, snow or sand at the latest. Loose soil is stirred up, soiling the drone and camera, propellers get stuck in grass and leaves. For this reason alone, a drone landing pad makes sense. Many drones, including the DJI Mavic 2 Pro or the Fimi X8 SE, additionally detect the landing site with optical sensors and then use this for the precise automatic landing approach.
I decided on a foldable landing pad with a diameter of 110 cm (Amazon Afiliate Link). That sounds very big at first, but with moderate wind I was already glad to have decided for the large variant. The landing is much easier than if you had only 50 cm space.

My photo equipment:
Nikon Z6 II full frame mirrorless camera: https://geni.us/vF5K4Nk *
Nikon D500 DX format SLR: https://geni.us/QpwK *
Wide angle for astrophotography: https://geni.us/PIPEGEB *
Wide angle for astrophotgraphy on DX camera: https://geni.us/rnztt4N *
Travel tripod: https://geni.us/fVJfG *
Large tripod: https://geni.us/lXGgv *
Always-on lens: https://geni.us/XIbn *
SD Memory Cards: https://geni.us/YWhyWuG *
CFExpress Memory Cards: https://geni.us/QNYEy4J *
Remote shutter release with interval timer: https://geni.us/eRSAm *

* All aforementioned links are Amazon affiliate links
All the links in this text are Amazon Affiliate Links, and by clicking on an affiliate link I will earn a percentage of your subsequent Amazon purchases. However, this circumstance does not influence the background of my product recommendation. This product recommendation is independent, honest and sincere.
Bei allen genannten Links handelt es sich um Amazon-Affiliate-Links. Durch einen Klick auf einen Affiliate-Link werde ich prozentual an Euren darauf folgenden Amazon-Einkäufen beteiligt. Dieser Umstand beeinflusst aber nicht die Hintergründe meiner Produktempfehlung. Diese Produktempfehlung erfolgt unabhängig, ehrlich und aufrichtig.