The best spots to photograph the Kaiser Wilhelm Monument in Porta Westfalica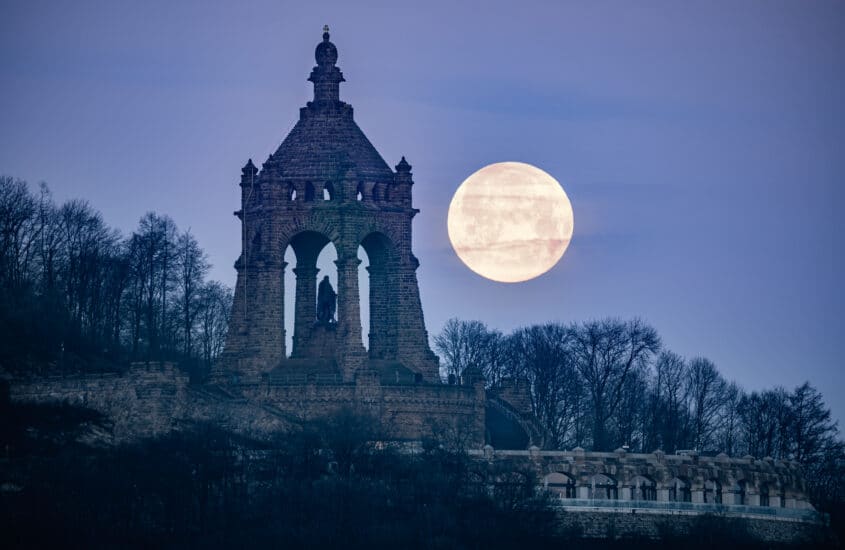 As a local photographer, I have photographed the Kaiser Wilhelm Monument many times. Here are my favorite spots for beautiful shots. If you come to my hometown, let me know a few days ahead and I'd give you some inside recommendations.
Depending on the desired image detail, a telephoto or super-telephoto lens with focal lengths between 200mm and 600mm is recommended. In this lens class, I rely on my Sigma 150-600mm F5,0-6,3 DG OS HSM Contemporary(Amazon Affiliate Link).
The "Photo Pills" app can also be used to calculate when, for example, the moon or the Milky Way will rise or set exactly behind the monument.
Upper access path to the cemetery in village district Hausberge at the street "Kempstrasse"

From the upper graveyard path you have a direct view on the Kaiser-Wilhelm monument. From this place you can get quite close to the monument without having to photograph from too far down. You do have to look up, but not in such a way that it is disturbing on the photo.
Upper part of street "Kempstrasse"

This is my favorite place because I can reach it on foot from home. With the car you can stop at the shoulder and have the monument almost at eye level. Just please do yourself a favor and don't stand in the middle of the road in the dark, but secure yourself with lights and ideally stand behind or in front of your lighted vehicle.
Parking lot of the former "Porta Berghotel"
You almost can't get any closer, but you are far below the Kaiser Wilhelm Monument and have to photograph up high. The parking lot of the former hotel is usually not very busy.
Portakanzel on the "Wesergebirge"

By car you can drive to the TV tower Porta Westfalica on the Weser mountains. From here you have to walk about 30 minutes on the ridge towards the west, then you will automatically come to the small viewing platform "Portakanzel". Pack sturdy shoes for this. If you are lucky, you can observe how the fog moves through the Porta early in the morning – the "Wilhelm" then stands like an island in the clouds.
Möllberger Straße corner Papensgrund
From the pedestrian path along Möllberger Straße, the emperor can be photographed from the south. Parking is available at the roadside.

Link to the exact spot
My photo equipment:
Nikon Z6 II full frame mirrorless camera: https://geni.us/vF5K4Nk *
Nikon D500 DX format SLR: https://geni.us/QpwK *
Wide angle for astrophotography: https://geni.us/PIPEGEB *
Wide angle for astrophotgraphy on DX camera: https://geni.us/rnztt4N *
Travel tripod: https://geni.us/fVJfG *
Large tripod: https://geni.us/lXGgv *
Always-on lens: https://geni.us/XIbn *
SD Memory Cards: https://geni.us/YWhyWuG *
CFExpress Memory Cards: https://geni.us/QNYEy4J *
Remote shutter release with interval timer: https://geni.us/eRSAm *
* All aforementioned links are Amazon affiliate links