Vertical mushroom garden – grow edible mushrooms in wood logs in your own garden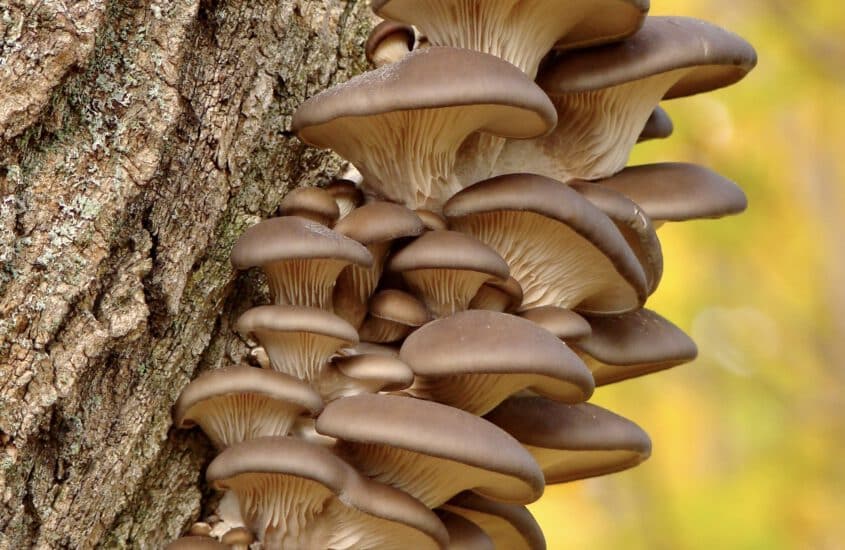 Mushroom dowels can be used to grow edible mushrooms in logs. Because mushroom logs take up a lot of space in the garden and get in the way when mowing the lawn, we build a vertical mushroom farm to hang on a wall.
You can grow edible mushrooms yourself in a variety of ways:
Growing in potting soil
Growing in coffee grounds
Growing on damp straw bales
Growing in wood
We are dealing here with the cultivation of fungi in woods. To be precise, in wood of deciduous trees, because fungi do not grow in resinous coniferous wood – the resin acts as an anti-fungal agent, I think the expert calls it anti-mycotic, but what do I know about technical terms.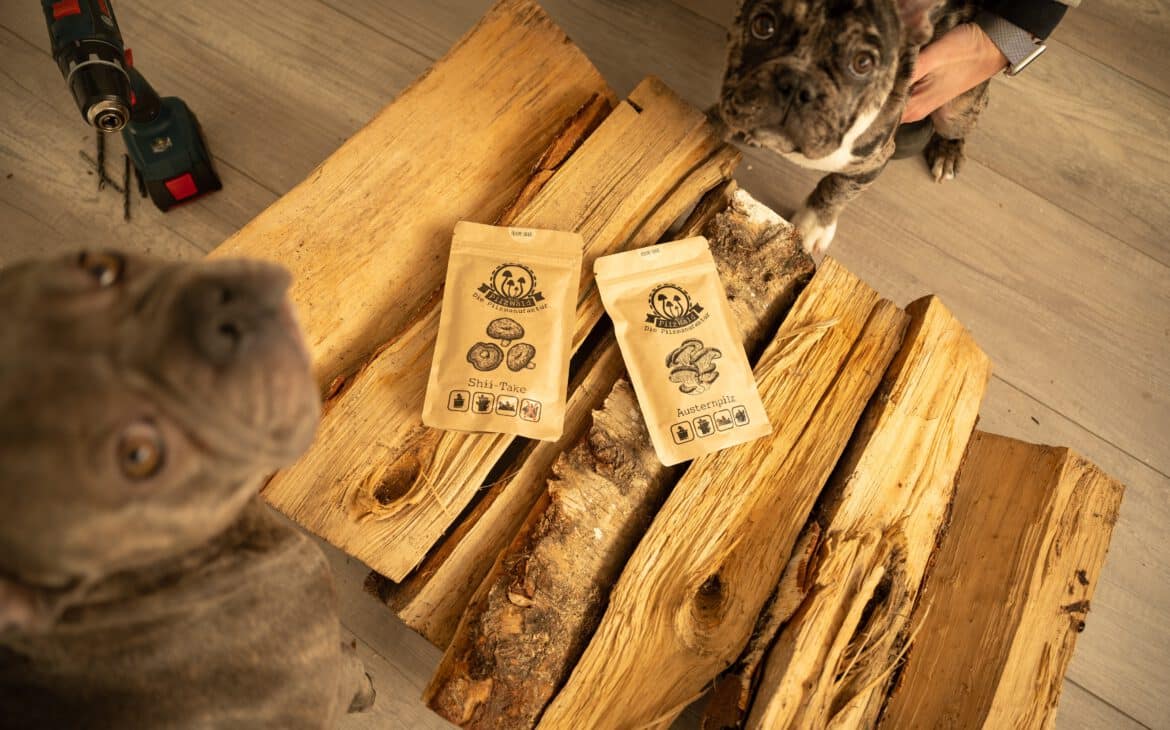 On eBay I found someone who sold 50cm long logs and what was even better, even gave me my few logs for my craft project for free. At this point many thanks to R.R. from Helpsen.
Shopping list
For our hanging mushroom farm building project, we need the following tools and materials. All links to the products are Amazon Afiliate links.
Materials
Tools
Cordless drill (I love Bosch)
Wood drill bit
Suitable screw bit for Spax screws
Hammer
Insert mushroom dowels into logs
Then we can get started. We drill holes in the tops of our logs. Then we insert the mushroom dowels and drive them into the wood with a hammer. The mushroom dowels are a bit damp and soft. So don't be surprised if you use a hammer to deform a mushroom dowel or two a bit.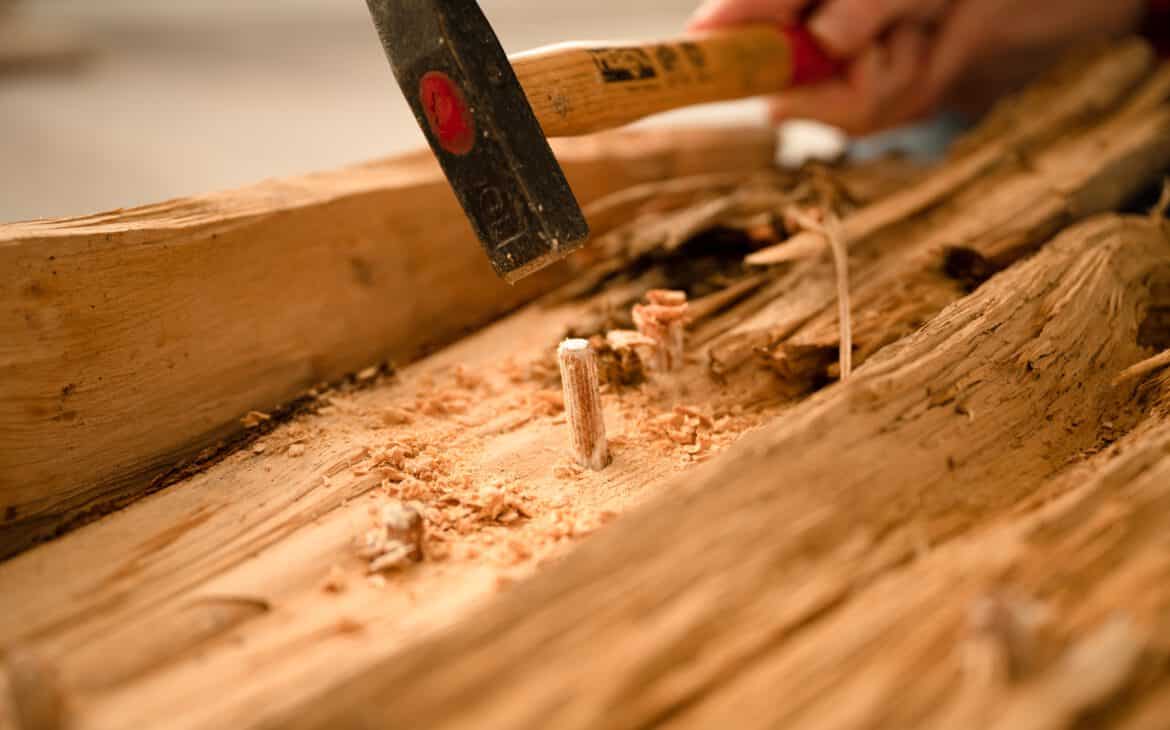 Where do the mushrooms grow best? When do I start with the cultivation?
Mushrooms should grow moist and protected from too much sunlight. Therefore, a place for the installation of mushrooms with orientation to the north is suitable. To prevent the mushrooms from taking up too much space and being an obstacle when mowing the lawn, I came up with the idea of creating a vertical mushroom garden. Our tool shed was thus predestined for the installation of our wooden mushroom garden.
It is important to know that you can already start inserting the mushroom plugs in winter, but the wood with the mushrooms should then be stored frost-free until spring. So we started to insert the mushroom plugs in January and then stored the timbers initially in the winter garden.
Flexible due to ladder step suspension on a chain
But how should I now bring the logs vertically to the wall? Screwing the logs on tightly would not be a good idea. Wood eventually rots away, and when replacing the mushroom logs, I would keep creating new drill and screw holes in our garden hut, until the hut would eventually look like a Swiss cheese.
I could weld brackets. Unfortunately, wood is a natural product and not every log shape fits stably into a holder that is always the same.
That's why I had the idea to hang the mushroom garden between two chains like ladder rungs.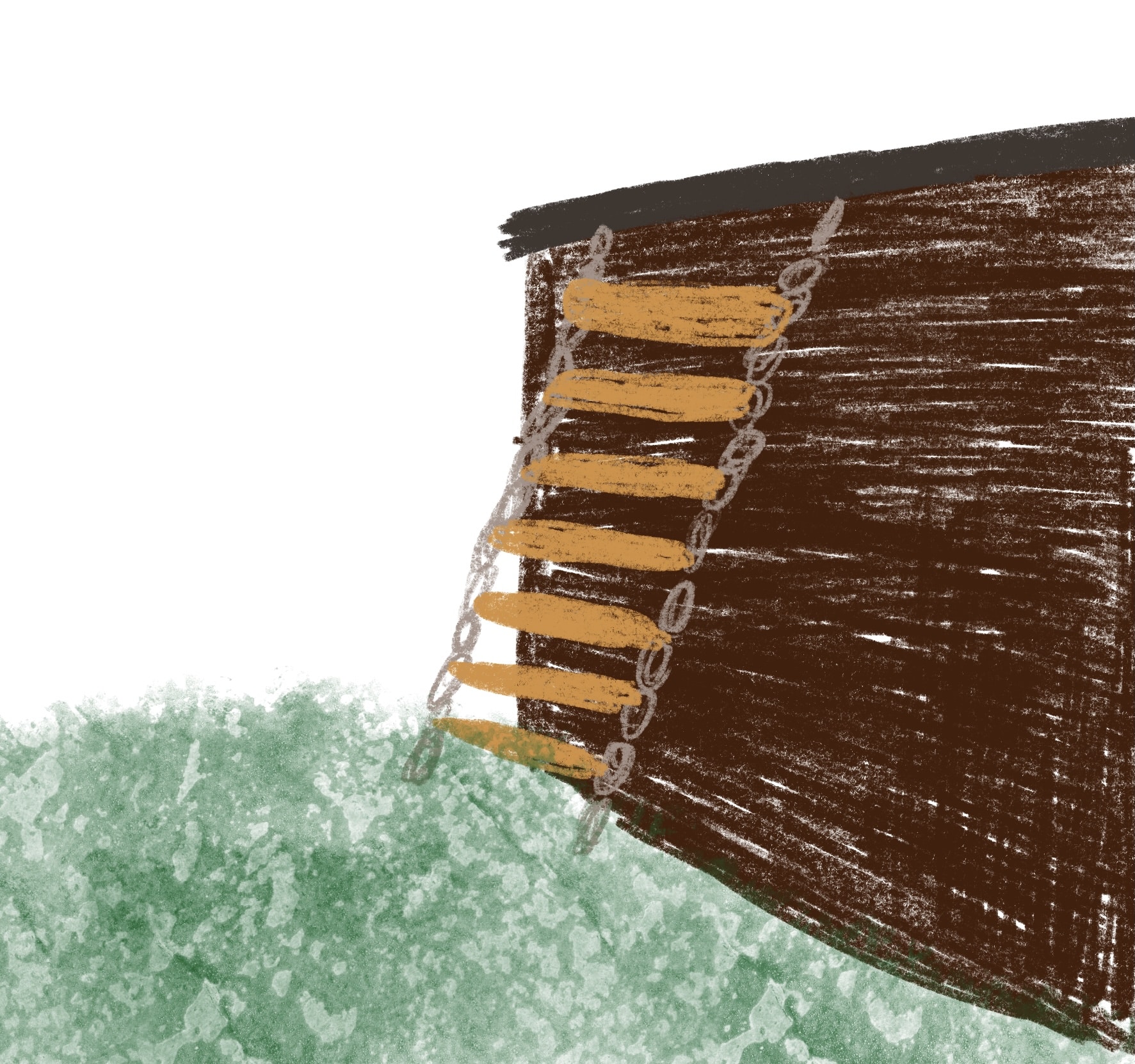 Rainwater can thus be optimally distributed from top to bottom, if necessary, individual timbers can be easily replaced and the whole thing is even movable.