4×4 Roadtrip around Peloponnes, Elafonisos and Kythira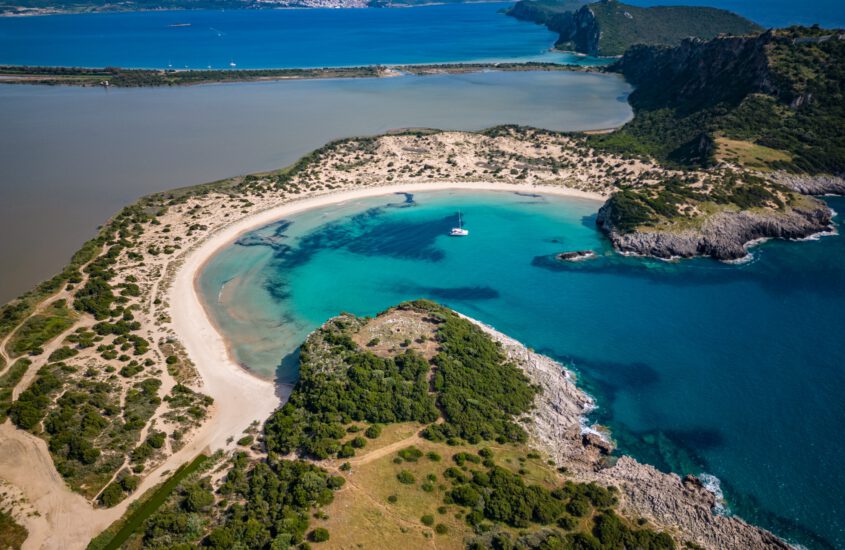 In just under 4 weeks, we will travel the Peloponnese, the islands of Lefkada, Elafonisos and Kythira with a Defender and roof tent. We avoid the big tourist crowds and instead make friends with the locals and their way of life.
After touring Greece's east coast and the mainland in 2022, it was now the turn of the more southern climes. With the Grimaldi / Minoan "MS Florencia" we sailed from Ancona (IT) to Igoumenitsa (GR). The special thing about this connection: Our two French travel dogs "Trüffel" and "Pelle" are allowed to travel with us in the cabin.
Arrival in Igoumenitsa
Gegen 19:00 Uhr legt unsere Fähre an Griechenlands Westküste im Hafen von Igoumenitsa an. Es wird schnell dunkel und Hungergefühle machen sich breit. Spontan entscheiden wir uns für einen Abstecher in eine kleine Taverne in XXX. Hier beginnt der Urlaub: Griechenland – das einzige Land indem sogar stilles Wasser schmeckt. Die App Park4night macht uns anschließend auf einen Stellplatz an einem nahegelegenden Strand aufmerksam. Hier bauen wir unser Dachzelt unter riesigen Olivenbäumen auf einer Art Terassenparkplatz auf. Wir teilen uns diesen Stellplatz mit einem großen Expeditionsmobil und einem VW-Bus. Jetzt muss nur noch das Wetter besser werden.
Side trip to Lefkada
We had already planned a visit to Lefakada on our 2022 tour of Greece, but decided against it due to lack of time and in favour of Albania. Our first real step for this trip is therefore quickly decided. We quickly pack our things, take a few photos of the beautiful bay and set off towards Lefkada. On the way, we fortify ourselves with frappé, fresh orange juice and small snacks at the Cantina Estrada. An absolute tip from us to take a short break in a pleasant atmosphere on the way. When we arrive on Lefkada, we first explore Castle XXX, but only from the outside, as it is closed.

Afterwards, we cross a pontoon bridge directly into the lively centre of Lefkada. Here you will find numerous cafés, tavernas, yachts, sailing ships and a beautiful old town with narrow streets and flower vines as far as the eye can see.
We parked our car in a guarded car park, safe is just safe. We would have liked to spend the evening in the enchanting Bar XXX, but not at the price of the less than ideal parking space. We drive along the east coast until we arrive in Nidri. Unfortunately, it is very touristy here and there is no old town, but there is the stylish beach bar Maraboo with very good cocktails and a camper car park with surprisingly clean sanitary facilities.

Through the mountains of the Peloponnese to Kalavrita
Due to the modest weather forecast for the next few days, we spontaneously decide against a planned boat tour around Lefkade and against continuing our journey via Kefalonia and Zakynthos, but instead opt for a direct trip to the Peloponnese. We want to explore the east coast and the mountainous regions of the Peloponnese first, and then head to the western south.
The second spot is supposed to be a beautiful, blue mountain lake in the direction of Kalavryta. Besides the lake as such, there is a pretty good taverna here, according to Google Maps. Our Ralfi fights his way through storm, rain and thick fog over mountain passes to the lake, where unfortunately everything is closed.

Both taverns are only open at weekends, which is a pity. Fortunately, we are quickly consoled about our disappointment when we discover an enchanted section of forest with playful streams. Elves, fairies and trolls must live here. Unfortunately, the fabulous creatures are very shy, so we don't get to see any. Towards evening we arrive in Kalavryta. Kalavryta is a beautiful village, but its tourist heyday is as a ski resort in winter. Good and bad for us at the same time. Numerous shops, tavernas and bars are closed, but there is little going on.

We quickly find very good food at the Cellar Tavern and a final beer or two in the quaint fifty/50 bar by the open fire. Daniel uses the evening twilight to catch a photo of the village's picturesque railway station.

The railway line through Kalavryta is supposed to be beautiful, but unfortunately we only notice this later on in our journey. We are allowed to spend our night next to the closed Hotel Helmos. The owner is open-minded and friendly and doesn't even want any money from us.
Oak woods of Foloy and the gorge of the centaur
Since we have already failed to spot elves, fairies and trolls, we now want to test our luck with the centaur in the oak forests of Foloi. For this we even take a very bumpy and long off-road route in order to be able to go hiking directly in the centaur gorge. Unfortunately, there is no official hiking route, only a path through the river bed. Daniel stays in the air-conditioned car with Trüffel and Pelle while Michelle goes on the tracks of the centaur.

Nature is wild, charming and untouched. Michelle swears she caught a glimpse of the centaur, but unfortunately she doesn't have her camera ready fast enough. I wonder if you can believe her. The heat makes us quite thirsty, so we decide to treat ourselves to a cool beer in the nearby village of Foloi. A few elderly Greek gentlemen have gathered on a central village square. They are drinking beer, happily telling each other stories and are pleased about our arrival. We quickly make contact and get to know Panagiotis and his friends.

To our happy surprise, Panagiotis buys us a beer to our newly formed friendship and gives Michelle a bunch of roses from his garden. We take a photo together as a souvenir and promise to ring his doorbell on our next visit. The way to our next step leads us through light-flooded old oak forests. A magical sight, which invites us to take a short walk, but beware of the numerous wild boars in the region.

Nemouta waterfall
During our evening route planning, Daniel discovers the Nemouta waterfall on Google Maps. The photos are promising; Adam and Eve must have lived here before they had to leave paradise. To get to Nemouta, we have to take another off-road route through the mountains. But with our Ralfi nothing is impossible. The walk to the waterfall is adventurous.

You should definitely take a machete with you. Everything is overgrown and feels like clock forest. Towards the end of the trail, just before the waterfall, you also have to climb a little. It's best not to wear Birkenstock toe shoes like Michelle did. However, those who take on the arduous path will be more than rewarded at the end. We have seen many waterfalls in Norway, Slovenia and Croatia, but this waterfall in Nemouta is unique and very special. It rises in a kind of green overgrown stone cave and then runs over numerous stone terraces. We stand amidst splashing fresh water, chirping birds, fresh green moss and liana-like tree vines. If this is not paradise, then where on earth is it?
Roast wild boar in the mountain village of Dimitsana
This eventful day ends today in Dimitsana, a historic mountain village in the hinterland of the Peloponnese. At the entrance to the village, a petrol station offers two parking spaces for a fee. When Daniel pays the fee, he feels transported back in time. In this petrol station, time has stood still. The cashier's area alone resembles a museum. But the somewhat elderly owner of the petrol station is happy about our stay and assures us that we can safely spend the night with him. We set off to explore the old town. As the last rays of the sun move over the mountain ridges, the golden hour bathes the entire village in a breathtaking, golden and warm glow. For dinner tonight, we have a traditional wild boar stew at the XXX taverna. After all, there are plenty of wild boars in this region. Without lying: This was the best wild boar we have ever had, and the taverna is therefore our clear recommendation for everyone who visits Dimitsana.

The evening is still young, so we hop around the local bars of the mountain village for a bit. After tsiporou and Greek coffee, we return to the car and discover to our surprise that the gate to the car has already been secured with a thick padlock. After some initial excitement, however, we still see light in the premises of the petrol station and knock cautiously. Although we seem to be disturbing a card game, we now return to our car.
The next morning we stop again in the centre of Dimitsana for breakfast. At XXX we enjoy Greek delicacies on the artistically designed roof terrace, while life begins to rage below us: Trucks delivering goods, cars parked chaotically with their hazard lights on, coaches squeezing through the narrow streets honking and waiting. From up here, none of this matters to us. "Another frappé, parakalo!".
Like paradise: The Polylimnio Waterfalls
Paradise rarely comes alone, isn't that what they say? On the way to the coast we want to visit a second waterfall. There are supposed to be several crystal-clear bathing spots here. The path is not overgrown this time, but it is steep and blessed by the blazing midday sun. Looking at the exhausted faces of the people who meet us, we already have a little respect for the way back. But we have to go through it and so do the Great Danes, whether they like it or not. Once in the forest, two paths lead in opposite directions. On the left there are supposed to be the two lakes, so we decide to cool down first.

Right at the beginning of the route, the first major waterfall awaits us, as well as a small bathing spot. Daniel wildly takes off his clothes to compete with the colourful fish in the blue water. But then he discovers that the water is not only invitingly blue, but also quite fresh. It doesn't turn out to be more than a dipped toe and the four of us continue towards the big lake and the big waterfall. The way there is not for beginners and definitely not for a hike with two crazy dogs. We have to squeeze along steep cliffs and climb over high rocks. After Pelle almost fell several times to chase a lizard, Michelle decides to wait with the dogs in the shade and let Daniel go on alone.
After only a short time, however, Daniel also returns. He, too, has abandoned the route because he saw his life in danger for a short time. Nevertheless, it was worth taking the route. Here, too, untouched wilderness awaits us, real nature. We decide to try the path leading to the right again. This time, however, we do it individually and without terror dogs. This route also resembles a small adventure. You walk over dilapidated wooden bridges, over rocks to a water feature that runs over several terraces. There is supposed to be a waterfall further up on this side too, but we don't want to risk anything. After all, the journey has only just begun and we want to continue it in good health and, above all, together.
Ox-eye Bay Voidokilia and coast near XXX
For our taste, Ox Eye Bay is once again a typical tourist trap. Numerous reports that we watched in the run-up to the trip swear by the Caribbean view of Ox Eye Bay.

And yes, the video impressions had an impressive effect on us, so let's go there. We find an impressively large mass of tourists and Greeks with deck chairs and plastic umbrellas. Everyone splashes around in the blue water and pees in the surrounding dunes. Phew, that was not the sight we had expected.
We look at each other and without words we agree to leave again on the spot. A quick snapshot from the bird's eye view and then off to a bar that Michelle spotted on the way there.

Driving to Mystra in vain – but the route is great
When Michelle tells you that you have now left the mountains behind and will spend the rest of your time on the coast, you can be sure that the very next day you will be heading for the mountains again. But this time for the last time, I promise. Michelle really wants to go to Mystra to see the remains of the Byzantine settlement. The mountain route there is also supposed to be indescribably beautiful, with stone ceilings towering over the road.

Once again, however, things turn out differently than planned, and in many ways. First of all, we have to take a much longer diversions, the weather is not sunny as announced but frighteningly stormy and we could have saved ourselves the visit to Mystra as we are not allowed to take our dogs onto the premises. So that was 4 hours of driving for nothing. Not quite true, the mountain section was actually quite beautiful apart from the storm and the stone ceilings are a bit of an adventure. However, you should check the height limits beforehand.
Falling asleep to the sounds of the Kardamili Jazz Festival
Our next overnight destination is Kardamili. Michelle shows mercy to Daniel and finds an alternative route to the diversions through the mountains. Unfortunately, this also means that the way back will take longer and that we will have to drive a part of the way back, i.e. twice, in the next few days. As a perfectionist, this is hard to bear, but it will be bearable. We hope that Kardamili will live up to what the photos on the web promise: A small, sweet fishing village with a romantic harbour. Michelle looks for a taverna during the drive, which we hope will allow us to spend the night in the taverna car park directly on the water after a hearty dinner and numerous drinks for dessert. Unfortunately, the plan doesn't work out because, according to Park4Night, the owner apparently doesn't like to welcome campers to his car park and sometimes calls the local police at night. The food is okay, but if we had known about this in advance, we would certainly have eaten somewhere else.
Daniel parks the car and Michelle enjoys a Retsina with Trüffel and Pelle in Café XXX. It starts to rain, but that's not bad at all. Kardamili is indeed very romantic and the warm summer rain, refracted in the warm lights, rather enhances this sensual atmosphere. Next to the café, we observe numerous wasps and hornets sucking up sweet flower juice from a rainy wall. We set off towards the campsite, but not without stopping for a frozen yoghurt on the way. Quite full, we are happy about the short walk to the harbour. Even from a distance we can hear the sounds of jazz.

The Kardamili Jazz Festival is taking place above our campsite. What luck we have. Various jazz groups play in different bars until well into the evening. The sounds of the music and the stories of the artists quickly accompany us into a quiet and peaceful sleep.
Lobster, Crayfish and storm in Limeni
We are woken up by the next morning and three quacking ducks next to our tent. Shortly afterwards, two fishermen arrive. Today we are going to Limeni, but before that we want to fortify ourselves with a healthy breakfast at the café "Kafenio". The Google photos of the delicious and, above all, artistically designed sandwiches make our mouths water. We can hardly wait, so let's get going. Like typical German tourists, we are of course already standing in front of the coffee 15 minutes before the regular opening time and now have to wait. It is stormier today than it has been all the last few days. We had imagined it differently. Experiencing the fancy delicacies in the artistic outdoor area in the sunshine is probably not going to happen today. We brave the wind and sit outside anyway. Daniel orders a frappé as usual and I choose a special mountain tea from the region. This is accompanied by a bread with plums, pickles, salami… and one with cream cheese, fig jam, strawberries, anchovies, pepper and pistachio crumbs. The breads are a real taste explosion and the tea very tastefully decorated.

After defending our sandwiches from countless cats, we continue along the coastal road. Our destination today is Limeni, a small, picturesque fishing village just before the drive up to Areopoli.

Pictures on Instagram promise bright blue water, fresh seafood and a picturesque village façade. And that's exactly what we find. At the foot of the one-way street there are even (non-official) parking spaces for 2-3 vans or off-road vehicles or small motorhomes.

We park our Ralfi there, set up the roof tent and walk to the nearby village. We quickly find our favourite taverna, XXX. We fortify ourselves with a small snack for lunch (squid, gavros and tsipouro) and then treat ourselves to a delicious ice cream. Daniel now wants to try his luck in the sea and Michelle and Pelle are so tired that they take a nap in the roof tent. Daniel quickly gets into the tent, the water seems to be a bit too cold after all. After a nice chat with our Belgian campsite neighbours, we set off again for our taverna. This time, however, we want to try the fresh seafood. We decide on lobster and crayfish.

The latter don't really look appetising, but they are. Word of honour! Michelle discovers a beautiful little shop opposite the taverna, where you can buy natural beauty products and stylish jewellery. Even Daniel can't help but take a look at the shop and is just as taken with it as Michelle. You could really buy everything here. After our little shopping tour, we had a cocktail. Daniel in particular is brave today and orders a Sex on the Beach with chilli. While we linger in the cocktail bar, a storm comes up. We break off and try to get into the roof tent as dry as possible. Unfortunately, we don't really succeed in this endeavour. Our car is parked on red clay soil. This means that 8 little paws have stained the entire tent, the mattress and the sleeping bag with red clay. Thank you very much. Michelle tries to get rid of the worst of it and then we fall asleep to the whirring of the electricity pylon next to us.

Areopoli almost without tourists, but no nightlife feeling

Lost Place – Castle Village Ruin Váthia

Cape Matapan – Roman Baths, Death Oracle of Poseidon, Milky Way


Along Mani's east coast towards Gythiera and Dimitrios shipwreck

Crossing to Elafonisos and Caribbean pitch on the most beautiful beach in Europe

Short trip to Neapolis with a stormy night in the roof tent right next to our ferry

Our discovery of the most pristine Ionian island – Kythira
Old shipwrecks and brand new stranded ships

Pitoresque harbour town of Avlemonas and our new pastime "Ouzo-Splash-Ouzo-Splash"

A dreamy night at the fishing hut in Vlachou


Discovery of the cave church and flying swallows


Photo session in picturesque Chora – unfortunately at the wrong time

A special kind of accommodation – DonQui Hotel Charlet

Enchanted Springs by Amir Ali and the Parking Lot Dilemma

Offroad to the northernmost point of Kythira – Moudari Lighthouse

Fabulous old Phillipas water mill and adventurous hike over hill and dale
Diving into another age – Castle of Milopotamos

A lunch among friends

Astikon and its nightlife
Kakia Lagada: On the left the sea, on the right the lake, us in the middle

The campsite of Kapsali – a dreamlike lost place
A German Evening in Greece – Everyone Loves Grandma Renata

Monemvasia at dawn and a pitch with a view

Along the coastal road from Kapyrissa to Fokiano

Crowded Nafplio in the midday sun

Amvrak Gulf – Swimming with sea turtles and dolphins

The entire journey as a video documentation